IGM Colloquium: Period and Pattern in the Embryo
30.10.2017
                                                  ### Next IGM Colloquium ###
Tuesday 31 October 2017 noon MED 0 1418
IGM Colloquium: Period and Pattern in the Embryo by Prof. A. Oates
The IGM colloquium features invited speakers giving introductory talks on varied current research topics in Mechanical Engineering and related disciplines.
Where? - MED 0 1418 (Auditorium)
When? - Tuesdays noon
Who? - Students, researchers, faculty and everyone else interested in learning about different aspects of Mechanical Engineering
Please join us tomorrow at noon!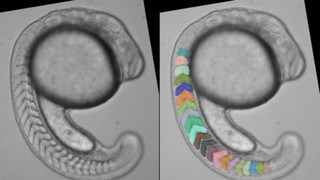 25.10.17 —
The segmentation clock is a multi-cellular patterning system of genetic oscillators thought to control the rhythmic and sequential formation of the vertebrate embryo's body segments. Individual oscillating cells are synchronized with their neighbors, forming a coherent wave pattern of gene expression.
Read the whole article