IGM — Nanomechanical mass spectrometry: the long road to applications
06.11.2017
                                                  ### Next IGM Colloquium ###
                                                            !!! Time Change !!!
Tuesday 7 November 2017 11:00 MED 0 1418
IGM Colloquium: Nanomechanical mass spectrometry: the long road to applications by Dr. Marc Sansa
The IGM colloquium features invited speakers giving introductory talks on varied current research topics in Mechanical Engineering and related disciplines.
Where? - MED 0 1418 (Auditorium)
When? - Tomorrow, 11:00
Who? - Students, researchers, faculty and everyone else interested in learning about different aspects of Mechanical Engineering
Please join us tomorrow at 11:00!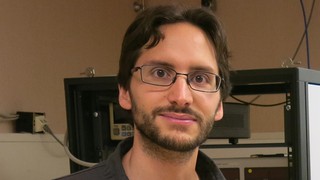 02.11.17 —
IGM Colloquim - Nanomechanical resonators are on the way to become an attractive instrument for the analysis of high-mass species. Dr. Marc Sansa will present his group's work to overcome two of the major roadblocks for the viability of these sensors: their limit of detection and small capture area.
Read the whole article