Students turned wood pallets into furniture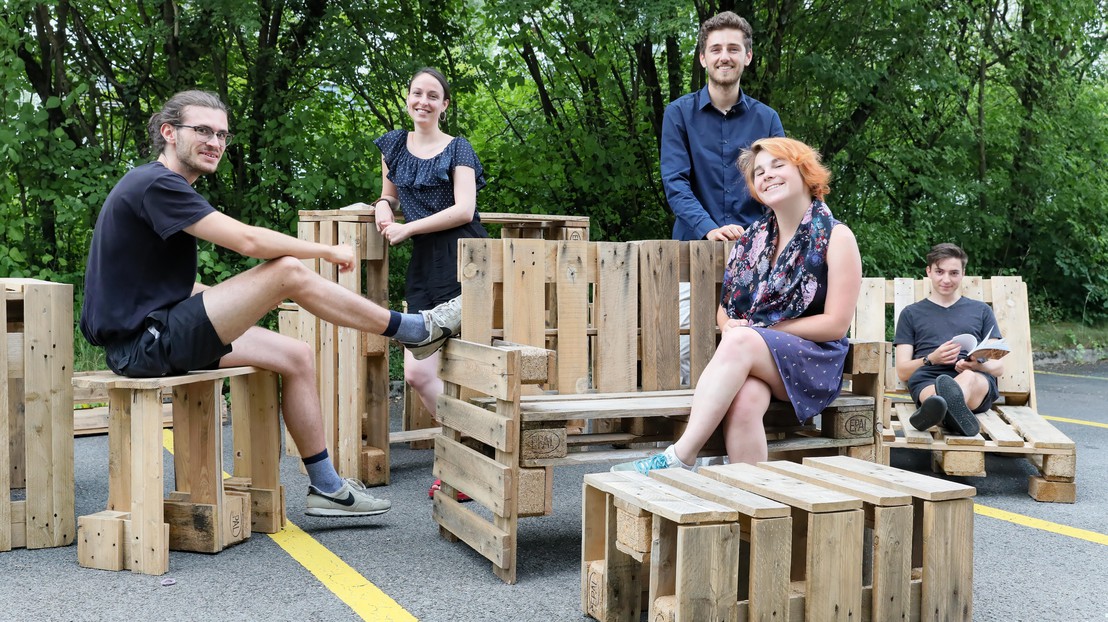 A group of EPFL students who came together in the Student Kreativity and Innovation Lab (SKIL) has created a catalog of designs for turning wood pallets into furniture. With support from Act 4 Change Lab, the students will have a chance to see their project carried to fruition this fall on the EPFL campus.

"We noticed there was a lot of wood waste, especially pallets, in EPFL's recycling bins. This wood isn't earmarked for any particular purpose, but it could be useful. So we decided to base our project on it," says Alexis Barrou, who is studying environmental sciences and engineering.
Barrou, along with five other undergraduate students from EPFL's School of Architecture, Civil and Environmental Engineering (ENAC) – Léo Benjamin, Elise Hautefaye, Doriand Jaton, Delphine Klumpp and Thomas Vila – came up with a plan to transform the wood from discarded pallets on the EPFL campus into everyday furniture by creating a catalog of easy-to-make designs. They dubbed their project CHEAP, for Catalog of Handmade Elements Assembled from Pallets.
The CHEAP catalog presents seven easily replicable designs – a table, chairs, a bar and stool set, a lounge chair, a bench, a coffee table and planters – based on the most widely used type of pallets in Switzerland. The pieces are designed to leave behind the least amount of wood scrap possible – the students kept this constraint in mind as they spent hours researching and experimenting. The result is a series of unique pieces.
Basic tools
This project stands out for another reason too: there's no need to be an accomplished do-it-yourselfer to bring these designs to life. All the pieces can be built using standard tools, and the catalog even estimates how long it will take. The first few pages of the catalog guide the users on how to select the right type of pallet so that their furniture won't expose them to toxic paint or become moldy.
The catalog was enough to convince EPFL's Act 4 Change Lab, a platform that encourages sustainable projects at EPFL, to support a series of furniture-building workshops on campus in conjunction with CHEAP. The Lab agreed to provide the designers with space for the workshops, so that interested students can come together to build their low-cost and sustainable furniture.
A virtuous circle
The idea for the design manual came out of the Student Kreativity and Innovation Lab (SKIL), which gives ENAC undergraduate students of all backgrounds a chance to explore a research topic of their own. That's where the six students – who are studying either architecture or environmental engineering – pooled their expertise to develop the CHEAP catalog: "While the environment students cut up the pallets and tried out different designs, the architecture students modeled them using their 3D software and told us what they thought would work," says Elise Hautefaye proudly. "We learned together every step of the way." Hautefaye has already used the pallet wood to create a nightstand, bed slats and balcony furniture.
Serving students' various needs
The students behind CHEAP will attempt to awaken the DIY spirit in their peers when they run the furniture-building workshops at the start of the school year: "We want students to see that there's no need to buy new furniture, which they'll simply sell after graduating," says Barrou. "Our approach is more sustainable." The team also feels that the workshops will serve other purposes, such as helping students who are short on cash, interested in meeting new people or keen to get their hands dirty. A number of finished pieces will be displayed at strategic spots on campus, including during EPFL's open doors event on 14 and 15 September. This will help to raise awareness of the problem of wood waste and the many ways it can be given a new life. That's CHEAP: a valuable lesson.







---
---