Lausanne Racing Team unveils an electric racing car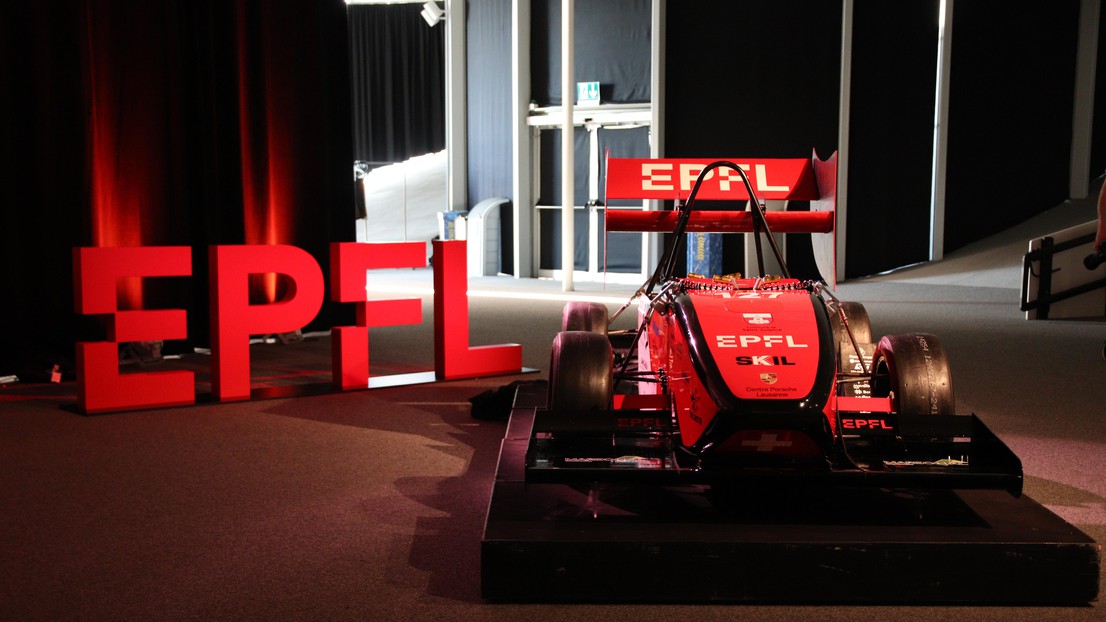 EPFL is set to make its debut in Formula Student this year, pitting a brand-new electric racing car developed by Lausanne Racing Team – and unveiled at an event at the Rolex Learning Center on Tuesday, 9 April – against other universities in races held across Europe.

Just over a year ago, a group of 60-or-so car-obsessed EPFL students embarked on a crazy challenge: to develop an electric single-seater racing car from scratch. The finished article, called Orion, unveiled at a special event on Tuesday, 9 April, will take part in Formula Student Electric – one of three event classes alongside internal combustion-engine and driverless cars. "It was a hugely challenging endeavor, but we recognize the importance of sustainable engineering," says Pierre Georges, the Lausanne Racing Team president and a Master's student in mechanical engineering. "We've gained valuable experience in a sector of the automotive industry that's only going to grow in the future."
Formula Student is the European arm of Formula SAE, a competition launched by the US-based Society of Automotive Engineers (SAE) in 1981 in which students are tasked with designing and building a prototype single-seater racing car. Once the technology-packed vehicles are ready, teams put them to the test in a series of track demonstrations, including an endurance race.
Asking the right questions
The EPFL team is supervised by Mario Paolone, a motorsports fan and professor in electrical engineering, and Anders Meibom, a professor in environmental sciences and engineering. "Formula Student is an exercise in cutting-edge engineering," says Paolone. "It's a chance for students to gain new technical skills, and to think and work as a team. For my part, solving engineering problems with students is an immensely rewarding experience. They always bring a range of interesting ideas to the table."
Lausanne Racing Team's electric car, measuring 2.5 meters long by 1.6 meters wide, features a single, rear-mounted electric engine along with a composite body made from linen fiber, a natural and mechanically robust material. The students bought the engine, but decided to design their own battery management and cooling system – a formidable task that the team is still grappling with. "The real challenge is asking the right people the right questions," says Pierre Dussaux, the team's technical director and a Master's student in mechanical engineering. Last fall, for instance, the team spent two days at Ferrari's headquarters in Maranello, Italy, and they are still in touch with engineers there from time to time.
Student drivers
Lausanne Racing Team is an interdisciplinary project supported by EPFL's Vice Presidency for Education. Aside from premises and help to develop their prototype, the students also received support from EPFL professional workshops. "It's not simply a question of designing a track car," explains Meibom. "It's about using cutting-edge technologies and materials to make a vehicle that can outpace the competition – and keep the driver safe, too. When I see how enthusiastic the students are, and how hard they're working on this project, I have no doubt they'll rise to the challenge."
For its debut year, Lausanne Racing Team will take part in two races: the first at the Hockenheimring in Germany (5-11 August), and the second in Montmeló, Spain (20-25 August). The students have until August to put the finishing touches to the car and test it on the track. Six drivers, all members of the team, will put the vehicle through its paces. "We chose drivers who'd been involved in building the car because they're best placed to tell us where things need improving," explains Georges. Sponsored among others by Saint-Sulpice and Lausanne Porsche Center, the team is also looking for sponsors to help cover the design and development costs, which so far stand at between 90,000 and 100,000 francs. "At the start, Formula Student seemed like an impossible dream, but we've done it – and we want to keep showing we've got what it takes," says Dussaux.






---
---