EPFL students built a new pavilion at Servion Zoo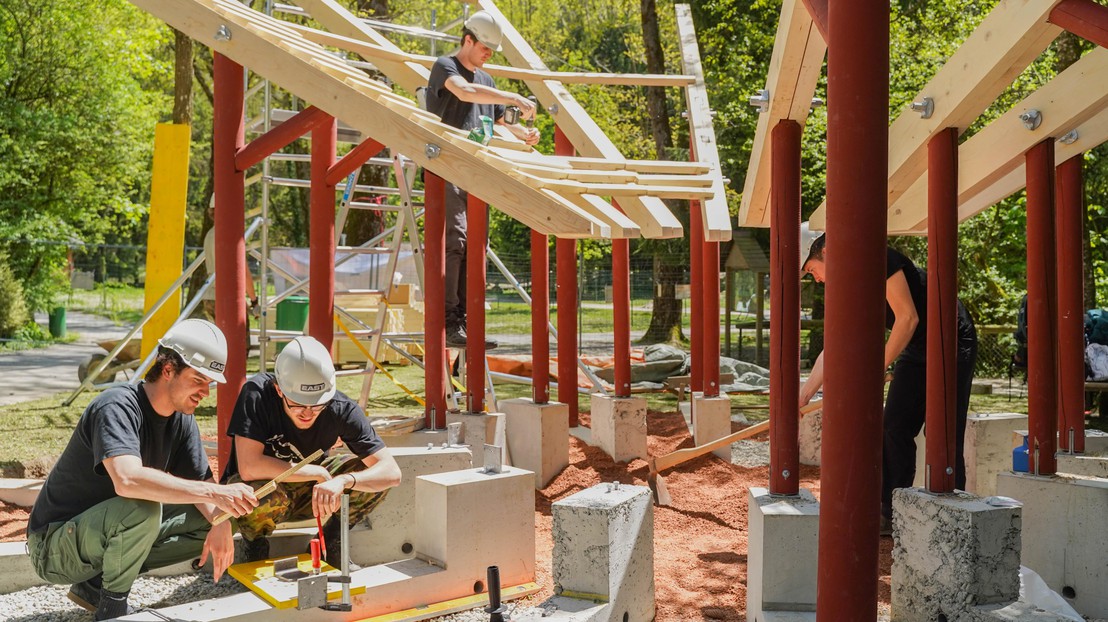 Undergraduate students in EPFL's architecture program have designed a new children's pavilion for Servion Zoo. The structure, which the team built out of recycled materials, will be unveiled on 4 June. 

What makes the ideal classroom? Where does a structure like this fit in at a zoo? These are just some of the questions that students in EPFL's undergraduate program in architecture grappled with last semester. After being approached by Servion Zoo near Lausanne, the students designed and built a wooden pavilion with a slate roof, sourcing their construction materials online and from specialist recycling facilities. The structure, nestled between the monkey and snow leopard enclosures, will host talks and temporary exhibitions for young visitors. The students will take to the stage for a special concert to mark the opening of the new pavilion on 4 June.
As good as new
"The Lausanne city council has launched its Lausanne-réutilise recycling website, and the Swiss government is working on a new directory of construction material recycling firms – so this project is very much in keeping with a much wider movement," says Martin Fröhlich, an associate professor from Berlin who, along with Anja Fröhlich, co-directs EPFL's Laboratory of Elementary Architecture and Studies of Types (EAST). "By using recycled materials, the students have built a structure that's as good as new without the waste. What's more, the pavilion is easy to dismantle, meaning the components can be used again and again."

The students chose wood as their construction material for sustainability reasons, used hand tools instead of power tools wherever possible, and sourced naturally made wood stain from a small-scale supplier in Finland.
Two locations
Servion Zoo is home to over 200 animals of 60 different species. The zoo is set to expand from its current 11 acres in the coming months, as the owners plan to extend out into 4 acres of woodland to the south-east of the site to make more space for the animals. The EPFL pavilion will move to a lakeside location in the extension once the work is complete – something that the students had to factor into their thinking. The budding architects spent the winter semester studying flagship school projects, and paid a visit to the world-famous Berlin Zoo, to prepare for the task ahead.
Fifth anniversary
This year marks the fifth anniversary of EPFL's EAST Lab. The lab's co-directors, Anja and Martin Fröhlich, set architecture undergraduates an annual challenge: to design and build a full-scale object using good-as-new recycled construction materials. In 2016, students reclaimed and reused materials from the International Olympic Committee's old building, which was being demolished at the time. In 2017, they teamed up with the Swiss Alpine Club to build huts in the mountains. And last year, the students recycled components from a disused industrial site in Saint-Aubin, Fribourg Canton.






---
---