EPFL goes to New Zealand to study melting glaciers
Four EPFL researchers will explore New Zealand's glacier-fed streams for two months, marking the first step in a global journey that will take them across 15 countries by 2021. Discover more about this unique expedition on the EPFL Out There blog.

What else besides water do we lose as glaciers vanish? That's the question a team of scientists led by EPFL will set out to answer by exploring and studying the world's most prominent mountain glaciers. New Zealand marks the first step towards this three-year scientific adventure around the world. The project, called "Vanishing Glaciers" is lead from Switzerland by Tom Battin, professor and director of the Stream Biofilm and Ecosystem Research Laboratory (SBER).
By collecting microorganisms from hundreds of glacier-fed streams and analyzing their genomes, the scientists hope to understand, before it disappears, how this microbial life has adapted to the extreme conditions it is exposed to and how it is changing as the world's mountain glaciers melt.
Read our news article from 27.07.2018: "EPFL scientists set out to explore microbial life in glacier streams"
After several months of training in Switzerland, the field team is now ready to departure. The team is composed of Mike Styllas (geologist, expeditions leader), Hannes Peter (aquatic microbial ecology), Matteo Tolosano and Vincent de Staercke (alpinists, environmental biologists and scientists). They will be staying in New Zealand for two months, exploring glaciers of several areas (Arthur's Pass, West Coast, Mount Cook Village, Haast Pass, Wanaka and Milford Sound) and working with local scientists and alpinists.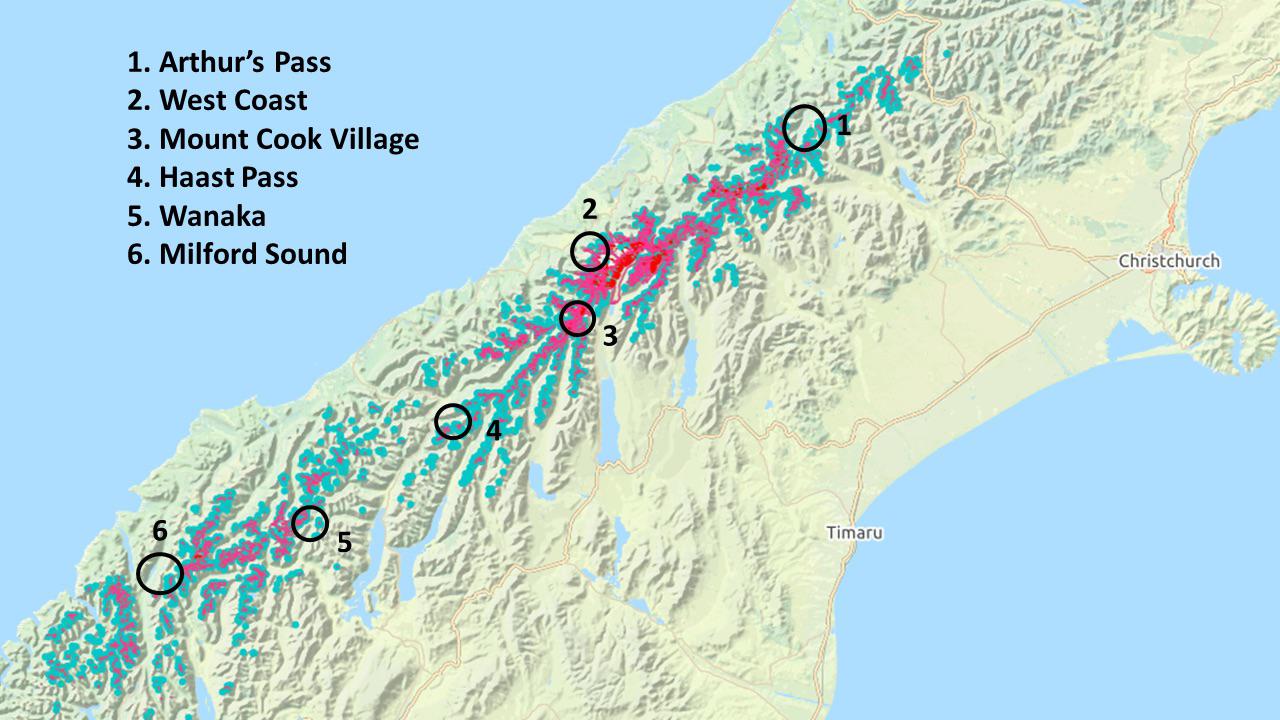 The map of their journey in New Zealand. © EPFL
Until 2021, the team will visit 15 countries and sample about 200 glacier-fed streams around the world. The project was the inaugural research program for the Alpine and Polar Environment Research Center (Alpole) in Sion, in Canton Valais, and was being made possible thanks to funding from the NOMIS Foundation, which exclusively supports insight-driven scientific endeavors.
The field team already tell about their adventures on EPFL's blog dedicated to scientific journeys abroad, EPFL Out There: #VanishingGlaciers
References
For any further information: Press kit
---
---