Buy and sell second-hand furniture with Meubléco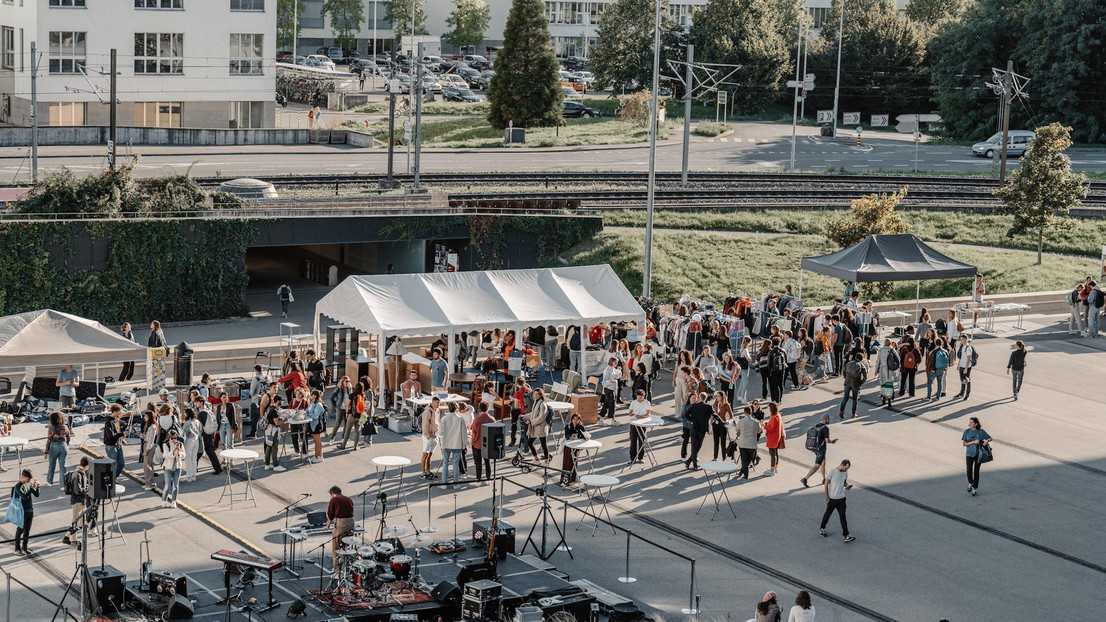 Under the Meubléco student initiative, anyone can sell their unwanted furniture or buy the items they need without breaking the bank. Team members Assia Ouanaya and Benjamin Quilichini reflect on their foray into the world of second-hand gear.

University campuses generally have a lot of turnover: people come and go all the time. They're therefore perfect places for adopting a circular-economy approach – especially when it comes to buying and selling second-hand furniture.
That's exactly what Assia Ouanaya and Alice Patin set out to do with Meubléco, which they set up after taking humanities and social sciences classes on planned obsolescence. The project is part of Unipoly, a joint EPFL and University of Lausanne (UNIL) student association working to raise awareness about the societal issues related to ecology. Thanks to early-stage support from EPFL's Sustainability Unit, the students were able to procure tents for their events and establish a foothold on campus.
An on-campus furniture store
"Our service is both environmentally and socially sustainable for the student community we serve," says Ouanaya. "We set prices according to each item's size and condition. For instance, a standard chair sells for CHF 5. People with unwanted furniture can fill out an online form and drop their furniture off with us during the breaks between semesters. Alternatively, we can collect it from them. We also offer a delivery service for people buying items from us."
The furniture store can be found in the Vortex building – a busy community hub on the UNIL campus. Each Wednesday, the Meubléco team runs a stall in the ground-floor premises set aside for UNIL student clubs, as part of a joint event with UP Fashion Lab, the Unipoly second-hand clothes store and the Biblothèque d'Objets, an initiative that lets students borrow everyday items.
"We initially reached out to Campus Market, an organization based in Lille in France," says Ouanaya. "It collects unwanted furniture from students, sells the items, and donates the proceeds to Emmaus and other charities working towards social inclusion. That initial contact led to a relationship that's still going strong today. The support from Campus Market has been invaluable."
Events to mark the new school year
On the advice of their French counterparts, the Meubléco team decided to put on events featuring circular-economy organizations. As luck would have it, the first such event took place in 2021 in partnership with the SwissTech Convention Center (STCC), which at the time was looking to inject new dynamism into the SwissTech Village.
The event they put together – known as the SwissTech Village Marchéco – is now a fixture of the start of the school year. It's held jointly by student associations and the STCC and features booths selling all kinds of second-hand items, from furniture and clothing to plants, books and more. The event, which is open to the public, also includes musical performances and food trucks, bringing a festival vibe to the northern part of EPFL's Lausanne campus.
It was amazing to see so many people waiting in line when we opened. Every year, dozens of parents come along to buy furniture for their children.
A spring festival atmosphere
In addition to the September event, Marchéco shows up again during Unipoly's annual Sustainability Week. In 2022 and 2023, the team joined forces with other associations to bring a festival atmosphere to the proceedings, which included improvised musical performances from the Cargo Bike Band. The early afternoon saw hundreds of people swarm around the booths, many leaving with newly acquired books and clothing in their hands.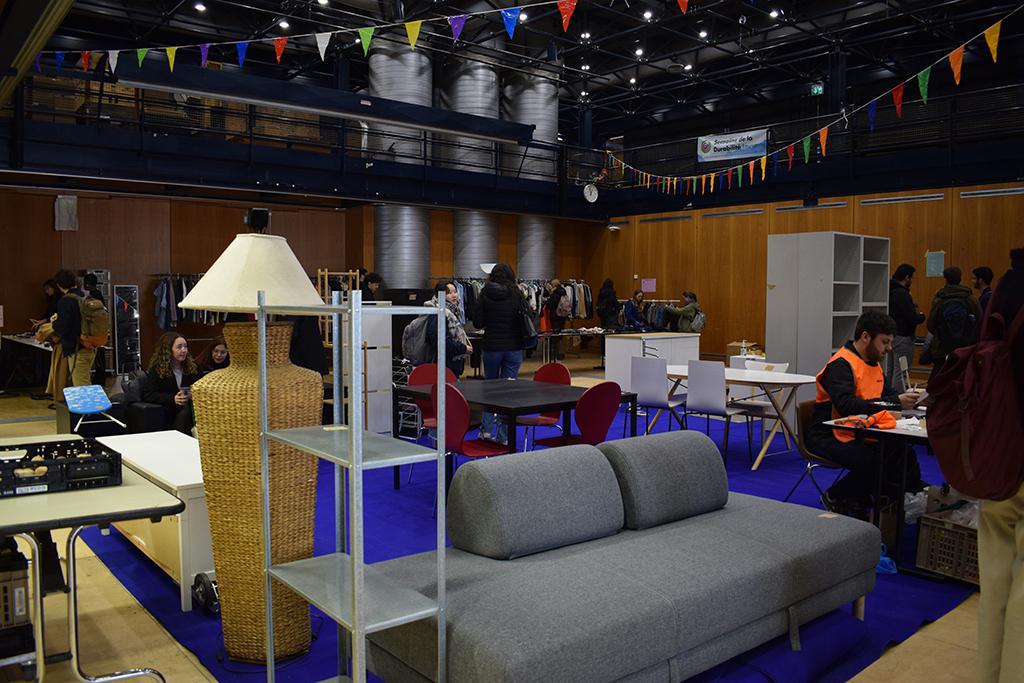 "Members of Plume sold books, Artepoly were there selling artworks, Castor Freegan brought along unsold food items, and we also invited the Ferme de Bassenges to take part," says Quilichini. "The Epilibre team even managed to haul their cabinet of bulk products along to the event. And, of course, we were there selling furniture."
The team behind Marchéco spend each summer collecting furniture for the September event and the winter gathering items for the spring festival. Each time, they manage to fill the store in the Vortex building, where the unwanted objects are piled up, ready for a second lease on life. Any pieces in poorer condition are donated to Gloryland, a second-hand store in Chavannes-près-Renens.
Some unusual items
The Meubléco team has also uncovered some unusual gems in the past few years. "Once, a lady who'd seen our poster in the Vortex building came from Fribourg with a truck full of furniture – and even a fountain," recall Ouanaya and Quilichini.
"Another time, we received a DJ mixing desk. And there was the time we found ourselves in possession of a white piano," says Ouanaya. "It was beautiful," adds Quilichini, "but also incredibly heavy! The person who bought it was absolutely delighted."
The team has also received donated items from Fondation Maisons pour Etudiants Lausanne (a student accommodations provider) and from moving companies. "Sometimes, we have to hold unscheduled events because we need to offload some of our furniture," says Quilichini. "Fitting everything in the store is a bit like a game of Tetris."
An experience like no other
For members of the Meubléco team, giving their time to a good cause brings its own sense of reward. But that's not all: they also headed to Paris for an event held by Campus Market, where they got to know other people and organizations involved in the second-hand sector.
Being part of all these initiatives and events has left its mark on the two students. "Second-hand projects are all about applying circular-economy principles and making a difference," says Quilichini. "From a personal perspective, I've started to think more carefully about my own habits and practices. It's also great to get this level of support for sustainability initiatives from so many people on campus."
Ouanaya takes a similar view: "What really matters to us is forging ties between student associations and EPFL departments and services. With the whole reuse movement, students who move out of the family home for the first time instantly embrace the idea that buying second-hand is a good thing. And that's incredibly powerful: you're changing mindsets and shaping the culture of an entire generation. It's amazing!"
Meubléco is hiring
We're building Marchéco from the ground up ourselves, working in tandem with other associations. It's an incredibly rewarding experience. It's great to know that what you're doing makes people happy, and it's always nice to get positive feedback. If you want to make a difference in terms of sustainability, this is exactly how to go about it! If you're considering joining us, we promise you'll have a lot of fun!
As Ouanaya and Quilichini approach the end of their Master's programs, they're actively looking for people with a passion for second-hand furniture to take over the reins and continue forging connections with local, sustainability-focused organizations.
"From the outside, collecting furniture might sound like a time-consuming role," says Ouanaya. "But in fact, there isn't that much to it. It's about helping out people who are leaving or moving onto campus. And once you've done one event, the next ones become much easier. We've done a lot of background work to put the necessary structures in place."
"We're on the lookout for new recruits," add Ouanaya and Quilichini with a smile. "See you outside the STCC in September!"
---
---