"We like to go vagabonding on our cargobikes"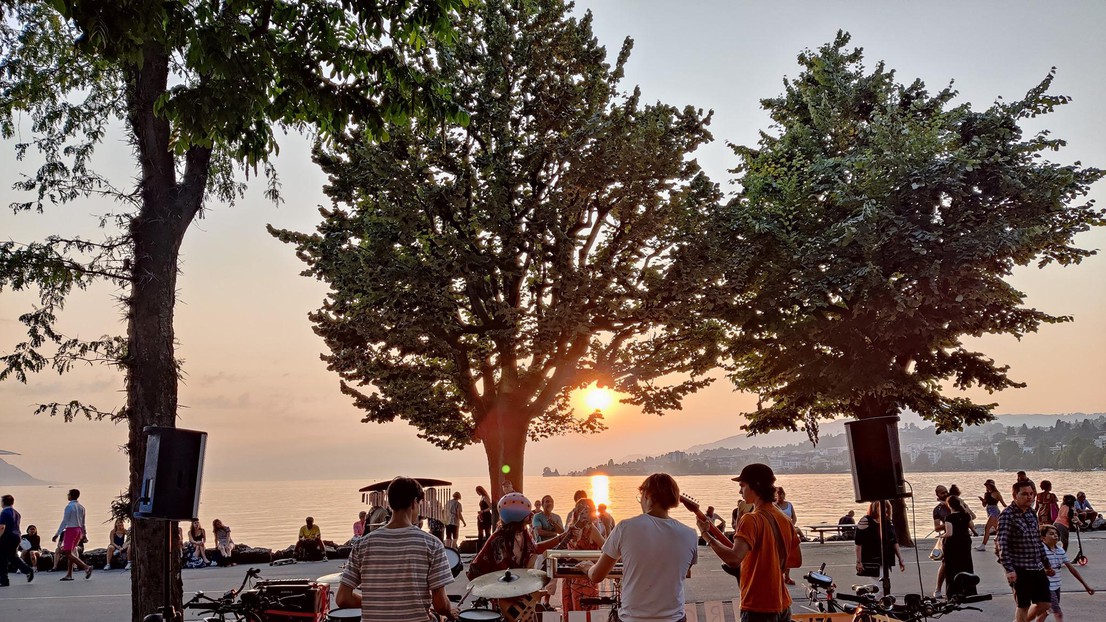 Cargo Bike Band is a group of traveling musicians who go from town to town performing on their cargobikes. Members of Cargo Bike Band – which was founded at EPFL – travel between France and Switzerland every summer. From repurposing vehicles to putting on improvised musical performances, the group has a range of creative activities on the go.

Cargo Bike Band began as an EPFL student club back in 2018, thanks largely to the vision of Arthur Parmentier. As an EPFL student, he was a member of the Musical association, and he used that experience – along with his love of music and adventure – as a springboard from which to launch Cargo Bike Band. He was soon joined by other musicians, and the group steadily grew until it broke off from EPFL in late 2022, once the majority of its members had graduated. Cargo Bike Band combines live music with clean transportation; the group regularly participates in the Sustainability Week held by Unipoly every spring and performs at Vivapoly, EPFL's school-year-end party.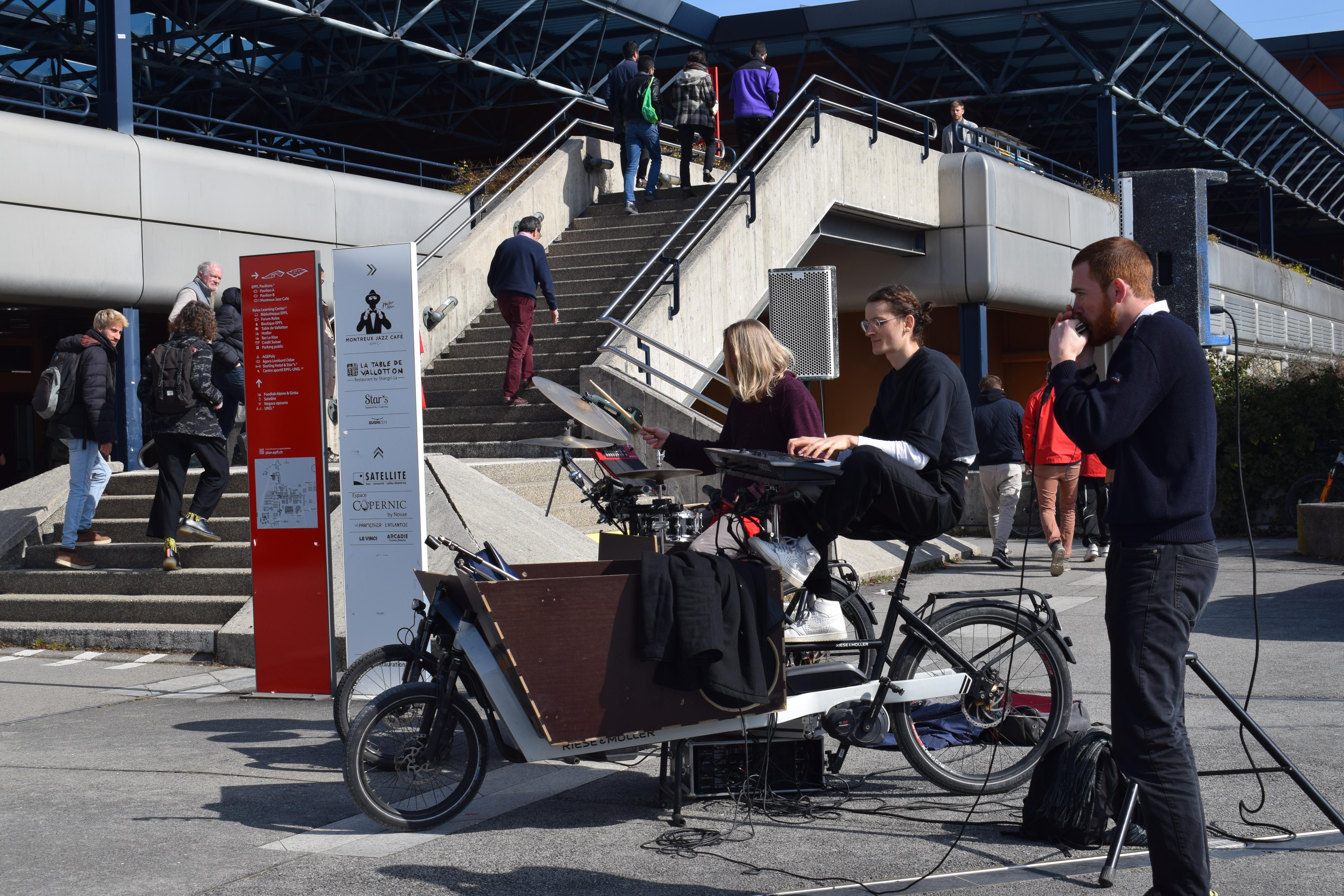 Summer tours
Cargo Bike Band is open to anyone who likes the idea of roaming freely from one place to the next while experimenting with music. The group runs a range of activities that change according to the season. "During the school year, we play concerts on weekends and hold one-off events where musicians can come and play," says Ninon Cabot, an EPFL physics student and member of the Cargo Bike Band committee. "But our main event is our summer tours, when we set off on our cargobikes, travelling from place to place for a month." Cabot joined the group during their third summer tour. "I originally planned to join for three days, but ended up staying for three weeks. It was an amazing experience!" she says.
Cabot isn't technically a musician, but rather handles coordination for the group. During the tours, she produces sketches and paintings of the group's stopover locations. The team is flexible, and everyone has an important role to play in making sure the overall operation runs smoothly. "We start looking for people in the spring who might be interested in joining us in the summer to play music, cook and travel with us!" she says.
A fresh perspective
I really fell in love with the initiative as a whole and not just the idea. I was moved by the people I met. There's a strong sense of camaraderie that I particularly like. We do lots of different things during the tours and there's a real chance to bond with people."
As for their itinerary, the group simply picks a destination – for example, last year they chose Grenoble – and then decide day-by-day where to stop along the way. "Whether we're cycling or have stopped somewhere, we like to take it easy and not put too much pressure on ourselves," says Cabot.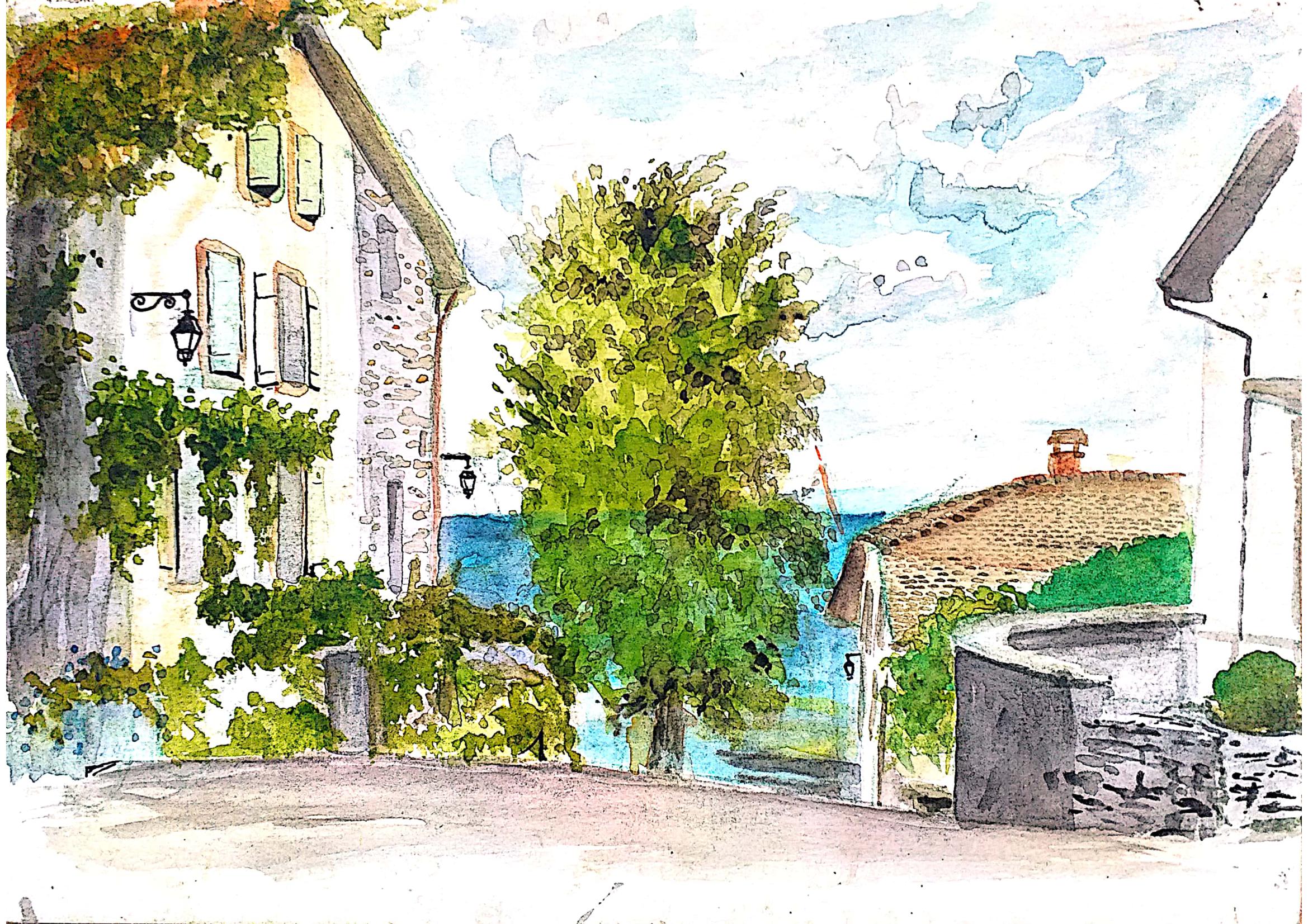 When the group arrives at a new place, there are a lot of logistics to arrange, such as finding a place to stay, food to eat, and venues where they can perform. The group relies on donations from the audiences at their concerts, and they also have a crowdfunding page (in French) where people can support their initiative.
"What I cherish the most are the people who welcome us into their towns," says Cabot. "When someone is willing to invite 16 people into their garden, it's incredible!" Fellow Cargo Bike Band member Hugo Caresmel agrees: "It's a fantastic feeling," he says. "I get to meet lots of people and form pretty close bonds with them. It's an experience that really brings people together."
Revamped cargobikes
When the student club first started, it received support from EPFL's Sustainability Unit, which helped members get the equipment they needed for their concerts. Since breaking off from EPFL, the group has been looking to acquire two new cargobikes; EPFL took its cargobikes back and now rents them out to students through a bike-sharing service.
Cargo Bike Band members have come up with some ingenious ways of revamping their bikes so that they can play their music from anywhere. For example, they worked with EPFL students to attach solar panels to their bikes.
"When we're not performing, a big part of what we do is improving our musical setup," says Cabot. "At first, we brought speakers with us, but then Hugo made these speakers that are built right into the crates at the front of the bikes. We're constantly brainstorming new ways of doing things."
The group currently has a drumming cargobike, a piano cargobike with a speaker, and a percussions cargobike with an electronic keyboard. "People can also bring their own instruments along or sing if they like," says Cabot.
Mixing improvisation and composition
Whether they're improvising or performing covers, group members enjoy experimenting with a variety of musical styles and techniques. The diversity of instruments and the range within the group means each concert is different. New members are encouraged to suggest a piece of music that they feel comfortable playing.
Personally, I play keyboard and bass. Our style changes depending on who's with us at the time, so we try to adapt. We can play anything from jazz fusion, rock and folk to world music, reggae and sometimes even classical pieces.
Getting involved
When they're not performing, group members like to put on workshops for each other. For instance, several of them are into polyrhythm, and they showed the other members what it's all about. "We try to learn from each other and give each other space to experiment," says Cabot.
"We'd love for anyone who wants to join us – whether for two days or three weeks – to get in touch!" she says. "We move around a lot during our summer tours, but we make sure there's always someone in charge of communicating with new members."
---