A three-year journey to break the world speed sailing record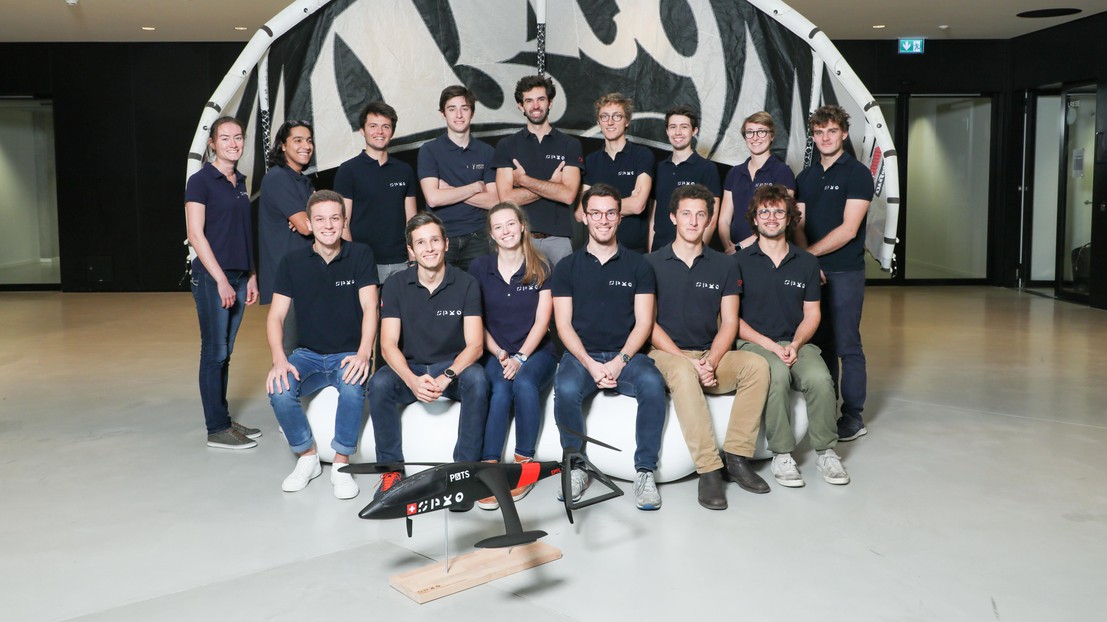 A team of EPFL alumni and students, working under the name SP80, are developing an innovative sailboat that could reach speeds of 150km/h.


Benoît Gaudiot, Mayeul van den Broek and Xavier Lepercq are charting a course towards setting a new world speed sailing record by 2022. That record has been held since 2012 by the Vestas Sailrocket 2, skippered by Australian Paul Larsen, which achieved an average speed of 65.45 knots (121.1km/h) over a distance of 500 meters. EPFL's team of sailing fanatics is aiming for 80 knots (148km/h), hence SP80, the name of the project on which they have been working for almost a year now. "If we're going to set a new record, we may as well aim high," laughs Benoît, a third-year mechanics undergraduate.
Gaudiot, van den Broek and Lepercq got to know each other at EPFL through the Hydrocontest competition. They each chose to come to EPFL because they were inspired by projects such as Alinghi and Hydroptère. When they first met, the conversation turned to kitesurfing, sailing, speed and winter sports: they quickly realized they had a lot in common, and their complementary skills have resulted in the SP80 project.
All three men are French. Van den Broek, who hails from Brittany, works as a scientist in EPFL's Laboratory for Processing of Advanced Composites (LPAC). He's a very experienced sailor, having started when he was a boy. Impressively, he crossed the Pacific Ocean in summer 2019 as skipper of the Nomade des mers. Gaudiot, originally from Toulon, is a talented kitesurfer with a taste for speed. In 2015, aged 17, he finished third in the Mondial du Vent competition. Xavier Lepercq, from Lyon, is the team's "mad scientist," as his colleagues affectionately call him. He works as an engineer in the R&D department of NTPT, a producer of composite materials that played a part in the success of the Alinghi and Solar Impulse 2 projects. Around seven years ago, he bought a boat and taught himself to sail, just as he taught himself kitesurfing.
Overcoming cavitation
With their diverse skill set, the trio behind SP80 have designed a kiteboat capable of beating the world speed record. The carbon-fibre boat is seven meters long and six meters wide, and it weighs 150kg. It features superventilating triangular hydrofoils and is pulled by a kitewing. "We based our design on the foil technology used by Vestas, which allows us to overcome the cavitation phenomenon. Since there was little on this in the scientific literature, we built our own kiteboards and tested various shapes of hydrofoils last summer," explains van den Broek. Gaudiot, the kiteboat's designated skipper, adds: "In the most recent test, I reached 41 knots [around 76km/h]. We were surprised to find that the boat's profile became more stable at speed."
Confident that they are on the right path, SP80's three founders have started to refine the technology and the boat's design using a sailing simulator developed by Lepercq. "Beating a speed record is a marathon, not a sprint," emphasizes Gaudiot. Since fall 2019, the three founders have been supported by a team of 16 current and former EPFL students. "We've got an incredible team, in which everyone contributes their expertise," notes Robin Amacher, an engineer at LPAC and coordinator of the SP80 project. "Gradually, the team has come together and the people involved complement each other very well, with a wide range of skills in areas such as performance composites, hydrodynamics and onboard electronics." This summer, SP80 received support from EPFL via the MAKE initiative, set up by the Vice Presidency for Education. The projects supported by MAKE not only receive financial support but can also use workspaces featuring cutting-edge equipment, as the SKIL, and they benefit from professional support and guidance. "SP80's core naturally consists of our design team and the student club, but we shouldn't forget the laboratories that are contributing their expertise, the MAKE network – including industry workshops – and our partner companies. All parts of the team are pulling in the same direction and creating an exceptional environment for our project," says Amacher, who worked on the Hydroptère.
EPFL's support also means that the students' work on SP80 will count as a semester project or a Master's project. Sailing enthusiast Aurore Kerr, the team's community manager, is one of SP80's four students who have taken this option. She is completing her Master's project in EPFL's Laboratory for Hydraulic Machines (LMH) on the subject of superventilating hydrofoils. "We can use the cavitation tunnel to test various hydrofoil profiles," she says. "The technology was tested several times during the Cold War, but as time has gone on, the more we see only digital simulations being used."
The team is also gaining recognition in the sailing community, to its great satisfaction. "We have a credible project, which has already allowed us to hold discussions with some very high-level teams, ones that really inspire us," says van den Broek. With a target budget of around 1,6 million, SP80 raised enough money to develop a prototype in 2020, which it will test on Lake Geneva in 2021 before seeking to break the speed record in 2022. Yet they are not the only ones in the running: a French team is also eyeing the record. As a quirk of fate, Gaudiot's brother – who completed his Master's at EPFL's LMH – is working on the rival project. "We know the other team, and the fact that there are two teams taking up the challenge is a big motivation," says Gaudiot. After all, a good sailor should be prepared to deal with any situation.
---
---