"You can play a very important role for humanity"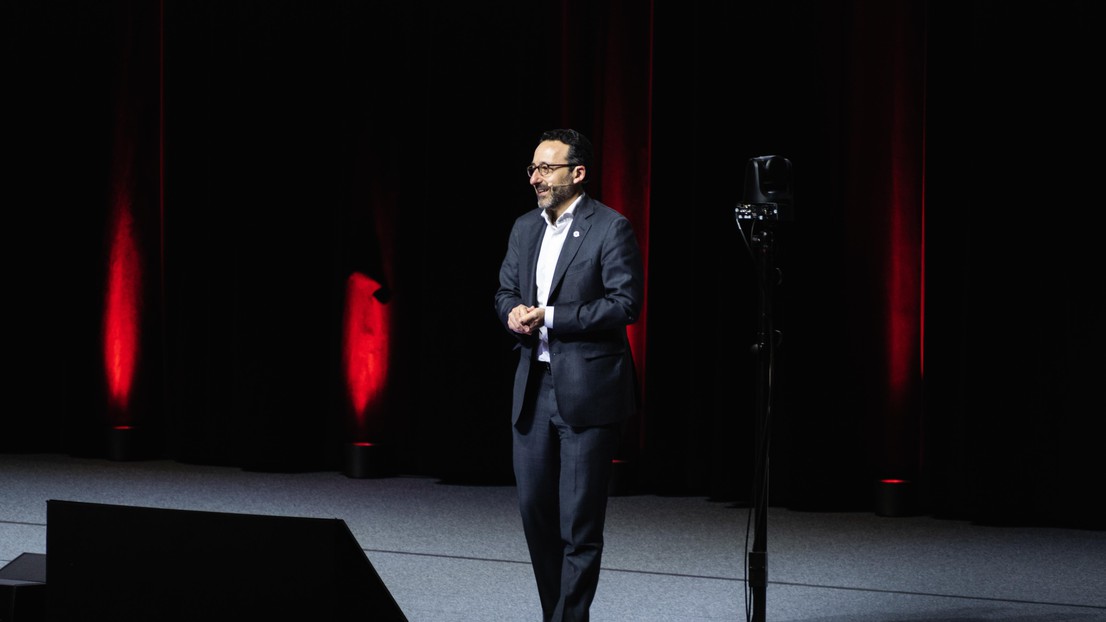 On February 28, around 2,000 EPFL students convened at the SwissTech Convention Center for the Grand Témoin ceremony, a key event of the "Global Issues" course offered by the College of Humanities (CDH). This year's ceremony featured keynote speaker Robert Mardini, EPFL alumnus and Director General of ICRC (International Committee of the Red Cross), plus the poster awards for the 2022 Global Issues course.

The Global Issues course, part of CDH's Social and Human Sciences (SHS) program, is taken by all EPFL first-year bachelor students. Classes are available from six interdisciplinary tracks – health, climate, food, energy, communication and mobility – and as the final project, students work in teams and create posters about an issue. Of these posters, three are awarded top prizes and 12 special recognition, given during the Grand Témoin Global Issues ceremony at the beginning of the following semester.
An education in the humanities
This year's ceremony, moderated by CDH Journalist Anne Laure Gannac, began with words of welcome from EPFL Vice President for Academic Affairs Jan Hesthaven, who highlighted the importance of a humanities education in an engineering and technical school by giving the example of the Covid vaccine rollout, where the technology and science were solid, but there was a lack of understanding of how to communicate it effectively to society.
"In order for you to have a difference and make an impact, you need to understand the world that you walk into," Hesthaven told the Global Issues students. "Even the very best solutions we can think of are useless if they're not implemented"
Béla Kapossy, the director of the SHS program and former director of the CDH, then took the stage to offer words of encouragement and reiterate the necessity of having a solid cultural understanding. "As scientists, and as citizens, you need to be able to communicate," Kapossy said. "This requires understanding different institutional cultures and values."
Kapossy then gave the award for 2022 Best Teacher of SHS to Florence Graezer Bideau and the 2022 SHS master's award to Lukas van den Heuvel, Gabriele Furlan, and Medya Tekes Mizrakli for their project Lab on Top, where they recreated scientific experiments of the 18th century scientist Horace Bénédict de Saussure.
This was followed by three presentations from the best poster winters of the 2022 Global Issues Course: Les éoliennes aéroportées, un atout pour le système énergétique?;Les organes artificiels : fantasme ou innovation?; and La propagande 2.0 : votre ennemi! Each group gave an engaging presentation in front of their peers. Then Kapossy invited the members of all 12 poster teams that received special recognition to the stage to receive chocolate.
Linking engineering with humanitarianism
The highlight of the evening was the keynote speech by Robert Mardini, Director General of ICRC, who was introduced by Victor Pennacino, a master's student in robotics and winner of the 2022 model UN contest. Given that the Grand Témoin 2023 took place just days after the one-year anniversary of the Russian invasion of Ukraine, Mardini's experience at the ICRC, which provides humanitarian aid to victims of armed conflict, was especially relevant.
Along with his role at the ICRC, Mardini is an alumnus of EPFL with a master's degree in civil and hydraulic engineering. He told the attentive students that EPFL taught him not only technical skills, but analytic ones as well, and that it was where he first came into contact with ICRC and understood the link that engineering could have with humanitarianism.
"For me, EPFL is more than an engineering school," Mardini said. "It is an excellent platform to help you contribute solutions to our world."
During his talk, Mardini also referenced back to the three posters that had just been presented, discussing the role of disinformation in the crisis in Ukraine, the need for affordable and accessible prosthetics for victims of armed conflict, and wind energy as one potential solution to the climate crisis.
After his speech, Mardini answered student questions, even staying past the end of the event to do so. And he made sure that the 2000 gathered students understood that whatever their educational path, they have a part to play in helping to improve the world.
"You don't need to be a humanitarian worker to work for humanitarian causes. Whatever path you choose, you can play a very important role for humanity," Mardini said. "One piece of advice: be crazy, be courageous, defy the status quo, and try as much as possible."
All the winning projects of Global Issues 2022
Projects in bold were presented live at the Global Issues event:
Food A:
"Déballer ou manger, faut-il vraiment choisir?" (Unwrap or eat - do you really have to choose?). Dorian Kury, Yofthahe Yeshitila, Damian Herculano, Maximilien Rochat, Guillaume Vitalis
Food B:
"Jeûner pour guérir le diabète?" (Fasting to cure diabetes?). Mahlia Merville, Adrien Cadet, Ella Neike, Laszlo Baudriller, Coralie Banuls
Climate A:
"Les rizières de la plaine centrale de Thaïlande : concilier grand rendement et réduction d'émissions" (The rice fields of Thailand's central plain: reconciling high yield and reduced emissions). Arthur Bongini, Solal Després, Léo Dumond, Aloys Bouvier, Lou-Anne Ducruet
Climate B:
"Herbivores et permafrost au parc du pléistocène" (Herbivores and permafrost at the Pleistocene Park). Elias Devantéry, Bastien Gaussent, Luca Tanganelli, Gonçalo Monteiro Pais, Théo Flück
Communication A:
"Nos données entre leurs mains : un risque pour nos démocraties ?" (Our data in their hands: a risk for our democracies?). Clara Hamousz, Colin Feuz, David Mourier, Hadrien Rodrigues, César Auzeau
Communication B:
"La propagande 2.0 : votre ennemi!" (Propoganda 2.0: your enemy!). Apolline Fabre, Lila Meflah, Annick Melse, André Peiry, Louis SchanenEnergy A:
"
The future of energy storage". Alessandra Aloulou Raposo, Adnane El Haouat, Maria Claudia Travaglio Ramírez, Rubén Laorden Poveda, Jan Zgraggen
Energy B:
"Les éoliennes aéroportées, un atout pour le système énergétique?" (Airborne wind turbines, an asset for the energy system?).Romain Corbel, Lou Deschamps, Guilhem Destriau, Roy Turk

Mobility A:
"Hyperloop : dialogue manqué entre mobilité et écologie". (Hyperloop: a missed dialogue between mobility and ecology). Loïc Antille, Mathieu Briguet, Fiona Clavien, Yann Tronchin, Alexandre Adnane
Mobility B:
"Next-day shipping: how can sustainability and convenience coexist?" Jans Nordgren, Kalina Mihailovska, Nathanaël Lambert, Tatiana Goundiaeva, Juan Iaconucci
Health A:
"Les organes artificiels : fantasme ou innovation?" (Artificial organs: fantasy or innovation?). Nithujaa Thirunavukkarasu, Louise Montlahuc, Cyann Sprüngli, Timur Ünver, Hema GouleHealth B:
"CRSPR Cas9 : quelles limites éthiques pour l'édition du génome?" (CRSPR Cas9: what are the ethical limits for genome editing?). Sacha Frankhauser, Alexandre Progin, Rémi Romano, Léo Martin, Henry Hollenweger
About Robert Mardini

Robert Mardini is Director General of the International Committee of the Red Cross (ICRC), a position he assumed in March 2020. As head of the ICRC's executive body, he is responsible for steering the organization's global humanitarian activities and its 20,000 staff in more than 100 countries, with a yearly budget of over USD 2.5 billion. Mardini began his ICRC career in 1997, coordinating programs in Rwanda and Iraq before going on to lead the Water & Habitat unit. Since then he has held a variety of key positions in the organization, notably Deputy Director-General (2010-2012), Regional Director for the Near & Middle East (2012-2018) and Permanent Observer to the United Nations and Head of Delegation in New York (2018-2020). In 2021, he was elected to the Swiss Academy of Engineering Sciences (SATW) in recognition of his ability to mobilize teams to provide effective emergency aid to victims of major armed conflicts. He holds a master's degree in civil and hydraulic engineering from EPFL.






---
---