Where to play: a practical guide for running your tech business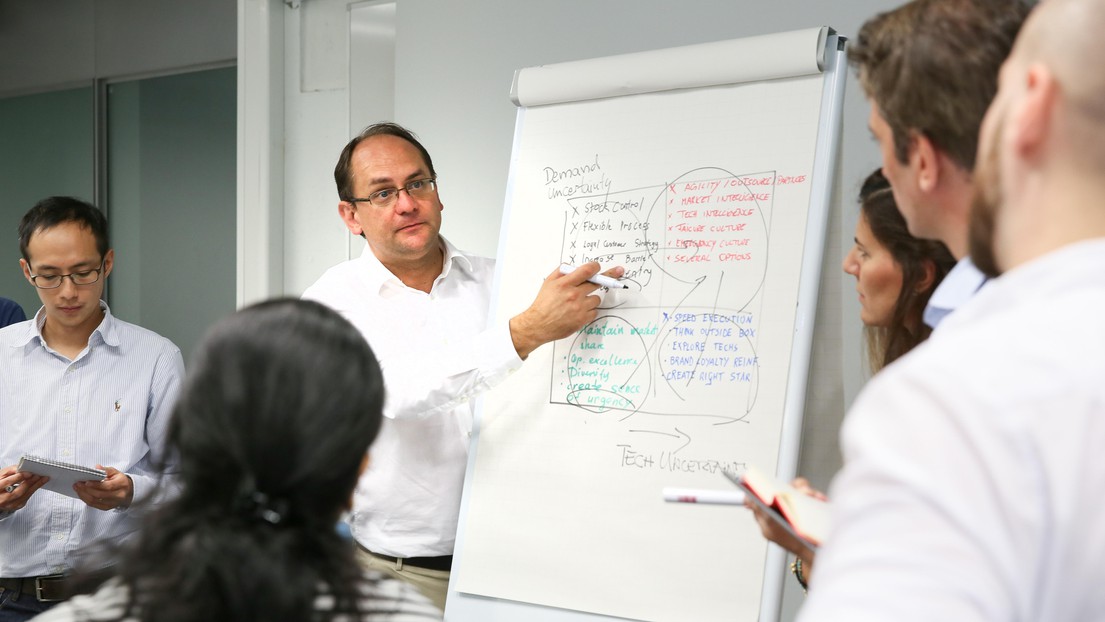 The world's leading researcher in entrepreneurship and EPFL Vice-President for Innovation, Marc Gruber, along with co-author Sharon Tal, have written the book "Where to play", a practical strategy that guides entrepreneurs, even established ones, through important decision-making in the business landscape.

If you are an entrepreneur, or aspire to be one, it is important to take a step back and reflect on the target market and its potential value of your venture. But there could be numerous market opportunities, and each of these opportunities have the potential to generate value, some being more competitive and challenges than others. Where does one start? How does one seize opportunities for success?
In the interview below, Marc Gruber talks about how he became an expert in entrepreneurship and why he wrote his book Where to play.
How did you get interested in business management?
My father owned a business, so I was exposed to a business environment at the home. Business related questions were discussed at the dinner table, and this early exposure initiated my curiosity about how business is done.
I then studied management at the University of St-Gallen, specifically for small and medium-size businesses. But it was in Philadelphia at the Wharton School of Business that I learned about entrepreneurship and the start-up culture, well before it was being taught at European universities.
Creating a start-up is like innovating in a very special context, that of the business world, with a very special purpose, to provide value in society. This innovation has an important impact on wealth creation, from both a social and a financial perspective.
Over the years, I have studied over 10 000 start-ups, their successes and their failures. Our new book uses data from a few hundreds of these start-ups. I have also been working with many start-ups to support their commercialization efforts.
What is your book Where to play about?
There are two critical problems that start-ups are faced with today when deciding on their target market. The conventional wisdom suggests that they need to focus quickly on a single market opportunity, and there is tremendous pressure to be fast. But as an entrepreneur you need to ask yourself: Are you running in the right direction? In addition, we know from our own research that 73% of start-ups must pivot to another market over time as their initial market did not provide the fertile ground for the product or service that the founders had hoped for. In other words, they need to reorient their company completely, thereby losing time, money and perhaps the drive to push further.
What we've learned from studying these start-ups is that it is important not to rush in targeting a market, to look at multiple market options before you leap, and that you should develop a "smart focus" strategy, where you focus on one market yet have others in view. This will allow you to build much-needed flexibility into your approach right from the start, so that you can more easily pivot to another market domain should it become necessary.
Start-ups are faced with these critical practical problems, yet until now, there was no practical guidance for entrepreneurs and innovators on this major topic. It is a research topic that I have been working on since 2000, then later with my external PhD student Sharon Tal from Technion. We decided to fill that gap by writing Where to play.
The method that is explained is called "The Market Opportunity Navigator". It adds critical components to and complements other well-known business tools, in particular the "Business Model Canvas" and the "Lean Startup Methodology".
Is your book for beginner entrepreneurs?
The book is written for a wide audience: entrepreneurs, innovators, technology transfer offices and educators in business management.
Entrepreneurs, new and experienced ones alike, will find the book useful, as the Market Opportunity Navigator method will help their decision-making and improve communication with different stakeholders.
Innovators in established companies may be able to identify new value creation opportunities thanks to the book, which may then move them successfully to exploitation. The book essentially acts as a guide in prioritizing activities and dedicating financial and human resources in the innovation process.
Furthermore, both technology transfer offices and venture capitalists may benefit from this book, as it allows them to work with start-ups and inventors in a clear manner: the worksheets we provide contain a clear language that supports the conversation between the different parties. Moreover, the worksheets ask key questions that every technology transfer office or venture capitalist is interested in.
Finally, educators may discover critical elements that are useful in teaching entrepreneurship, since our method is easy-to-apply and draws on the experiences of serial entrepreneurs.
How does the entrepreneur culture differ in Europe?
A key difference in that European ventures are often built on deep technology, where it is especially important to figure out a good target market from the start, as pivoting is usually very costly.
---
---