Welcome Rüdiger Urbanke as new IC School Dean!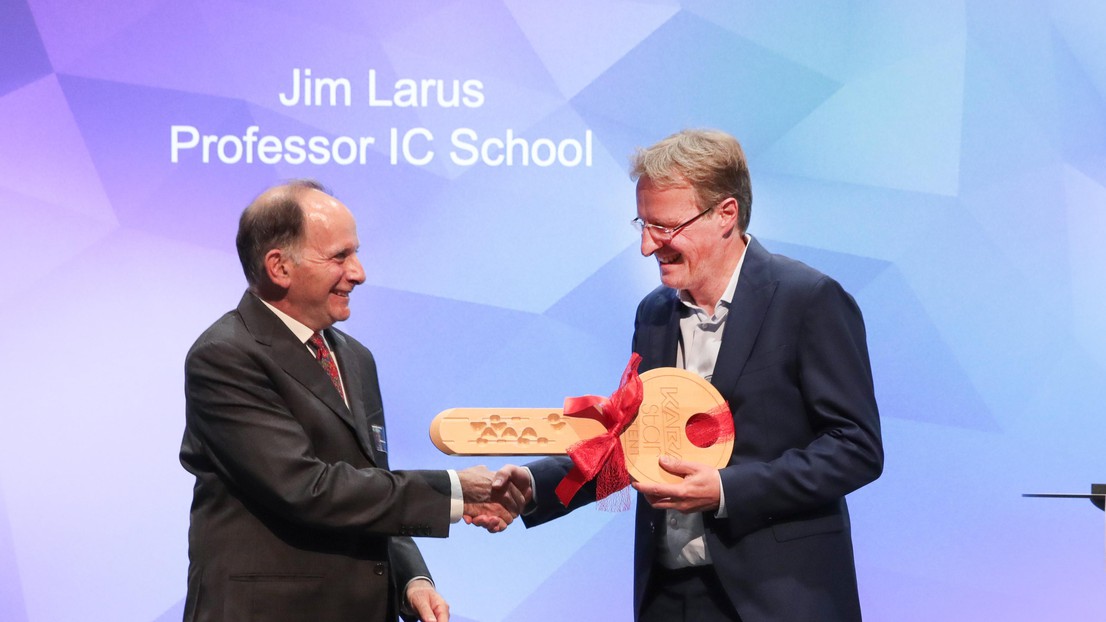 At a Dean handover ceremony last night Professor Rüdiger Urbanke, an expert in powerful channel coding methods, has taken the helm of EPFL's School of Computer and Communications Sciences (IC) from Professor James Larus, after an eight-year tenure.

Last night, in an evening of both reflection and looking to the future, staff and students from across EPFL gathered at the Rolex Learning Center Forum to welcome Rüdiger Urbanke as the 4th Dean of the IC School. 
After speeches that outlined James Larus' achievements and key milestones as Dean, including the hiring of more women and younger faculty members as well as building important partnerships with other parts of EPFL, Larus handed Urbanke the symbolic 'key' to the School, wishing him all the best.
Urbanke obtained his Dipl. Ing. degree from the Vienna University of Technology in 1990. He was awarded a Fulbright Scholarship to study in the United States and gained his M.Sc. and PhD degrees in Electrical Engineering from Washington University in St. Louis in 1992 and 1995, respectively. After then joining the Mathematics of Communications Department at Bell Labs for four years he arrived at EPFL in 1999.
"I see my role as helping people in IC to succeed, shielding them if necessary and perhaps, most importantly, to attract the brightest, most creative, and most motivated students, faculty and staff for the future. I have tremendously benefitted from the collegial and stimulating environment inside IC and I hope that the next generation has the same experience," Urbanke told those gathered at the handover ceremony. 
"Wouldn't it be great if we were responsible for the next revolution in computing, a new paradigm in security, AI made trustworthy, or hiring the next brilliant mind? The list goes on!" he continued.
In such a fast moving field, Urbanke understands the importance of remaining nimble and believes the IC school is well positioned for whatever developments lie ahead, "Today machine learning is king, tomorrow it might be quantum computing or the fascinating problems at the interface with Live Sciences (SV). As the name suggests, IC combines computer science and communications, something that is very rare. This makes us extremely well positioned for the challenges that lie ahead."

Larus, who has described Computer and Communications Sciences as "the most influential field in the last 50 years", will remain at EPFL and is looking forward to getting back to research.
---