"We're part of the cryptocurrency ecosystem."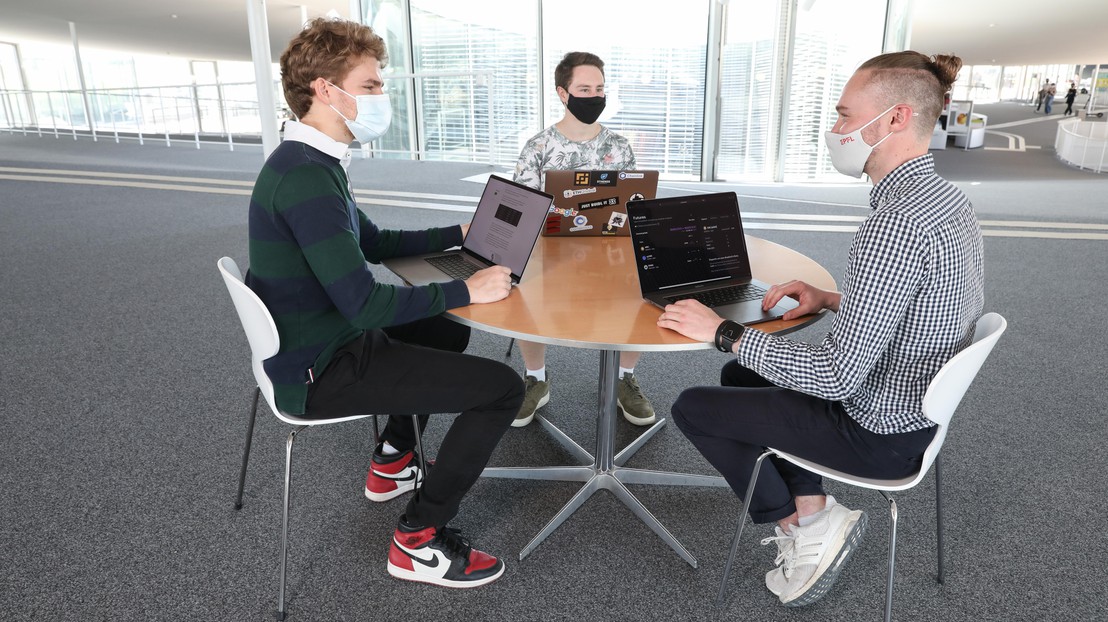 A group of EPFL students has developed a system for making speculative investments in decentralized finance. Their startup, called APWine, raised nearly $5 million in cryptocurrency in a fundraising round this spring.

Gaspard Peduzzi, Antoine Mouran, Jean Chambras and Ulysse Ramage met at EPFL and soon found they shared an avid interest in decentralized finance. "It's an ecosystem made up of many different puzzle pieces. The various protocols all fit together, with each one bringing its own set of features," says Peduzzi, who headsEPFL's Blockchain Student Association. "But when we got to talking, we realized that one piece was missing."
They fleshed out their idea for a new protocol in August 2020. "It was right after final exams," says Chambras, a second-year Master's student in computer science. "And it all went very quickly. By October 2020 our business had already been set up. We decided to name it APWine, based on the acronym APY, which stands for 'annual percentage yield,' or the real rate of return on an investment. It's an interest rate on which investors can speculate. And 'wine' is an allusion to the fact that it gets better and gains in value with time."
In short, APWine offers people who invest in decentralized finance platforms the ability to speculate on the future return on their investment. Investors can buy, sell or trade tokens that correspond to a given return, so as to lock in that return and hedge against future price fluctuations. "This kind of mechanism already exists in regular financial markets but was missing in decentralized finance," says Peduzzi – himself a connoisseur who bought his first cryptocurrency at the age of 14, long before he was able to open a conventional bank account.
A promising start
APWine proved highly popular right from the start. The startup carried out its first fundraising round in March 2021, bringing in $1 million in cryptocurrency, and a second one in May 2021 for some $5 million in cryptocurrency. Over a thousand people have taken part in APWine's online forum, seeking information on the new protocol under development. "Cryptocurrency businesses generally stay in close contact with their community. We had to hire a community manager so that we could manage this relationship more effectively," says Chambras.
Carefully selected, around 30 investors have acquired a governance token, which gives them the right to vote on strategic decisions such as: which decentralized finance platform will APWine use, and how will the business employ the funds it raises? This group of investors was selected carefully by the co-founders. "We chose people who have skills in different areas that can help us develop our business. Some of them have even developed protocols themselves that are fairly well-known," says Chambras. "We found ourselves playing in the big leagues fairly quickly. Just a few months ago, these were people in the cryptocurrency ecosystem whom we had heard about and followed – and now we're working with them. It's really exciting!"
Positions available
The students had already developed various ideas during hackathons, but this was the first one they decided to take further. And they've invested a great deal of time in their venture – alongside their EPFL coursework. "It's the most thrilling experience I've had!" says Peduzzi. "The entire process is really instructive. I've learned a lot from our discussions with advisors, lawyers for the legal aspects, investors, and our whole community. The beta version of our protocol has been released. We hope that our protocol will be coupled with others so that we can contribute one more piece to the decentralized finance puzzle."
APWine is now hiring; two positions are currently available. "Get in touch if you want to know more! We'd be happy to discuss the openings and see if we'd be a good fit," says the team.
---
---