"We need to empower people with disabilities"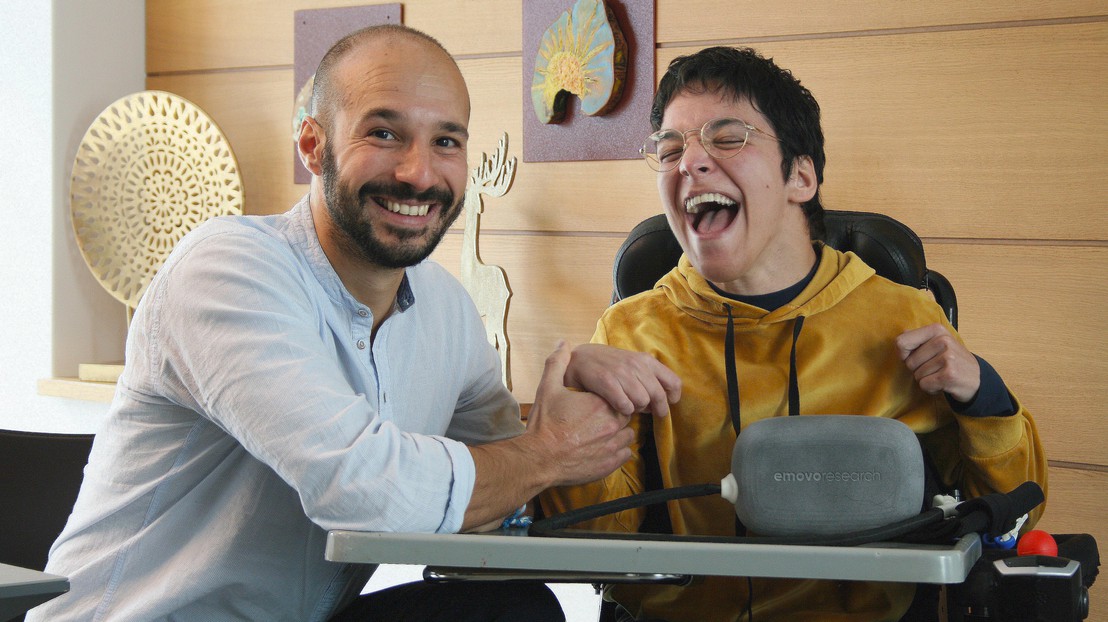 Hand exoskeletons, robotics and intelligent houses for providing assistance, EPFL engineer Luca Randazzo is not one to give up. His choices in life have been driven by one purpose: helping his sister who suffers from disability.

What do the EPFL start-up Emovo, an EPFL course in Assistive Technologies Challenges and the association Hackahealth have in common? They are all initiated by Luca Randazzo, an EPFL graduate who is driven by the purpose to put engineering at the service of people with disabilities.
"It's not just about building devices, we need to be building them together with the people who need them, to know their needs, and to break the stigma behind disability," says Randazzo.
Born and raised in Sicily, Randazzo knows disability intimately. His sister Chiara Randazzo has cerebral palsy, due to a premature birth and complications during delivery, leading to cognitive and motor impairments her entire life.
It's only after chatting a while with Randazzo that one can see behind the smile, and get a sense of just how preoccupied he is about looking after his sister when his parents will no longer be able to. He also is one to try – without fear of failure.
At University, Randazzo chose engineering because he believed that it was the best way to help his sister and assist her in daily living. When he first set out on the engineering path, failing first year exams did not dissuade him. "Before, I was studying concepts in philosophy and art, and this clearly did not prepare me for engineering," tells Randazzo with a laugh. "I failed my Math Analysis course seven times before passing the exam. I had no idea what complex numbers were, nor how to do a derivative. But facing this challenge really shaped my character. I learned not to give up, and I actually started to succeed and became one of the best students of the class."
With this idea of helping people with disabilities to drive his choices, Randazzo never stopped questioning the pertinence of his decisions, making a shift from computer science towards robotics. "I chose computer science because I was dreaming about building an intelligent house that was compatible with wheelchairs, which you could control with your voice. I could see that my sister didn't have control over her body, but she could reasonably use her voice," he says. "During my studies in computer science, however, I realized that there was a lot of focus on the digital world, but with little impact in the real world. I needed something that could act in the real world, so I started falling in love with robotics, because I realized that intelligence cannot act without a body. Intelligence and action have to be embodied, they cannot just be in a computer."
Randazzo started to build robots for helping people with motor and cognitive impairments. For the Bachelor's degree, he studied a mobile robot that he combined with informatics, imagining an autonomous wheelchair that would navigate intelligently for his sister.
Afterwards, Randazzo was accepted into an Italian Excellence program (Alta Scuola Politecnica) between the two Politecnici (Torino and Milano) for his Master's, motivated to develop skills in mechatronics engineering, and translating them into the real world. His aim was to build robotic arms or humanoid robots that could actively assist people who needed help with daily tasks, for example a robot that could feed or cook. But over the next following years, and with valuable interactions with his sister about his ideas and prototypes, his mindset began to shift towards a new paradigm. Instead of building robots to actively assist a user, he wanted to empower the user instead towards independence – to restore one own's body rather than putting the autonomy outside of it.
In the meantime, Randazzo was gaining confidence as he progressed throughout his career. After completing his Mechatronics Master's, he started to feel more and more legitimate as an engineer. Working in space robotics at NASA Jet Propulsion's Laboratory literally propelled his confidence. "At JPL, I was working on projects with other engineers from some of the most renowned institutes in the world… MIT, NASA, Stanford. We were speaking the same language, for building robots that go to Mars. I realized that I was competent enough to understand. This was the launchpad of my self-esteem," remembers Randazzo.
Randazzo remembers a key moment that would forever direct the course of his career. "I clearly remember flying to Torino for my Master's graduation ceremony. Chiara was sitting on my right and she had severe spasticity in her hands that kept them in closed fists. She couldn't use her hands, one of the most important assets of daily living. I realized that this lack of control of her upper limbs was extremely debilitating, and took away so much of her independence. This is when I became really fascinated by wearable robots that restore autonomy. In that moment I told myself 'hands are important, this is something worth working on!'"
Back at his parents', from the depths of his garage, Randazzo's first independent project was called Hubotics. It was about restoring elbow mobility with an exoskeleton that he developed in tandem with his sister. While he was able to restore his sister's elbow movement, it didn't have the effect that he had expected. Instead, he learned a valuable lesson: "I was putting too much emphasis on function, forgetting the person. I thought that if I could restore function, disability would disappear. But the value of working with my sister was in the actual interaction with her, by giving her a voice in the process. She told me she loved working with me, being the creative mind taking care of our device's personalization, of the colors and covers. She was empowered to be an active part in society, instead of simply being a passive recipient. She felt purpose and direction. I had a change of mindset, that I should not forget the social aspect of disability, nor the lack of social integration in today's society."
In 2014, Randazzo was accepted at EPFL in the neuroprosthetics doctoral program, to develop an exoskeleton controlled by brain signals. Just a few years later in 2017, he co-founded Hackahealth to foster a social environment around disability by bringing passionate engineers together with the physically challenged. The association organizes hackathons at both EPFL and ETHZ, aiming to develop solutions for real users with special needs, welcoming 50 participants each year. The association is currently organizing its 5th event.
After completing his PhD, he founded his start-up Emovo, which aims to provide solutions for users with motor impairments. The company's first product is a hand exoskeleton and it's being developed to help people with special needs regain control of their hands. Randazzo continues to develop the hand exoskeleton, with of course the participation of his sister, as well as stroke victims in a partnership with rehabilitation centers in Switzerland. His company recently obtained certification as a medical device manufacturer (ISO 13485).
"I love building stuff, creating a big garage with a lot of machines, but then also having people come, like a living lab where people with disabilities interact with engineers. I want to create a whole community around this, and this idea is always in the back of my head, in parallel to building devices that support functionality and to empower the people who need these systems. And if I fail, I'm simply going to start over again."
Luca Randazzo has a PhD from EPFL in brain-machine interfaces. He received a Bachelor's degree in computer science from Universita' di Catania (Italy), a Master's degree in Mechatronics from Politecnico di Torino (Italy), a Master's degree in Automation from Politecnico di Milano (Italy), and worked in space robotics at NASA Jet Propulsion's Laboratory (Pasadena, California).
---