Warm congratulations to Stewart Cole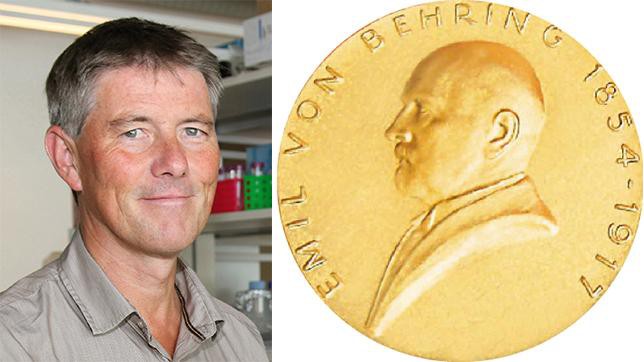 Professor Stewart Cole has been awarded the prestigious Emil von Behring Prize for his contributions to the field of tuberculosis.


Professor Stewart Cole, currently director of EPFL's Global Health Institute and Head of the Lab of Microbial Pathogenesis, has been awarded the 2014 Emil von Behring Prize from the University of Marburg. He is being recognized "for his outstanding work in the field of tuberculosis research", which includes groundbreaking publications on the genomics of Mycobacterium tuberculosis and Mycobacterium leprae. His current work focuses on the development and clinical testing of novel antibiotics against M. tuberculosis, which currently accounts for 1.5 million deaths each year (source: WHO).
The Emil von Behring Prize commemorates the homonymous scientist who won the first Nobel Prize in Physiology or Medicine in 1901. Emil Adolf von Behring (1854 – 1917) achieved fame for developing a serum therapy against diphtheria and tetanus, two diseases that claimed numerous lives of children and soldiers at the time.
The Emil von Behring Prize is awarded every two years by the (Philipps-) University of Marburg to honor special scientific achievements in medical, veterinary and scientific areas, with an emphasis on immunology and disease control. The Prize is one of the most prestigious German awards, and consists of a medal with von Behring's engraving and a sum of €20,000, donated by the Marburg-based Novartis Vaccines and Diagnostics.
The Global Health Institute is one of the four research Institutes homed at the EPFL School/Department of Life Sciences.
---
---