>>venture>> 2020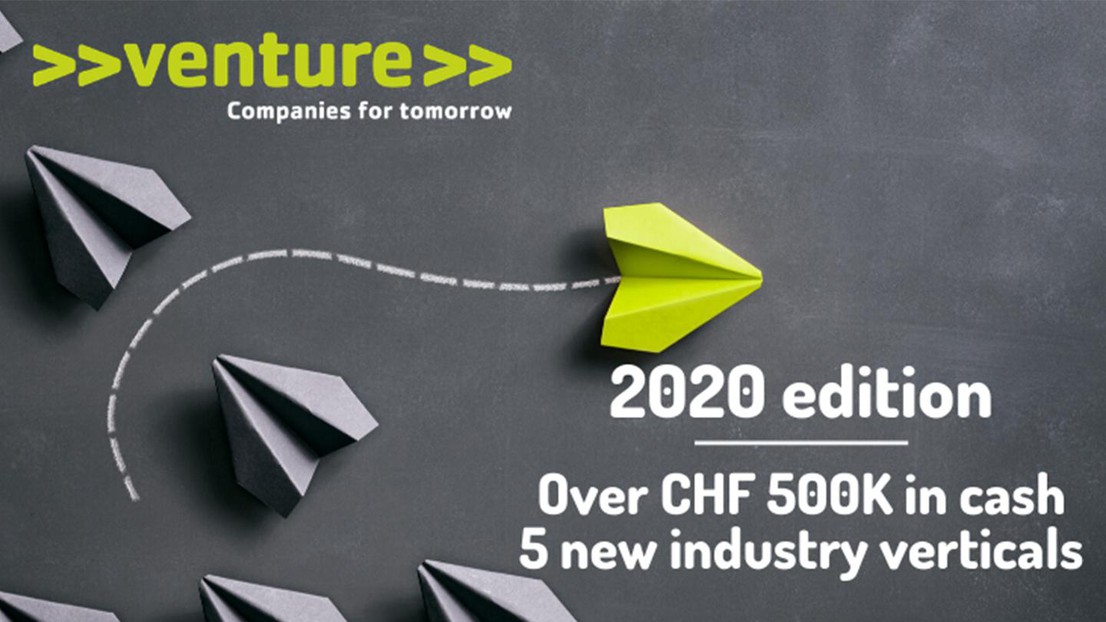 Switzerland's leading startup competition, >>venture>>, announced that it will be awarding a total of CHF 510,000 and introducing a total of 5 industry verticals to the competition in 2020. Co-organized by some of the biggest drivers of innovation in the country, ETH Zurich, McKinsey & Company, Knecht Holding, Innosuisse and EPFL, >>venture>> was one of the first established startup competitions in Switzerland, and today, is now the largest with its grand prize winner taking home CHF150,000 in non-dilutive funds.

The Swiss-wide competition is currently open for submissions under the five following newly formed industry verticals:
Health & Nutrition
Industrials & Engineering
Retail & Consumer Services
ICT (Information & Communication Technology)
Finance & Insurance
The latter three verticals are the newest additions to the competition and reflect a strong entrepreneurship opportunity as the industries turn to digitalization for innovation. Startups have until March 26, 2020 to submit their business cases for a chance to win cash prizes, mentorship with industry experts and a McKinsey & Company business consulting package.
"We are extremely grateful to our sponsors who have demonstrated once again their commitment to furthering Swiss innovation and entrepreneurship," said Dr. Thomas Knecht, chairman and founder of the >>venture>> foundation. "We believe this country is more than well-equipped to compete on the global stage of innovation; we have the knowledge, talent and the drive. At >>venture>>, we strive to help boost these startups with funds, which are critical at such early stages, and, most importantly, to share the know-how of seasoned entrepreneurs acquired through years of experience."
In early 2019, >>venture>> had fundamentally rebuilt its competition by doubling its prize money to CHF 350,000 and introducing three industry verticals under which startups could compete: Health & Nutrition, Hardware, and Software & Services. As a result of these changes, >>venture>> has seen an unprecedented amount of participation in their 2019 competition.
For their 2020 edition, >>venture>> has completed the competition changes to better reflect the Swiss economic and technological strengths and bring the participants even closer to industry experts. 
"We've introduced the verticals of Finance & Insurance, Retail & Consumer Services, and ICT because we want to contribute to the development of innovation and digitalization in some of the most important pillars of the Swiss economy" commented Lea Firmin, CEO of the >>venture>> foundation.
Following the success of 2019, >>venture>> looks forward to another exciting and record-breaking edition in 2020
---
---