"Using our skills to restore people's dignity"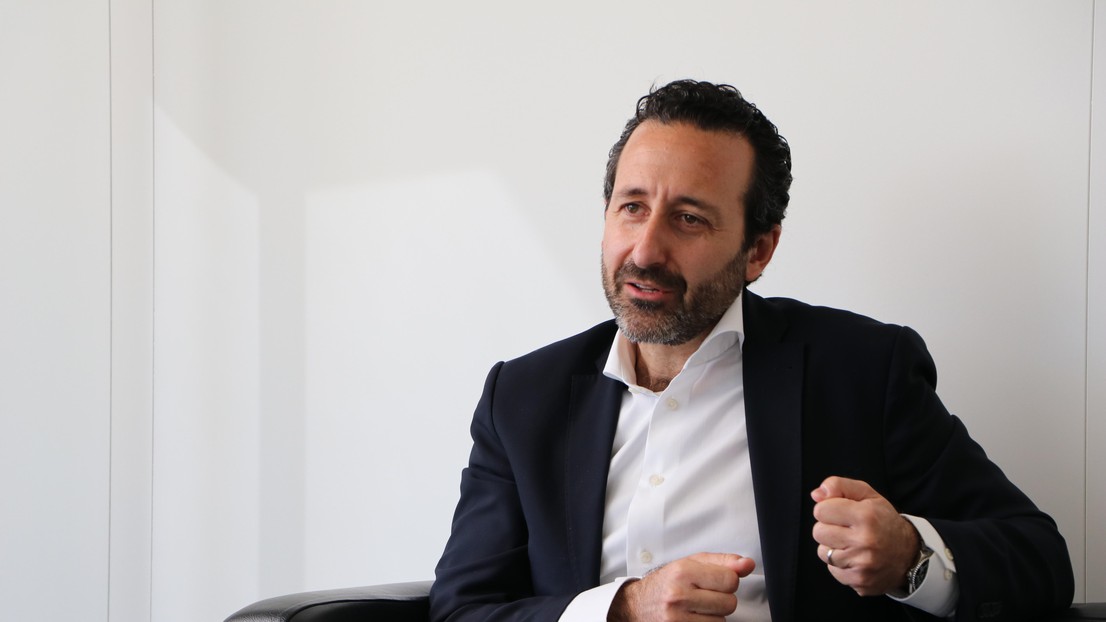 Robert Mardini has been the director-general of the International Committee of the Red Cross since 2020. In this interview, Mardini – who holds a civil engineering degree from EPFL – gives us an overview of the ICRC's work and discusses the links between science and humanitarian action. 

How does someone with a degree from an engineering school like EPFL end up at the ICRC?
The humanitarian sector was already a draw for me. I grew up in Lebanon during the civil war, and the ICRC was a common sight at the time. I always admired the fact that, in addition to bridging divides – and crossing frontlines – to provide assistance, the Red Cross also brought a sense of safety and structure in times of conflict.
After completing my degree in civil engineering and hydraulics in 1996, I worked for a while at EPFL as a research assistant. One day I went to the Forum EPFL job fair and was surprised to see an ICRC stand. I learned that they needed to hire a lot of hydraulic, civil and electrical engineers. I was hooked. I applied and left soon after for Rwanda, where I worked on water and sanitation projects. As the years went by, I was lucky enough to hold various positions, including as the regional director for the Near and Middle East starting in 2012, and as the head of the ICRC's delegation at the United Nations in New York starting in 2018. I took over as director-general of the ICRC in 2020.
What are your responsibilities as director-general? Do you focus more on managing resources and staff, or are you also directly involved in field work?
The ICRC was given a mandate by States to ease human suffering during armed conflicts. Our role as an organization is twofold. First, to remind parties to an armed conflict of their obligations under international humanitarian law, which include not targeting civilians or civilian infrastructure. And second, to provide assistance to affected communities. We have more than 20,000 employees and work in 100 countries around the world. Our 2022 budget is 2.6 billion Swiss francs.
As director-general, my role – together with my colleagues on the ICRC directorate – is to ensure that these resources are used efficiently to help victims of armed conflict. We try to give our field teams as much autonomy and as many resources as possible, since they're the ones who really know what's happening and are in the best position to decide what should be done. I also serve as a representative of the ICRC, and I'm involved in humanitarian diplomacy.
Europeans are very aware of the conflict in Ukraine, which is taking place on our doorstep. What is the ICRC doing in Ukraine, and what obstacles are you encountering?
We're talking about an extremely intense international conflict that's having a catastrophic impact on people and causing deep levels of suffering – both physical and mental. We're made aware of this every day from talking to people. The use of explosive weapons with wide area effects in densely populated urban settings has been devastating, as we've seen in Mariupol, Kharkiv and Kyiv – although the situation in Kyiv is not as bad as it was at the start of the conflict.
The ICRC has been active in Donbas for eight years. When the conflict broke out, we were able to ramp up our operational capacity in the rest of the country in record time by hiring new people and sending in experienced teams. We now have more than 700 employees in Ukraine.
We're in ongoing discussions with the parties to the conflict so that we can provide help to the victims. In terms of civilian infrastructure, we restored access to clean water in some cities, including Irpin and Bucha, together with the Ukrainian water utility. We also provide hospitals with surgical materials. In Mariupol, we facilitated the evacuation of several hundred civilians – and we will keep up that effort. Our top priority is to protect civilians.
But we're definitely running into some obstacles. The intense fighting often prevents our field workers from getting where they need to go. And there are times we think we've reached an agreement, only to find that the agreement is ignored on the ground.
"Life-or-death decisions simply cannot be entrusted to AI-controlled machines. Humans must be involved in the decision-making process, to ensure the rules of war are respected."
Technology in general, and digital technology in particular, is increasingly prominent in conflict situations. This includes such things as drones, cyberattacks and information warfare, not to mention the use of artificial intelligence for intelligence gathering and in weapons. How does this affect the ICRC's work?
You're right, this was less of an issue in conflicts 30, 20 and even 10 years ago. Modern technology has its benefits, allowing us to respond in ways that wouldn't be possible in other situations. But the digital age also brings with it vulnerability to cyberattacks – a growing number of hospitals, for example, are finding this out. There's also social media, which the warring parties are making increasing use of to spread false information. And weapon-related technology poses some fundamental challenges. For the ICRC, life-or-death decisions simply cannot be entrusted to AI-controlled machines. Humans must be involved in the decision-making process, to ensure the rules of war are respected.
As you mentioned, digital technology entails new forms of vulnerability, particularly in the area of data protection. The ICRC itself was the victim of a cyberattack in January 2022. How are you adapting to these challenges, which weren't a major concern a few years ago?
Yes, the personal and confidential data of 515,000 people were hacked in January. Fortunately, no data were lost, and there has been no ransom request. It is our role and responsibility to protect these personal data, and we clearly have some work to do. Even before this attack, we were in the process of enhancing our cyber security. We now need to speed that up. We're setting up various programs internally and hiring new experts who can help us make the necessary changes. But the challenges we face are not for the experts alone to handle: our field teams must also be digitally savvy, taking the necessary steps to protect data and reduce the risk of attacks.
The conflict in Ukraine has again raised the prospect of nuclear war. What part does the ICRC play in setting rules for the use of weapons?
The ICRC is very involved in efforts to regulate the use of weapons. We worked for nearly 50 years on the treaty to prohibit nuclear weapons, which finally came into force last year after being ratified by around 50 States. This is good news, as the consequences of a nuclear attack would far exceed any possible humanitarian response. But there is more work to do, and more States still need to ratify it. In the past, the ICRC also supported and promoted the anti-personnel mine ban convention and the convention banning cluster munitions. These are weapons that, by definition, cannot distinguish between military and civilian targets.
"People affected by conflict are also struggling with the effects of climate change."
Numerous humanitarian disasters these days are caused or exacerbated by the effects of climate change. From the Sahel to Yemen, is this one of your areas of focus alongside armed conflict?
The ICRC's mandate is still to ease the suffering caused by armed conflict – that's the starting point for everything we do. However, we're seeing that people affected by conflict are also struggling with the effects of climate change. More than half of the 25 countries currently bearing the brunt of climate change are also caught up in armed conflict. You mentioned the Sahel and Yemen, but we can also include Afghanistan, Israel and the occupied territories, Iraq, the Lake Chad Region, the Horn of Africa and sub-Saharan Africa. Extreme weather events like droughts and flooding are increasingly intense and frequent, and they're wreaking havoc on farmers and on people's access to water. This feeds the flames of communal tensions and armed violence.
In our humanitarian work, we need to ensure people have the wherewithal to handle these climate shocks. In concrete terms, that means incorporating this topic into both our water and food security programs, through livestock vaccination plans and the use of drought-resistant seeds, for example, and by developing irrigation systems that require little water.
In early 2022, the ICRC set up the Climate and Environment Transition Fund. Can you tell us about that?
This fund will help see us through our ecological and environmental transition. At the ICRC, we have made a commitment to factor environmental risks into all our programs by 2025 and to reduce our carbon footprint by 50% between now and 2030. This will mean, for example, installing solar power equipment at our delegations that use the most generators and fuel. After an initial outlay, we will start saving money, which we will reinvest in sustainability projects and programs aimed at making crisis-affected communities more resilient.
Looking beyond the ICRC, we've also created a "climate charter" for humanitarian organizations. It encourages us to take climate-related risks into account in all our humanitarian work, shrink our carbon footprint and bring the climate issue into humanitarian diplomacy – such as by reminding parties to a conflict of their obligation to safeguard the natural environment during conflicts.
"Engineering for Humanitarian Action is a dynamic partnership with highly motivated universities: they know that their technology is going to make a difference to those in need."
The economic crisis triggered by the pandemic has had a direct impact on the ICRC because it affects the countries that fund you. How is the ICRC's financial situation?
Paradoxically, our finances are in good shape because our donors were there for us in 2021: both States and the private sector were incredibly supportive. But who knows what the future holds? The Ukraine conflict is fueling widespread inflation and, in some cases, causing economic distress as food and fuel prices rise. This is new, and it could affect the humanitarian sector financially. That means we need to diversify our funding sources by expanding the number of States that support us and growing our donor base within the private sector and among development organizations.
And while our humanitarian work in Ukraine is well-funded, this front-page conflict must not take away from the attention, funds and solidarity still needed to address other conflicts, such as in Yemen, the Sahel, the Horn of Africa and Myanmar. It's worth noting that the average length of time the ICRC has been active in the countries that currently host our 15 largest operations is 35 years.
The ICRC, EPFL and ETH Zurich are working together on Engineering for Humanitarian Action (see inset). What is the aim of this initiative?
In the humanitarian sector, we need to constantly refresh our perspective in order to come up with innovative solutions to the challenges we face. Teaming up with specialist and generalist universities is crucial in this regard: they're hotbeds of ideas, thanks to their students and researchers. With EPFL, for example, we developed a prosthetic foot called Agilis that's inexpensive to produce. This was a real partnership: we contributed our field knowledge, while EPFL contributed its engineering know-how. More broadly, Engineering for Humanitarian Action is a dynamic and evolving partnership with highly motivated universities: they know that their technology is going to make a difference to those in need. As an EPFL graduate, I'm thrilled by this partnership, which is very close to my heart.
What would you say to current and future engineers interested in humanitarian work?
During my first year at EPFL, our professors would tell us: "You're here to learn how to find solutions." The very same thing applies to the humanitarian sector: there are always new challenges to resolve, and the solutions often have a technical component – whether we're talking about medical assistance, economic security or food security. But the solutions are never wholly technical, of course. You need to understand the context, recognize the constraints faced by the people you're dealing with, and build trust. Technical solutions will only work if they're widely accepted by the local community and local leaders. There are many fascinating jobs in the humanitarian sector, where being an engineer also means being resourceful. For those of us keen on using our skills to restore people's dignity and uphold essential values, it's a great opportunity.
Bio

1972: Born in Lebanon
1996: Graduates from EPFL
1997: Joins the ICRC
2012: Named regional director for the Near and Middle East
2018: Appointed to head the ICRC's delegation at the United Nations in New York
2020: Named director-general of the ICRC
When EPFL and the ICRC join forces

EPFL and the ICRC have been collaborating for years, mainly through the EPFL EssentialTech Center – and our track record is impressive. We teamed up on over a dozen initiatives between 2015 and 2019, and our achievements include developing an innovative prosthetic foot (Agilis) and setting up the Humanitarian Tech Hub. More recently, EPFL and the ICRC were joined by ETH Zurich to create the Engineering for Humanitarian Action (EHA) initiative, which harnesses science and technology to help victims of humanitarian crises. EHA delivers funding for cutting-edge research projects (e.g., into the privacy-friendly use of biometrics in humanitarian work) and develops MOOCs (the latest of which trains humanitarian workers on the risks and opportunities presented by new technologies). EPFL also partners with other humanitarian organizations via the EssentialTech Center: we're currently working with Doctors Without Borders to develop innovative personal protective equipment against Ebola exposure, and we're helping UNHCR – the UN refugee agency – to green its operations.
---