"Understanding the economy is understanding society"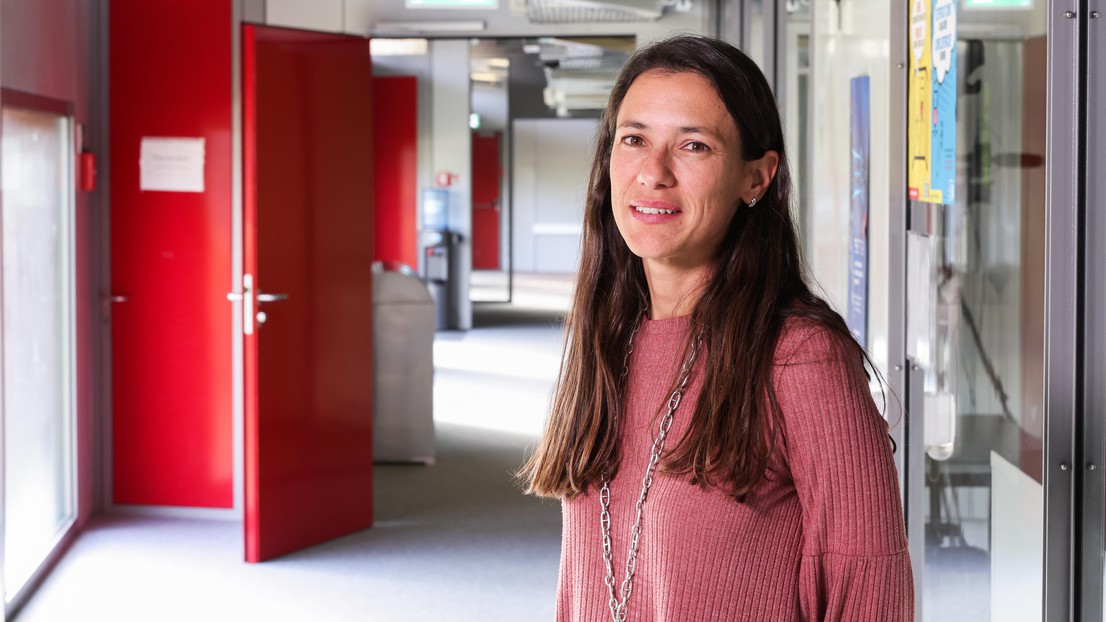 Paula Cacault is the Head of Operations of the Enterprise for Society (E4S) center, facilitating research projects and helping develop the center's activities, such as a new master's program that will help train the next generation of leaders to guide society through this time of transition.

When economist Dr Paula Cacault first learned about the new Enterprise for Society (E4S) center, a joint initiative between the University of Lausanne (UNIL), the Institute for Management Development (IMD), and EPFL's College of Management of Technology, she immediately knew that she wanted to work there. She contacted Jean-Pierre Danthine, the co-Managing Director of the center, who quickly welcomed her on board.
E4S is focused on helping society overcome systemic challenges to transition to a more resilient, environmentally responsible, and inclusive economy. And in fact, it was one such challenge, in the form of an economic crisis in Cacault's home country of Argentina almost exactly 20 years ago, that set Cacault on her path to becoming an economist and to her work at E4S today.
From crisis to career
Cacault was studying abroad in Sweden when a catastrophic financial crisis hit her home country of Argentina in December 2001. A teenager at the time, she hadn't been aware that Argentina had already been in a two-year recession that had reached its boiling point. Suddenly, she could no longer retrieve money from the ATMs in Sweden, and she saw on the news that people in Argentina were panicked to the point of taking items from the supermarket and that the country's president was being evacuated by helicopter. She realized then that economics have broad consequences which touch every area of society.
"Pretty much everything in our lives is an economic choice." Cacault says. "Our choice of career, how we are paid, our consumption choices. Our decisions as individuals, and also in how institutions are built. Understanding economics is understanding pretty much everything about society, about humans, about choices."
When she returned to Argentina a few weeks later, it was time for her to choose what she would study for her bachelor's degree. She decided to do a license in economics at the University of Buenos Aires. If she would have made her choice a year earlier, she says, she probably would have chosen biology or math, as she liked more exact sciences.
"I want to do something concrete"
After finishing her license, Cacault worked at a think tank in Buenos Aires where she met her Swiss husband. They decided to move to his hometown of Lausanne and Cacault found a scholarship to do a master's in economics at UNIL.
As she reached the end of her master's, a professor proposed that she start a PhD and do research, which helped her meet a lot of people in academia in the region. For her PhD thesis, which she defended while pregnant with her third child, she did lots of social experiments, putting people in certain situations to try and understand how their decisions change when their situations change. However, although she enjoyed the research, she saw its limitations.
"The problem is typically in these social experiments, you have very little data; it's just a few people, a few repetitions," Cacault says. "So the robustness of the conclusions that you draw from the data are not super good. These are the small sample problems."
Cacault wanted to see if she could remedy this problem and come up with a way to make corrections for such small amounts of data. So when she finished her PhD in 2016, she independently applied for an SNF grant to do a post-doc, hosted at the University of Geneva and focused on the methodology of microeconomics. During that experience, she realized that while the research was interesting, she struggled with working on her own and not interacting with other people. In addition, it was mainly theoretical research , and she wanted to work on issues that had direct real-world implications.
"I thought that this is not the way I want to be doing work in the future. What motivates me most is tangible output and interacting with people and teams."
Building a resilient society
Cacault joined E4S as the Head of Operations in March 2020, not long before Covid-19 arrived. She began her job meeting people virtually, and as the team was initially very small, she did everything, from making budgets to writing newsletters. The team has grown now to over a dozen people, giving Cacault time to focus on facilitating research projects from across EPFL, IMD and UNIL to help society become more resilient in the face of all the current challenges. She also teaches economics at the Business School Lausanne.
Currently, E4S projects look at challenges such as the future of work, the future of mobility, and social acceptability of technological innovation. Each project includes research partners from all three schools (EPFL, IMD, UNIL).
"We have a lot of competencies in this region to understand what's at stake and the knowledge that we need to make the transition happen. But of course, this is a scientific and academic community, so we need to make sense of it and see how to use that knowledge concretely," Cacault explains. "What does this research mean in terms of a business model? What does it mean in terms of human resource management? What does it mean in terms of innovation? Where do you need to direct startups?"
She's especially proud of the team E4S has put together and of the new master's program in Sustainable Management Technology that E4S has just launched.
"The people who graduate from this program," Cacault says, "are going to be the managers of the companies that operate in this new and changing world."
---