UAE Swiss Research Day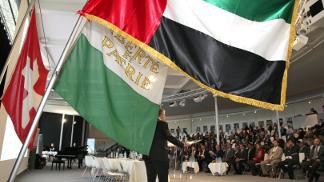 Over the next two days the first UAE-Swiss Research Day will take place at the EPFL campus in Lausanne. Organized by EPFL Middle East, researchers from Switzerland and UAE will converge on the subject of the future Energy and Sustainability.

Over one hundred participants from EPFL, the University of Geneva, and the best academic institutions in the United Arab Emirates (UAE) are represented at this event. The event is also attended by political leaders, leaders in economics and academic, alongside researchers and students from both countries. The event is interdisciplinary and reflects complementary fields in which both countries have pressing and strategic interests in. The Research event is part of the "Swiss-Emirati Friendship Forum", co-chaired by His Excellency and former Swiss President Pascal Couchepin and His Highness, Sheikh Dr. Sultan bin Khalifa al Nahyan.
The program includes a panel discussion on innovation and technology transfer, led by Adrienne Corboud. Panelists include Junien Labrousse, Logitech president of Europe, Maher Kayal, professor of Electronics Laboratory EPFL, Fred Moavenzadeh, President of Masdar Institute Abu Dhabi, and Daniel Jaeggi, co-founder and Vice President of Mercuria Energy. The intercessions are lead by Patrick Aebischer (EPFL President), who is accompanied by Philippe Gillet (Vice President for Academic Affairs), and Franco Vigliotti (Dean of EPFL Middle East), with the support of various professors conducting academic activities in Ras Al Khaimah.
This afternoon the Rolex Learning Center, and tomorrow the Polydôme, will host a students poster session, and oral project presentations, respectively. The two events feature more than fifty entry-to-advanced graduate level research projects, on selected topics of Energy and Sustainability. Visitors to the poster session are invited to vote for the best poster from UAE and the best poster contribution from Switzerland. The laureates will be announced at the evening Gala Dinner. One hundred students of the participating institutions will present their work around the future of energy and sustainable development.
These two days will highlight the activities in the fields of renewable energies, smart energy management, sustainable architecture and urban design, water resources and sustainable multimodal transportation, policies for energy and sustainability. .
EPFL Middle East is located in Ras Al Khaimah; it is developing some thirty research projects and a dozen PhDs, since last fall. The first continuing education courses have also started in the fields of energy, transport, and security. Twenty-five students will begin their Master's in the Management of Energy and Sustainability program this Fall. Students from Asia, North America, Europe and Switzerland were selected and admitted to the program, which will offer courses, seminars, but more importantly research projects related to renewable energy (including wind), the management of energy resources water, sustainable urban and architectural design, which will lead to obtaining a master EPFL. Partner and host laboratories at EPFL are currently active in developing innovative projects with themes that are rooted in Ras Al Khaimah and the UAE. Under the stewardship of the Dean of EPFL Middle East Dr Franco Vigliotti, academic programs and research projects are well underway, while the construction of a future campus that will meet the criteria of sustainable development is under preparation.
EPFL Middle East: http://www.epfl.ae/
---
---