Two spin-offs top the list of Switzerland's most promising startups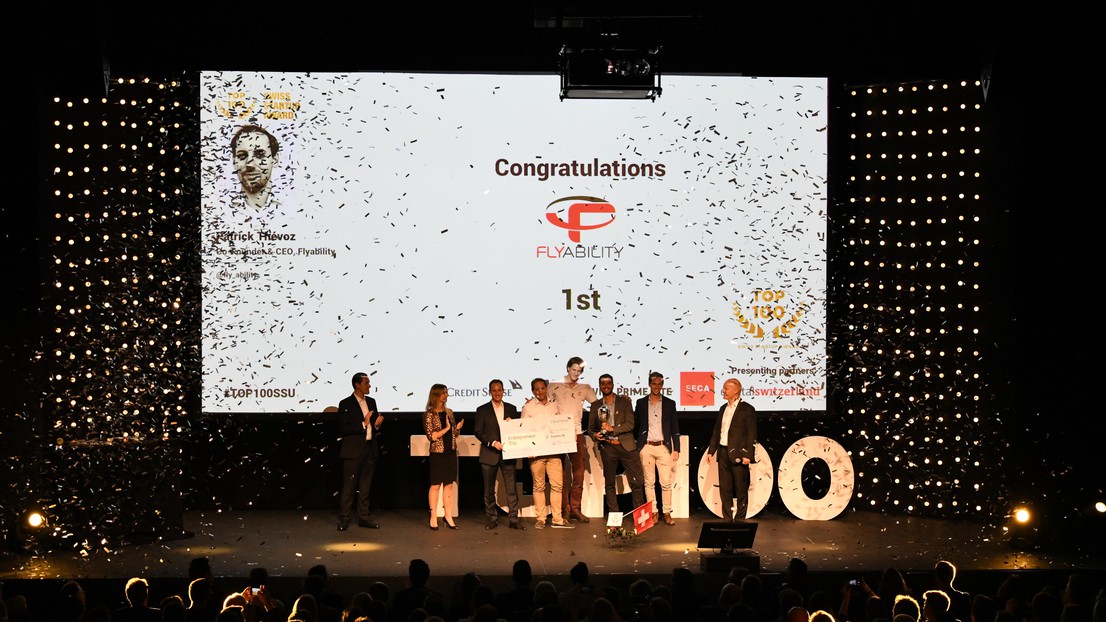 EPFL spin-offs Flyability and Lunaphore came in first and second place, respectively, in this year's TOP 100 Swiss Startup Awards. The ranking is established every year by a panel of 100 startup experts from Switzerland. Two other EPFL spin-offs – Bestmile and Gamaya – also made it into the top ten.

The much-awaited results of this year's TOP 100 Swiss Startup Awards were unveiled last night in Zurich, at a ceremony attended by around 700 international investors, business leaders and startup experts. And like last year, four EPFL spin-offs made it into the top ten. Flyability came in first place and Lunaphore second, earning valuable recognition and boosting their visibility. "Our position in the TOP 100 Swiss Startup Award in recent years helped us build credibility with prospective investors and customers," says Adrien Briod, Flyability co-founder and CTO. The two other EPFL-born startups in the top ten were Bestmile and Gamaya.
"Swiss startups are playing in the global Champions League," says venturelab, the organization that holds the Awards, in its press release. And several of them have established themselves as world leaders in fast-growing markets. "The TOP 100 startups – which employ over 8,700 people – all have the potential to develop into major global successes over the next ten years," says Andreas Gerber, head of SME Business at Credit Suisse and president of the Swiss Venture Club.
Flyability, the winner, is a prime example of the global appeal for Swiss technology. The firm has over 350 customers around the world and is the market leader in drones for inspecting hazardous sites in the nuclear, energy, chemistry and mining industries. Its founders have raised more than CHF 15 million to turn their obstacle-defying robots into an industry-standard inspection tool.
Second-place Lunaphore introduced its first automated tissue diagnostic device this year, targeting the industry's key opinion leaders. The startup's contracts with PerkinsElmer – a global, multi-billion-dollar company – and biomedical research firm Vitro underline the potential of its high-speed tissue-staining technology to revolutionize lab diagnostics and enable more personalized medicine.
Bestmile (5th place) has developed a system for managing autonomous and human-driven vehicles, while Gamaya (7th place) provides drones for monitoring crops.
All four of the EPFL spin-offs in the top ten this year were also in the top ten last year, although in a different order. But 2019 marks their last year in the running since they have all reached the five-year age limit. However, we may soon see them in the list of the TOP 25 scale-ups – these are the Swiss companies that are at least five years old and show the highest growth potential. EPFL spin-off Sophia Genetics, which completed a CHF 77 million fundraising round in 2019, is on this list.
---
---