Two EPFL professors win 2015 Royal Society of Chemistry awards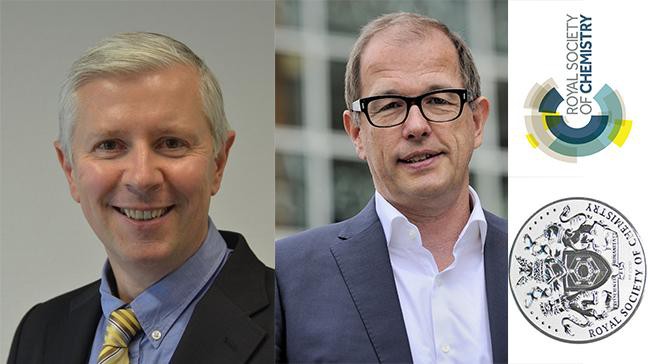 Professors Paul Joseph Dyson and Lyndon Emsley from EPFL's Institute of Chemical Sciences and Engineering (ISIC) have won the 2015 Royal Society of Chemistry Bioinorganic Chemistry Award and Bourke Award respectively.
Paul Joseph Dyson, the director of EPFL's Institute of Chemical Sciences and Engineering (ISIC), has received the RSC Bioinorganic Chemistry Award in recognition of his research on the development of new anti-cancer compounds and the advancement of our understanding of their function. The drugs he is working on are based on organometallic compounds, which are very different to the types of drugs currently used in the clinic to treat cancer. "I was delighted to learn of the award," he said in response to the news. "I will certainly be celebrating with my co-workers and collaborators who have contributed so much."
Lyndon Emsley, Professor of Physical Chemistry at EPFL's ISIC, has received the RSC Bourke Award, which enables distinguished scientists from overseas to lecture in the UK in the field of physical chemistry or chemical physics. His research focuses on the development of new NMR spectroscopy methods that can determine the structure and dynamics of complex materials and molecular systems. His research can help make manufacturing processes more efficient, control the quality of drug formulations and promote our understanding of enzyme function in biological systems. "I'm delighted and flattered to receive this award, recognising the contribution of advanced experimental NMR methods to physical chemistry," he said. "It's a great surprise, and I'm very much looking forward to giving the lectures."
The RSC evaluates winners for its more than 60 awards by the originality and impact of their research, as well as the quality of the results in publications, patents, or software. The awards also recognise the importance of teamwork across the chemical sciences, and the abilities of individuals to develop successful collaborations. Previous RSC Award winners include 47 Nobel Prize laureates.
---
---