Traveling to the Venice of the Doges with your fingertips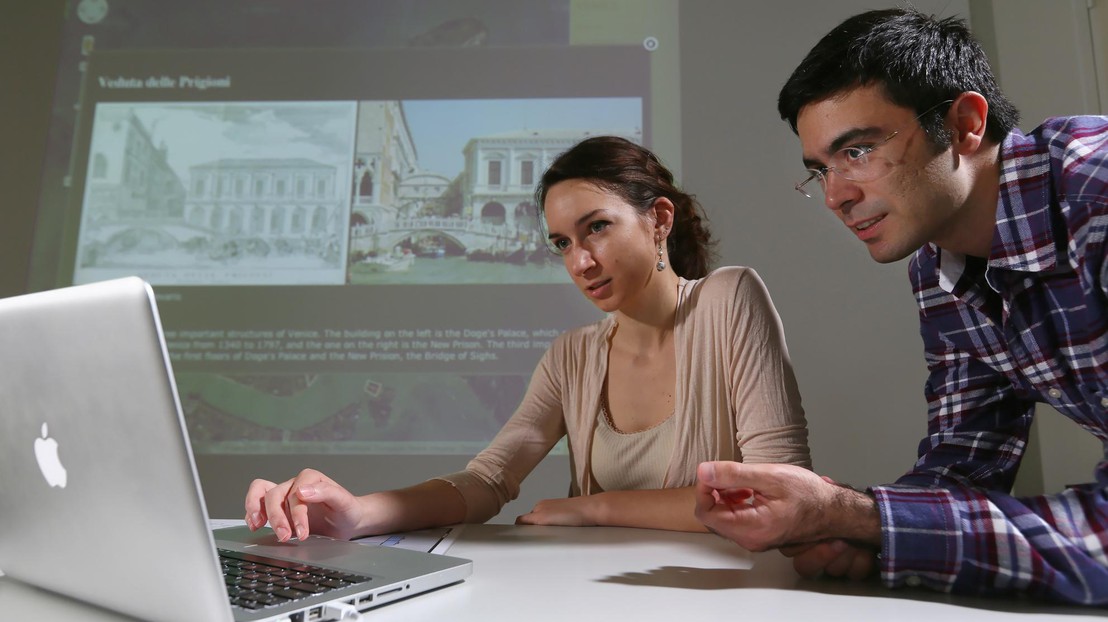 SUMMER SERIES (2) - As part of their end of course project, two students from EPFL's College of Humanities (CDH) have developed an interface enabling its users to see the ancient appearance of buildings while visiting Venice. Their work has earned them a "silver medal".
It might well be the beginning of the end for classical tourist guides. Smartphones and tablets, with built-in GPS devices, are now capable of automatically obtaining relevant information on historical monuments and leading tourists, step by step, along historically outstanding routes.
Imagination knows no boundaries when it comes to enriching a walker's experience. Tania Palmieri and Orhan Öçal have proven the former with their end of semester project for the College of Humanities. The two master students jumped at the suggestion of Frédéric Kaplan, head of the Digital Humanities Laboratory. The idea was to find the places depicted in the prints of the book: "Merveilleuse Venise" by Sophie Monneret and then create a database focused in the transformation they have been through the years.
"Our goal was to find the corresponding present-day image for each print, taken from the same angle," says Tania. We could use pictures not subject to copyright and available on the internet. "Because of the partnership between EPFL and Ca'Foscari, it would not be difficult to fill our database with less professional photos in the instances when we found nothing," says Orhan.
At the end of their research, the two students were able to match sixty images to their corresponding engravings. "Some of the pictures that remain unmatched are inside views on which we lack geographical data," explained Orhan.
A new skin for Google Maps
This research has resulted in the creation of a "skin" that has just been added to Google Maps - a job for which Orhan's specific skills were used, as he is a communication systems student at the School of Computer and Communication Sciences (IC).
While virtually walking around in Venice, relevant edifications are highlighted on the screen to make the user aware of the extra information available on them . Thus, this possibility is visible on the image and also displayed on a list to the right of the screen. In two clicks, the present-day view and the ancient engraving appear side by side, together with historical texts and/or architectural explanations. "At this point we have developed a design that is only suitable for large screens, but the interface should be easily transferable to mobile devices," exclaims Tania, for whom who XML and KML languages have no secrets – she has just finished the second semester of her master's degree in… bioengineering.
Accomplished in only a few weeks, Tania and Orhan's project already sounds quite promising, as can be appreciated on this demo server. Obviously, it would need further development before being translated into a tourist guide for downloading. However, seeds have already been planted, and Kaplan is already thinking about presenting this idea at an upcoming international conference on geographic information systems.
---
---