Towards healthy and sustainable catering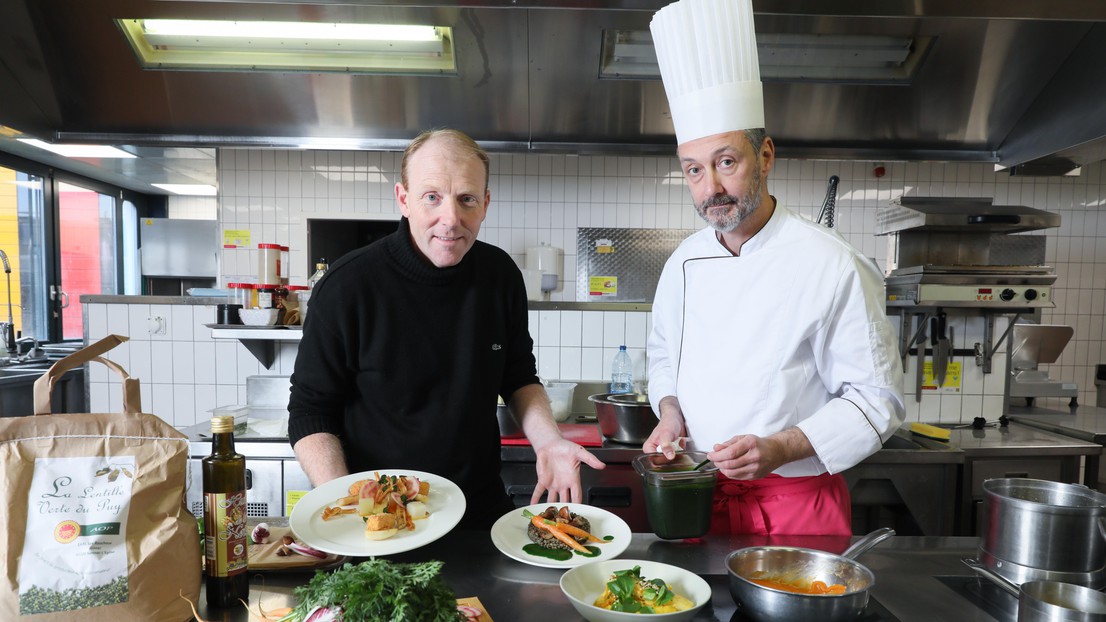 EPFL is revamping the food-supply chain on campus to reduce its carbon footprint while maintaining healthy, nutritious, fresh and delicious cuisine. All of the data collected about food and waste management will be made available for research.

As of now, EPFL is taking substantial measures to make its restaurants more sustainable.
For Aurore Nembrini of EPFL's Sustainability Office, sustainable change begins with every day practice. "We cannot ask our students to think about sustainable solutions for tomorrow without setting the example first, today, here on campus," she says.
Thanks to an initiative led by Nembrini, EPFL was the first Swiss university to implement re-usable dishes for take-away on campus in 2017, making it possible to eliminate the majority of plastic and Styrofoam packaging from restaurants and food-trucks. But these measures don't quite cut the mustard.
"At the moment, a large amount of take-away food still comes packaged in plastic, we need more control over the origin and quality of the original produce in our restaurants, and meals without meat are rare," notes Nembrini.
This is all about to change, however, as EPFL is in the process of revamping its entire catering system to make it healthier and more sustainable, thanks to the arrival of Bruno Rossignol, EPFL's new head of catering. The project, led by Rossignol in collaboration with the EPFL Sustainability team, aims to reduce the carbon footprint of the campus by significantly curtailing animal produce, increasing local and in-season produce, and offering nutritious and delicious culinary experiences. "We are asking our caterers to revolutionize their practices, and we will support them by offering them training in healthy, vegetarian, local and seasonal cuisine," says Rossignol.
Next spring, foie-gras, chicken from Brazil, palm-oil and monosodium glutamate will be removed from EPFL's restaurants, half of menus will be vegetarian by September, and these are but a few of the many milestones in the new catering strategy. "We want to pave the way for catering that is respectful of the environment, that is also healthier for our everybody on campus, for the body and for the mind," explains Rossignol.
But that's not all. The project also aims to innovate by turning the campus into a giant lab for food sustainability, making it a new platform for studying catering, food, water and culinary waste management, in collaboration with several industrial partners, including ones that have ties to EPFL, like Beelong for the study of the alimentary carbon footprint, Quantis for the operational carbon footprint, and Kitro for their smart garbage cans. Food purchases will be analyzed in detail at one end of the food chain, and at the other end, garbage cans will be equipped with cameras and scales for careful study of food waste. "The idea is to track the climate impact of the entire EPFL food system in order to know exactly how and where to act," adds Rossignol.
All of this data will be made available to EPFL's Integrative Food and Nutrition Center for academic study, which will ideally direct future decisions on how to make the campus' catering system even more sustainable… making food available for thought.
"This will be the first platform of its kind in Switzerland, possibly in Europe, for studying sustainable collective catering," says Rossignol. The strategy is the fruit of a 7-month study and its implementation marks an important change on campus.
For Nembrini, the attitude about sustainability among the EPFL community is changing: "We are seeing a rise in demand for more and better vegetarian food through our sustainability campaigns like Act for Change. We support the new student-run cafeteria Castor Freegan whose objective is to distribute vegetarian meals from unsold and oversupply foodstuffs. Overall, sustainable catering is but one of many angles that we are tackling to make the campus more sustainable and to raise awareness about climate issues."
---
---