Three students win SHS Prize for project on media perception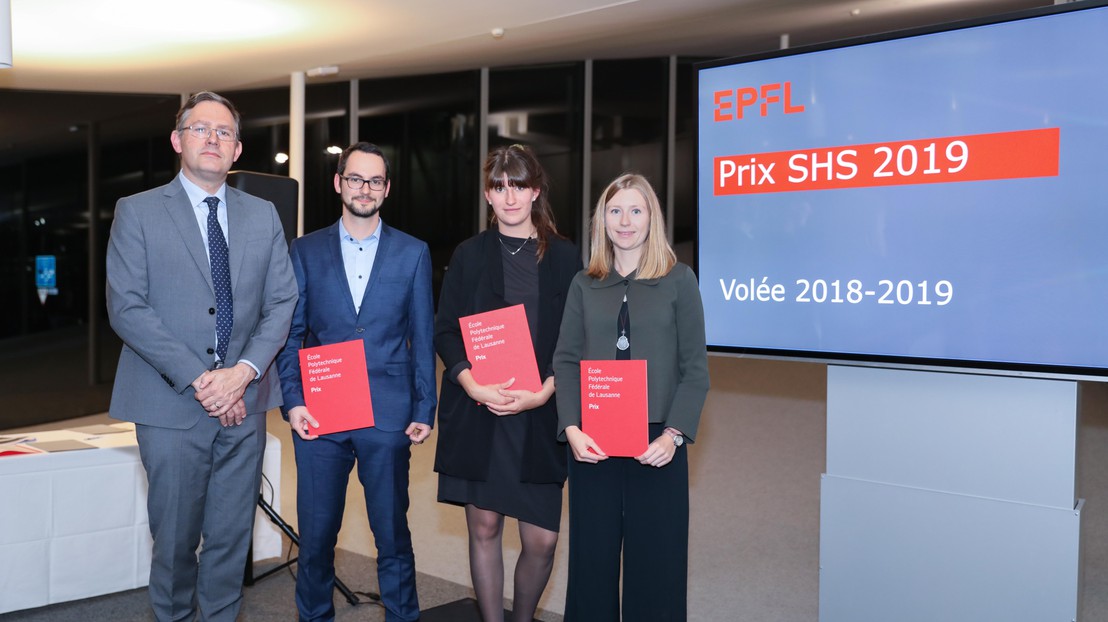 Master's students Simon Bérard, Marie Majeux, and Sophie Paladini were selected to receive the annual Social and Human Sciences (SHS) Prize for their exceptional study on the perception of the Chinese presence in Africa by the media.

The trio received the honor from College of Humanities (CDH) Dean Béla Kapossy at a ceremony at the Rolex Learning Center on October 4th, the eve of the EPFL graduation event, Magistrale.
Their group project, "Etude de la perception de la présence chinoise en Afrique par les medias" ("Study of the media perception of the Chinese presence in Africa"), was created as part of the course, "China: the rebirth of a great power" led by lecturer Antoine Kernen. The course, which is part of the CDH Social and Human Sciences program, covers the internationalization of the Chinese economy and Chinese culture.
The winning team

Simon Bérard, Master's Degree in Life Sciences Engineering program

Marie Majeux, Master's Degree in Architecture program

Sophie Paladini, Master's Degree in Architecture program

Looking through media lenses
The students examined articles from news sources around the globe, from the New York Times and Le Monde in the west, to the China Daily in the east, as well as African media. They looked at how different publications presented different events and issues relating to the Chinese presence in Africa, such as foreign aid, economic investment, and social and cultural integration.
Life Sciences Engineering student Simon Bérard explained that Chinese involvement in African economies and society is currently the subject of much debate. He said he was surprised at how easy it was to spot differences in viewpoints when it came to coverage of these issues.
"We found that the African and western publications tended to be more focused on politics on economy, while the China Daily was more focused on socio-cultural aspects showing positive integration of Chinese people working in Africa," explained Architecture student Sophie Paladini.
The students agreed that the most challenging part of the project – discussing their findings as a group and synthesizing their results into a written report – was also the most interesting: "It was a challenge to stay as neutral possible and to explain the different points of view, without trying to take a position," observed Marie Majeux, who also studies architecture.
The SHS Prize

The SHS Prize has been awarded since 2012 to master's projects conducted by individual students or groups of students within the framework of a master's-level course in the CDH's SHS program. The honor comes with a prize of CHF 1,200, following a vote by the SHS teaching committee. The prize rewards exceptionally high-quality, original projects that illustrate the contribution of social and human sciences in technical education and training.
---
Author:
Celia Luterbacher
---