Three School of Engineering professors awarded ERC PoC Grants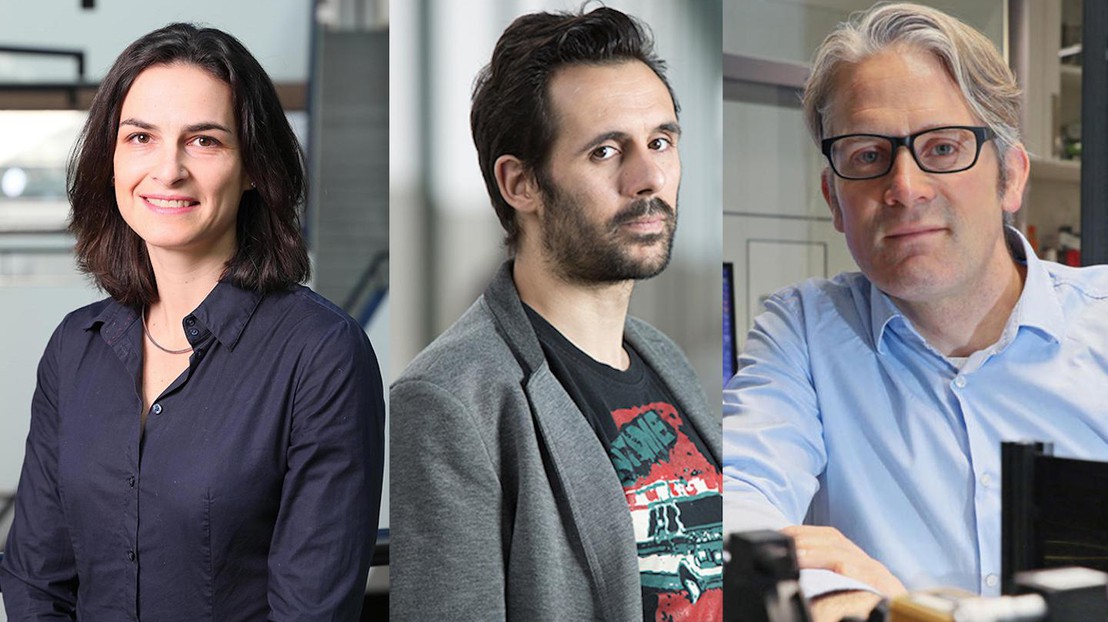 Professors Camille-Sophie Brès, Bruno Correia and Tobias Kippenberg have been awarded Proof of Concept Grants from the European Research Council. Five EPFL Professors have been awarded an ERC Proof of Concept grant. This year, the ERC has given 54 PoC grants.

The ERC Proof of Concept funding is made available to principal investigators who already have an ERC award to establish proof of concept of an idea that was generated in the course of their ERC-funded projects.
This year, the ERC has awarded an ERC Proof of Concept grant to three School of Engineering professors.
SWIP - Extended short-wave infrared pulsed fibre laser
Prof. Camille-Sophie Brès, Photonic Systems Laboratory
The 2+ μm short-wave infrared spectral band (SWIR around 2 micron) has been gaining constant momentum in the recent years, driven by a plethora of potential applications whose performances could be improved either in terms of sensitivity, security, reach or efficiencies. Opening this wavelength range for widespread usage necessarily requires developing new technologies such as fibre lasers, which have already found wide use at 1.0 and 1.5 μm.
We propose to develop prototypes of fully-fiberized nanosecond pulsed 2+ um fibre lasers optimized for portable applications. By enabling novel, need-inspired extended short -wave infrared SWIR sources, the project aims at moving demonstrators beyond academic research towards competitive smartphone footprint units. The project will push the operation of extremely simple, compact 2 um fibre lasers with customized pulsing and towards wavelengths yet un-exploited by utilizing novel co-doped fibres
More specifically, the objectives of SWIP are therefore to 1) optimized EPFL fully-fiberized pulsed SWIR laser prototype with extended wavelength reach, 2) assess the competitive advantages of SWIR fibre lasers in key growing and emerging markets, and 3) analyse the best exploitation strategy for future commercial exploitation.'
RSVTriVax - Development of a trivalent epitope-focused RSV vaccine to boost pre-existing immunity
Prof. Bruno Correia, Laboratory of Protein Design & Immunoengineering
The development of an RSV vaccine is deemed a global health priority by the World Health Organization. Globally, RSV causes on the order of 33 million episodes of infection yearly and up to 120,000 deaths annually. RSV has resisted all traditional vaccine development efforts for the last 60 years. This failure is mainly attributed to sophisticated mechanisms evolved by the pathogen to escape potent antibody responses focused on neutralization epitopes. A major challenge for vaccine development against RSV and other pathogens (e.g. influenza) is that humans encounter multiple infections throughout their life. These infections establish immunodominance hierarchies, in which potent neutralizing antibodies (nAbs) are subdominant (i.e. present in very low titers), and antibodies targeting variable or non-functional epitopes dominate. 
Thus, the fundamental challenge of next-generation vaccines is to boost these subdominant, nAbs under conditions of pre-existing immunity.To address this need we developed a new cocktail vaccine candidate – TriVax – that aims to elicit focused and precise antibody responses against bona fideneutralization epitopes.
Altogether, this is the first time that epitope-focused immunogens have been developed for three potent neutralization epitopes of the same pathogen, and our in vivo studies showed the potential of this class of immunogens to emerge as a competitive or superior alternative for vaccine development. With this proposal, we aim to take a final step to de-risk TriVax for industrial partners by demonstrating that this vaccine can efficiently boost nAbs under conditions of pre-existing immunity, a common scenario within the human target population.
PhoMEC - Photonic Integrated Microcombs as Multi-wavelength Sources for Edge Data Centers
Prof. Tobias Kippenberg, (School of Engineering / School of Basic Sciences), Laboratory of Photonics and Quantun Measurements
Over the past ten years the Laboratory of Photonics and Quantum Measurements (LPQM) has developed and pioneered microcombs – photonic integrated optical frequency combs (OFC) – providing access to equidistant optical carriers. Due to their broad bandwidth, high repetition rates, compactness and wafer-scale fabrication, such microcombs represent a novel disruptive technology with a proven track record. While their advantages were shown in ultrafast ranging (LIDAR), high speed coherent telecommunications, as well as chip-scale atomic clocks and frequency synthesizers, the technology is not yet commercially available and only present in a few research laboratories worldwide. Recent LPQM advances have led to the development of unique proprietary Si3N4 microfabrication processes for ultra-low power microcombs, and allowed in-house photonic packaging. 
Taken together, the laboratory is now able to implement the full cycle production of a packaged microcomb ready for integration into a commercial product. We aim to bring the technology to the market by building and promoting a rack-mountable microcomb unit with 100 GHz channel spacing matching the ITU frequency grid over C- and L- telecom bands. The key market segments of the proposed microcomb unit are enterprise and edge data centers, facing growing data traffic and requiring WDM sources for high-speed interconnects. The product will be tested in collaboration with Microsoft UK in an actual data center application as a WDM source for optical circuit switching. We also plan to showcase the technology to Huawei and Nokia Bell Labs who expressed interest in testing. Beyond field-testing with industry partners, the system will be shown at international industry trade fairs to address key stakeholders. The project aims to incorporate a dedicated start-up to exploit the technologies. This endeavor can be realistically achieved in view of the IP position that EPFL has developed in microcombs and the recent spin-off LIGENTEC that offers SiN foundry services.
---