Three EPFL Startups receive an Innogrant award of CHF 100k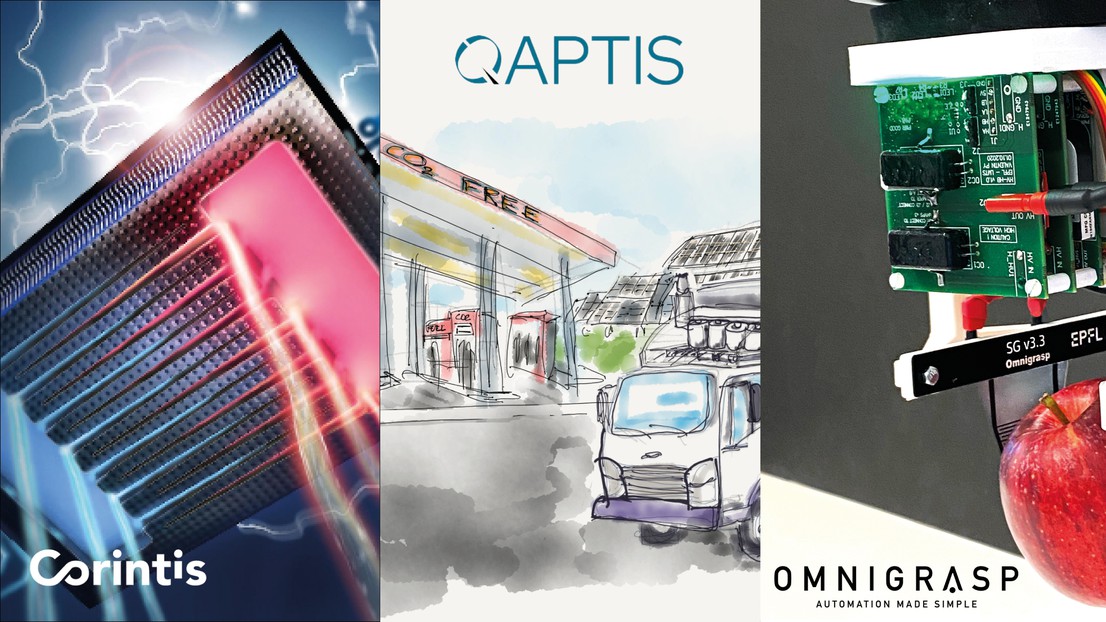 EPFL is pleased to announce that three promising startups Corintis, Omnigrasp and Qaptis, joined the EPFL Tech-Launchpad and received an Innogrant of CHF 100,000 each.

Entrepreneurs Pirouz Sohi and Remco van Erp, is the duo behind Corintis, a start-up that keeps electronics cool.
Heat is a major issue in electronics. It reduces lifetime, limits performance and increases power consumption. Current methods of heat extraction are no longer effective in modern electronics - such as computer chips, high-power lasers and radar systems.
Corintis solves the challenge of the high temperatures generated by high-power electronics, while also reducing cost and environmental impact. It cools electronics by flowing liquid directly inside microchips, providing high-performance cooling and therefore increasing performance.
The grant will enable the team to work full-time on commercialising the technology with the aim of making its technology accessible to the entire electronics industry.
Entrepreneurs Valentin Py and Vito Cacucciolo will use the grant to accelerate the development of Omnigrasp – a unique robotic gripper that uses electro-adhesion and artificial muscles to safely grasp a diverse range of objects.
Grippers are used across industry in sectors as diverse as food picking to assembling watches. While rigid robotic grippers can cause damage to soft and delicate objects or products with sensitive surfaces, Omnigrasp's silicon fingers adhere to an object's surface using electrostatic forces. The technology acts like a glue that can be switched on and off electronically. This also enables it to grasp objects of complex shapes and sizes.
The gripper could herald a step-change in pick-and-place automation in the food industry in particular, as the singular gripper's medical and food grade silicones enable it to handle a wide variety of products, while using a low-power source and saving the sector both time and machine cost.
Qaptis
Yves Loerincik and Masoud Talebi Amiri are the developers of Qaptis – a startup whose technology drastically reduces C02 emissions from trucks and ships.
With the EU's commitment to become carbon neutral by 2050, new solutions are needed to accelerate our efforts to reduce harmful C02 emissions from vehicles. Qatpis is developing technology which retrofits vehicles and engines with a C02 capture kit. The technology is installed on trucks and ships to capture 90% of the C02 emissions released at source, storing it in liquid form and put on the C02 market to be re-used. Ultimately this technology will enable to easily transform a CO2 emitting vehicle fleet in a CO2 free vehicle fleet at low cost.
---
---