"The Trust and Support Network must be a trusted network"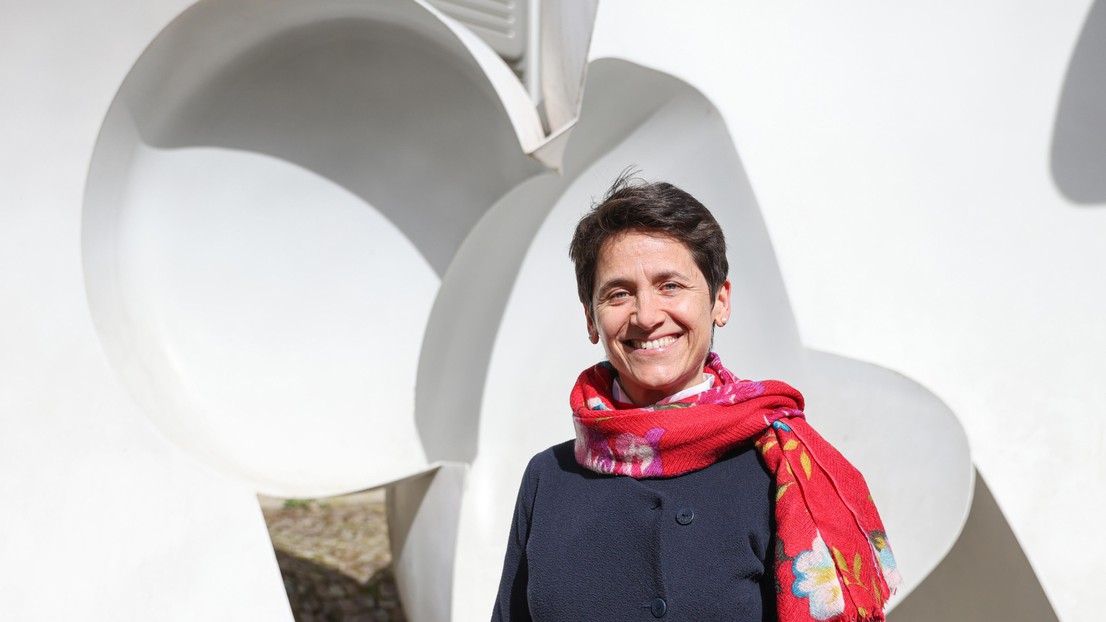 This May, Ines Ariceta became the head of the Trust and Support Network, which was set up under EPFL's Harassment Task Force. Her journey and vision have made her the obvious choice, but she doesn't take anything for granted.

Ines Ariceta brings a unique combination of strength, balance and flexibility – qualities that will be important as she fulfills her new role as head of the EPFL Trust and Support Network. She was chosen to manage the Network after a demanding selection process because she has the solid skills and strong values necessary to build and bear this new, cross-disciplinary network of people and services that will promote a safe, engaged work and study environment.
When Ines sits down, she naturally adopts a Sukhasana position with a straight back, candid smile, and attentive gaze. There's no doubt this woman enjoys being around people. Her enthusiasm and adaptive skills are clear throughout her rich and varied career path.
Anchorage and convictions
Ines finds strength in her staunch convictions and deep family roots. The second of five tight-knit siblings who regularly travel together, she tells stories of growing up in the Basque Country where she was exposed to conflict and identity issues from a young age. Later, as a psychology student at the University of Deusto in Bilbao, she ran into people who were intolerant of her native culture. These experiences have made her highly sensitive to discrimination.
After completing a Master's in Systemic Intervention with a focus on family therapy, her first job was working with students with difficulties at her old high-school. Then, exactly twenty years ago, she flew out to New York, where she got a second Master's in Social and Organizational Psychology, paired with a certificate in conflict resolution. She began to work as a project coordinator at an international center for applied research in conflict resolution at Columbia University.
During this time, she managed two large projects: the first was associated with violence prevention at a school in Harlem; the second was to develop a conflict management system for an organization that supports successful reentry from incarceration. While she was doing all this, she also acted as a volunteer mediator at a community center in the Bronx.
I learned to adapt and see the difference between theory and the way things really are out in practice
"I learned to adapt and see the difference between theory and the way things really are out in practice," says Ines. "As a white, female academic, I had to deal with people who were suspicious and reluctant. It wasn't easy but I learned a lot – especially how to build up trust by keeping my word and not making false promises."
Between 2008 and 2017, she worked for Summer Search Boston, a youth development organization that help students from low-income backgrounds strengthen the skills they need to become college-educated leaders There, she developed an alumni community and led a diversity, equality and inclusion initiative. "It was a challenge to build trust there, too," she recalls.
Constantly evolving
In 2018, Ines joined EPFL as an HR Project Manager to develop processes and policies to improve the School's equity and support. She also provided administrative coordination for the Respect Cell, which evaluates and handles complaints about harassment and other inappropriate behavior. "We set up mechanisms that didn't exist before, yet we realize there are always things to improve in a constantly evolving field like this one," she says.
The Harassment Task Force suggested that all future complaints be handled by the Respect Compliance Office, which will replace the Respect Cell once the right person has been found for the Office. The hiring process is under way.
The Trust and Support Network will provide the first level of support, working in collaboration with all individuals and entities involved. Some of them are already in place; others will soon be identified and enrolled. All of them will be supported by ongoing training, notes Ines.
My door will always be open, right from the start.
"There are very high expectations of me and I may not be able to deliver everything immediately," says Ines. "However, my door will always be open, right from the start. I'll respond to anyone who contacts me, and I'll be very transparent about what options are or are not available. In all cases, I'll inquire and follow through."
In her new role, she will have to balance the multiple challenges that lie ahead: identifying network members, covering their training needs, developing processes within the network to ensure overall alignment, listening to those in need of support, and building relationships with all those involved – specially members of the student body, with whom she wants to build solid ties.
"If we want to be role models, it has to start with us. Trust is earned by listening to everyone. Even more than a trust network, I hope we will build a trusted network for the entire EPFL community."
Community-wide dialogue and training
The Harassment Task Force has developed an online training course called
"You are not alone. Promoting respect"
for all members of the EPFL community. Students can connect to it on Moodle, PhD students and staff members on the HR training. EPFL also provides opportunities for face-to-face dialogue on varying topics with its
"Lunchtime for Respect"
event, held twice a month on the Lausanne campus and facilitated by two outside psychologists.
---