"The trick to winning is knowing whether a word actually exists"
Roberto Seixas, a civil engineering student at EPFL, took first place in the 2020 Swiss Scrabble Championship – a game where you're more likely to find mathematicians than literary buffs.

This year's Swiss French-speaking Scrabble Championship was held on 4–5 July, and Seixas won first place across all categories. That's another trophy to add to his already full shelf. "If someone told me two months ago that I'd be the Swiss champion, I wouldn't have believed them," says Seixas. "The tournament was initially cancelled due to the pandemic, and even though I'm one of the country's top players, there are five more ahead of me. They didn't come, so I made the most of that opportunity."
Just like with all high-level competitions, winning requires you to stay focused right to the end. Seixas played five 1.5-hour matches over the two days of the tournament and racked up 4,787 points – just 100 short of the highest possible score. "There are some moves that are worth a lot of points; missing just one can cost you the title," says Seixas. "That's what happened to one of my main opponents. Instead of playing the French word colleur, he put courelle, which doesn't exist. Often what makes the difference in a tournament is not just being able to build a word with the letters available, but knowing whether that word actually exists. I wasn't sure of myself but I went for it anyway, and it paid off."
Leaving nothing to chance
Around a hundred Scrabble enthusiasts typically take part in Swiss tournaments, which are played in "duplicate" style: all players have the same letters and must find the highest-scoring words possible within the allotted time – usually two or three minutes. This style removes the element of luck. "I still prefer classic Scrabble," says Seixas. "I find it more interesting because it's more tactical – you have to anticipate opponents' moves, guess what letters are left so you know whether you could draw a blank tile, and continually count how many points you're ahead or behind so you know whether to block your opponent or open up your game to catch up."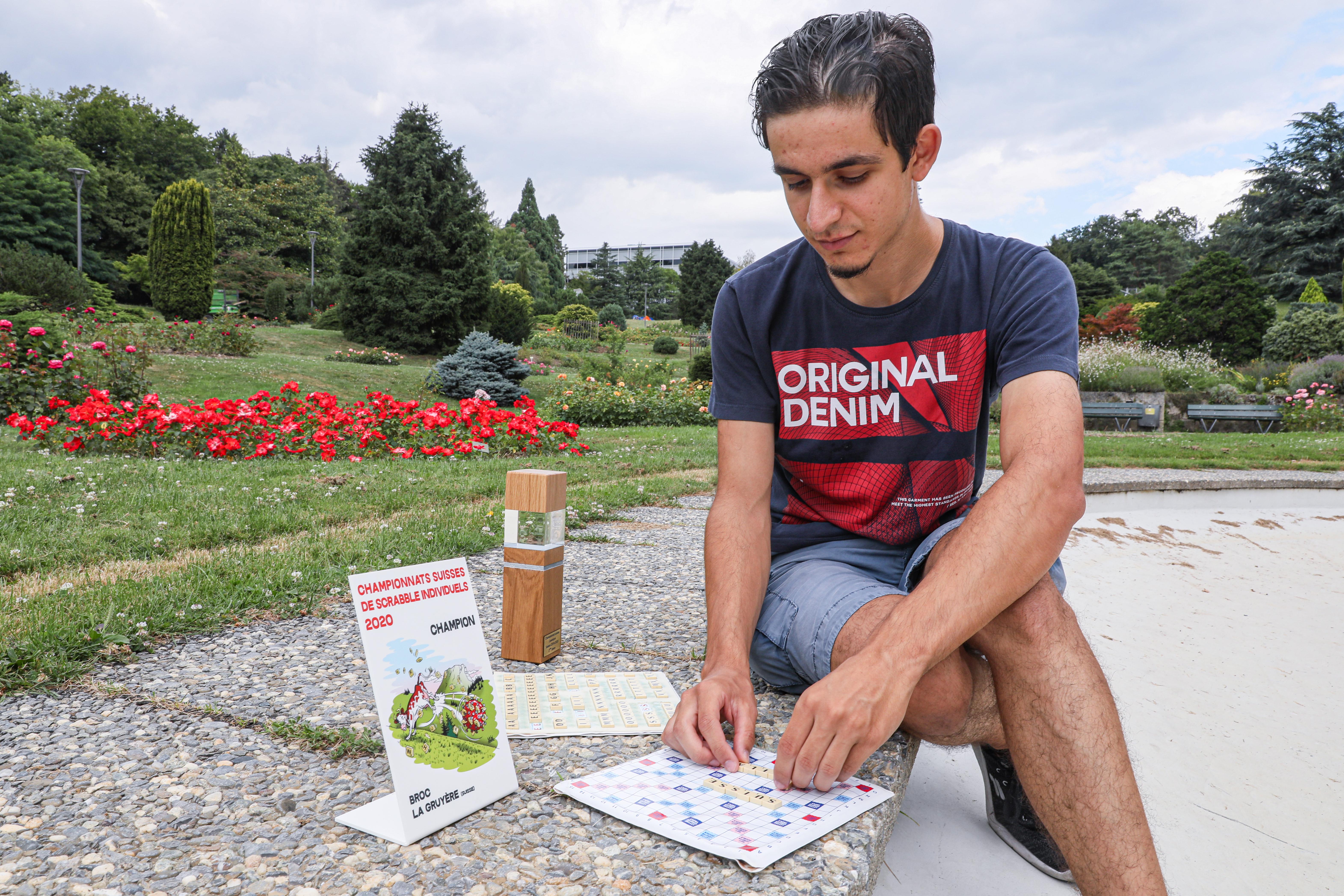 To get to the top, Seixas trains regularly, either alone with his computer or at the Saint-Maurice (or sometimes Lausanne) Scrabble club. There's no magic formula – to win, you have to memorize lists of words of up to eight letters, and especially words that give you lots of points. "There are Scrabble clubs all over Switzerland, and there's even an English-language club in Geneva. If you're interested, contact me! I thought about creating an EPFL club but didn't have the time," he says.
The art of combining letters
Even though Scrabble is based on assembling words, Seixas believes it involves more math than literary skills. "Having a good vocabulary of course helps. But a lot depends on how well you can combine letters. Because at the end of the day, the goal is to put letters in the right order and in the right place to get as many points as possible. It doesn't really matter whether you know what the word means," he says. And the proof is that Nigel Richards – a New Zealander who doesn't speak French – has won the French Scrabble Championship multiple times.
This year's World Scrabble Championship was cancelled due to the coronavirus pandemic. "Right now I should be in Côte d'Ivoire playing in the tournament. But instead, I'm studying for my Bachelor's in civil engineering exams. I know my time will come next year," says Seixas. He still hasn't decided what branch of civil engineering he wants to specialize in, but one thing's for sure: his days of putting letters together are far from over.
Awards 
Swiss Duplicate Individual Championship
Four-time category winner between 2013 and 2018
Winner (of all categories) in 2020
Swiss Junior Championships (under 18)
Swiss Classic Championships
Runner up in 2018 and 2019
Grand Slam Tournaments (Aix-les-Bains, Vichy and Cannes)
Top 15 in Aix-les-Bains in 2019 (100 players from the higher category participated)
Third place in the most promising category (ages 18–25)
Ninth place in Cannes in 2020
Duplicate World Championship
Participated seven times
Fifth place in the Junior category in 2014
Classic World Championship
Participated twice
Came in 29th out of 80 players in 2019
---
---