The trees that tell a story at the Rolex Learning Center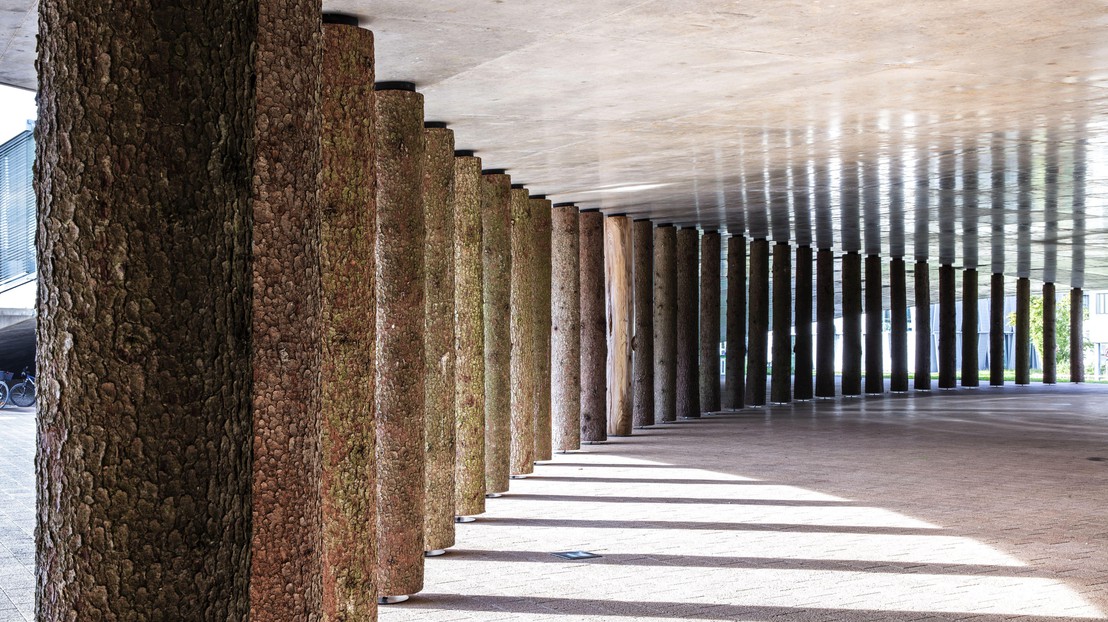 Internationally renowned Swiss artist Claudia Comte explains the scientific inspiration behind Tree Line Curve: the remarkable and multi-faceted installation that has created a sweeping 'forest' on the Rolex Learning Center patio.

Proposed and directed by the CDH Culture program, Tree Line Curve is part of the anniversary festivities program of the Rolex Learning Center (RLC), and will remain in place until April 24th. It consists of 42 pillars made from tree trunks, and arranged in a curve beneath the RLC's famous vaulted ceiling.
As a piece of art, creator Claudia Comte says Tree Line Curve is meant to be open-ended, but she also hopes that its installation on the EPFL campus will help spark debate on issues of environmental sustainability.
"Students are the next generation; they are our hope to rethink our way of living. I'm hoping this installation can create questions for the students who walk through it on a daily basis."
A celebration of science
For more than 15 years, Claudia Comte has been creating art from natural materials, including marble, cotton, and sustainably sourced wood.
"I wanted to create a forest that would represent a clash between nature and geometry and its integration into an architectural environment. The installation forms a segment of a circle – one of the primary geometric shapes," Comte says of her inspiration for the work.
Forty-one of the pillars are made from raw spruce trunks, and still bear their original rugged bark. They come from a sustainable forest in Fribourg, where two trees are planted for each one harvested, and will be recycled after the exhibition is complete.
The final central pillar, in contrast, is as smooth and shiny as the polished RLC ceiling. Made from the trunk of an elm tree – a dwindling species that has been ravaged by Dutch elm disease in Europe and North America – this central pillar evokes vulnerability as well as strength. A hole carved through its center creates a portal through which passersby can view the EPFL campus, as well as the many-layered interior of the trunk itself.
"By sanding down and polishing the elm trunk, we finally reveal the smoothness, color, and structure inside, and the hole in the center allows visitors to observe the rings that have grown to create the tree. These rings are fascinating because they not only tell the story of the tree itself, but also the surrounding climate from where it grew," Comte says, referring to the science of dendrochronology, which uses tree ring data to study the earth's history and climate over time.
Next year, she plans to travel to Siberia to work with a Russian research team to gather dendrochronological data from tree trunks that are being exposed by receding permafrost.
"It is a monumental undertaking, but through the life of trees, we can see our own history," she says.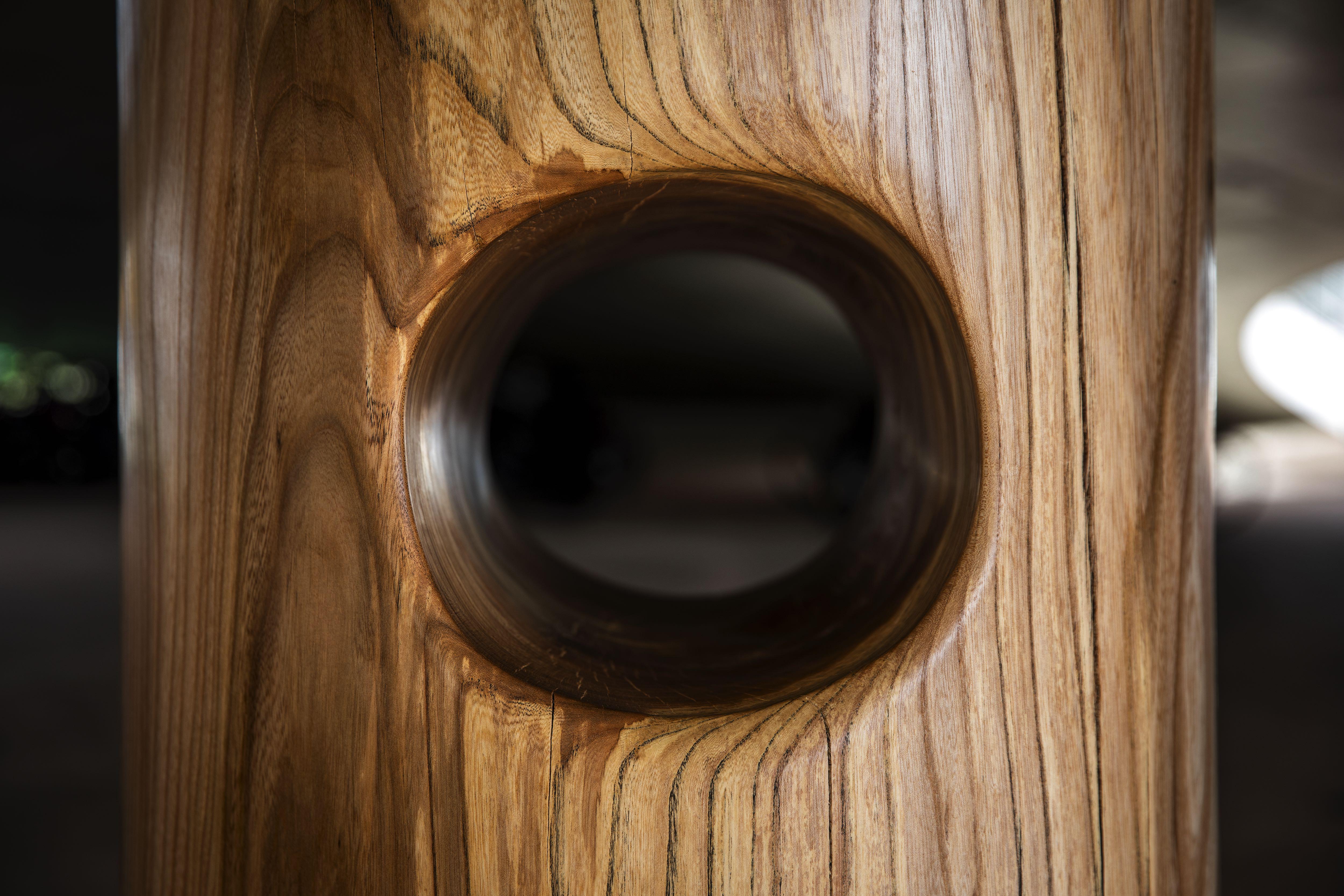 A campus commitment
For CDH Culture coordinator Véronique Mauron, Tree Line Curve is full of dualities that make it a perfect fit for the EPFL campus.
"What's so interesting to me is that in the fluidity of the curve is the idea of a frontier – very important in science today – which both cuts through the Rolex patio, dividing it into new spaces, and draws a new pathway connecting it," she says.

In addition to comprising part of the Rolex Learning Center's anniversary celebrations, the 42 pillars complement the 50 new trees that have been planted on the EPFL campus since 2019, as part of the school's commitment to sustainability. As one of the temporary art pieces installed on campus annually since 2010 by CDH Culture, Tree Line Curve also balances the campus's curated collection of fixed works of art.
"The idea is to respond to fundamental questions, both at EPFL and in society," Mauron says. "We try to bring proposals – not answers – to bear on these pressing questions, and to spark reflection, in the case of Tree Line Curve, on environmental sustainability. To quote American writer Ursula Le Guin, "science explains and art implies." By introducing ecological art to the campus, CDH Culture proposes to overcome this opposition."
About Claudia Comte
Claudia Comte is a Swiss artist based in Basel. Born in 1983, she graduated from the École cantonale d'art de Lausanne (ECAL) and completed a residency at the Swiss Institute in Rome. She has exhibited her work at Art Basel, Bex&Arts, the MCBA in Lausanne, the Castello de Rivoli in Turin, the Museo Nacional Thyssen-Bornemisza in Madrid, and at the MOCA in Cleveland, USA.
https://www.claudiacomte.ch/
.







---
---