The three Master's grads with the top GPAs tell us their stories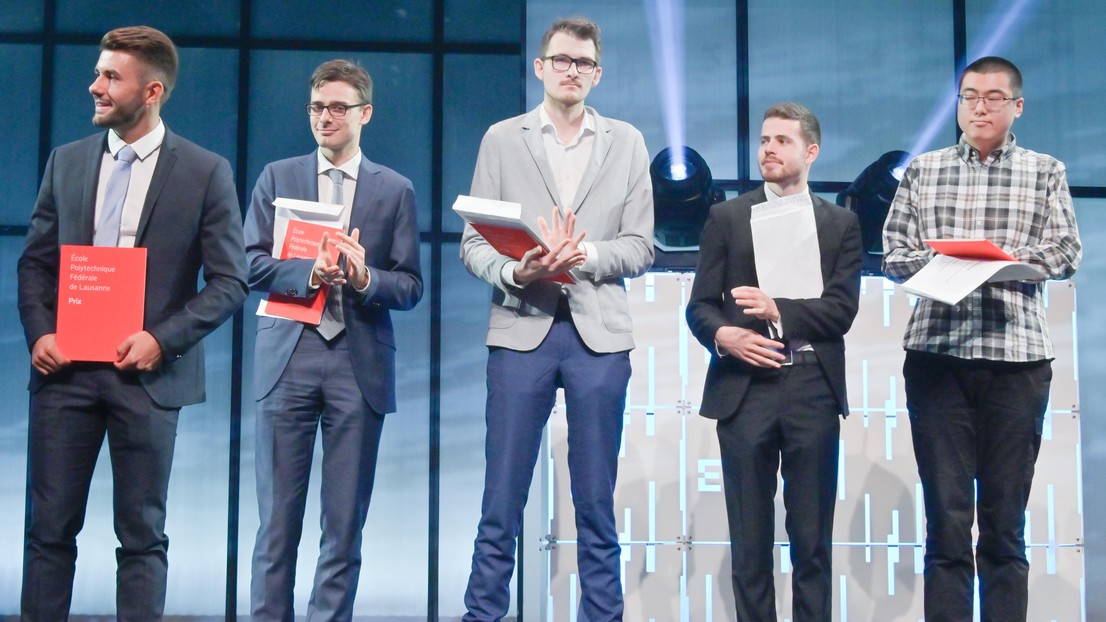 At the EPFL Master's degree graduation ceremony last Saturday, awards were handed out to the three students with the highest grade point averages. We spoke with the three winners – Guirec Maloisel, Kevin Jablonka and Aurélien Dersy.

When their grade point averages were read out at the Magistrale, the crowd gasped. Guirec Maloisel (computer science) topped the list at 5.98, Kevin Jablonka (chemistry and chemical engineering) came in at 5.95 and Aurélien Dersy (physics) had a solid 5.94. The students themselves were pleasantly surprised by these numbers.
How do you feel about winning this award?
Guirec Maloisel (G.M.): It's a very nice surprise! I'd forgotten all about this award until I got the email saying that I'd won. Of course I knew I had a really good GPA, but it seemed unlikely that none of the other graduating Master's students did better.
Kevin Jablonka (K.J.): I'm happy to receive this award – even though luck surely played a big role – and the graduation ceremony gave me a chance to sit back for a moment and reflect on the past couple of years.
Aurélien Dersy (A.D.): I was very surprised and very honored given how strong my Master's classmates are. And it's a big personal satisfaction as well. Setting aside grades and rankings, it means a lot to be recognized for all the work I put in.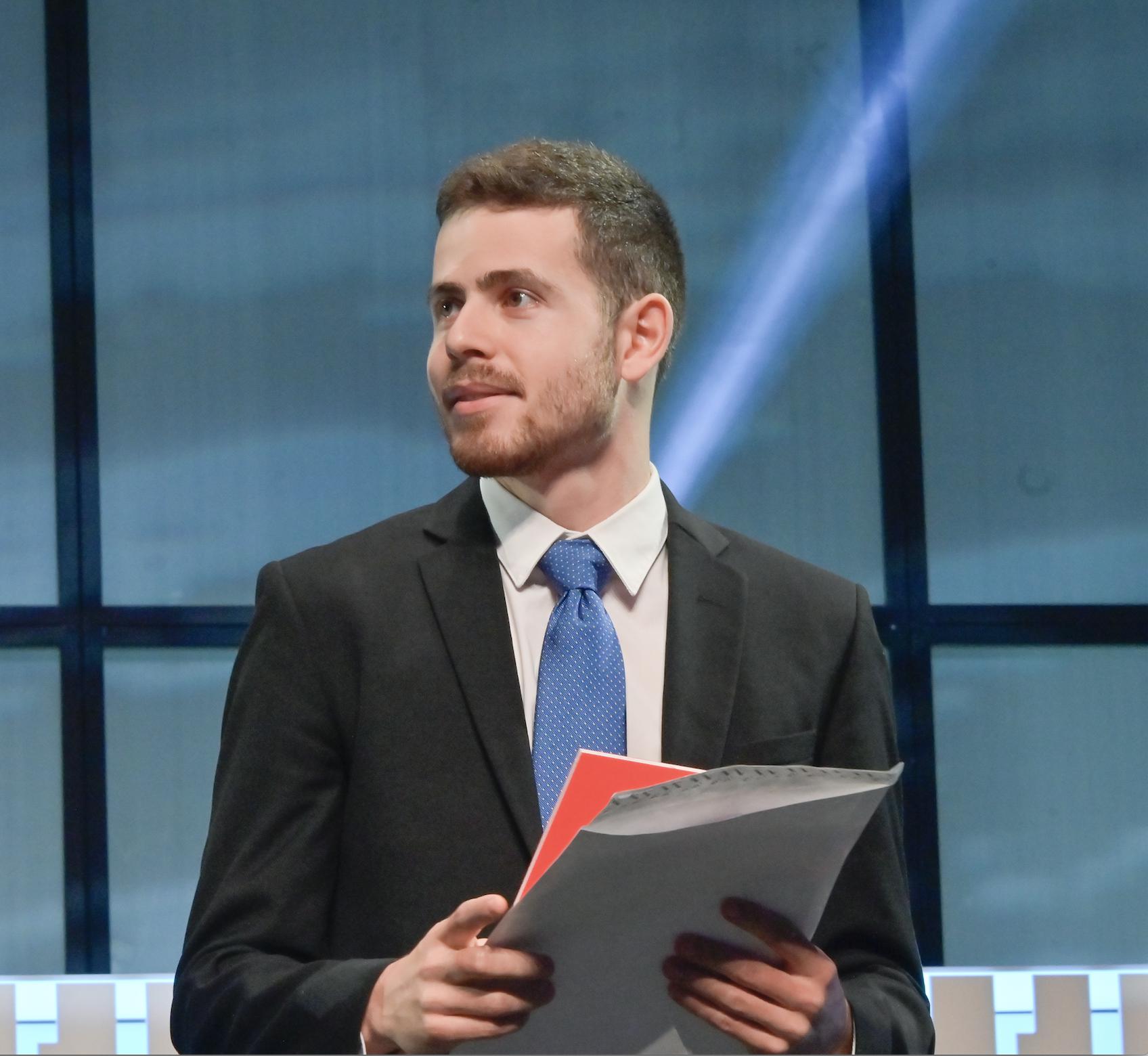 Guirec Maloisel
You were each one exam grade away from a perfect 6 – is that one exam going to haunt you?
G.M.: Getting all 6s would obviously have been even better, but I can't really complain about a 5.5! I've never been one to aim for a certain grade – I always try to do my best on every exam. I needed "only" a 5.25 average in my first year to keep my scholarship.
K.J.: It was the exam in my easiest class, for which I regularly read research articles. I was pretty annoyed after the exam, because even though it was so easy, I felt like I got the worst grade in the class.
A.D.: No. It was an exam in a course on learning skills in both academic and professional settings. Very instructive. The group exercise at the end of the course also served as an introduction to "management techniques," which made the whole experience very rewarding.
What's the secret to achieving such a high GPA?
G.M.: That was never a goal in itself – although it will obviously look good on my CV. I think the skills and knowledge I learned and the people I met along the way are more important than my final grade. My advice? Be sure to choose classes – and an overall study plan – that you're interested in. This will motivate you more and naturally lead to better grades.
K.J.: It's a matter of luck – I think that's the main factor if you're going to worry about the number on the right side of the decimal point. But that shouldn't be a concern, in my opinion. Good grades are nice but shouldn't be what makes you study hard.
A.D.: Of course, the answer to this question has to contain the word "work." But to avoid stating the obvious, let's just say you need to be driven – and a little lucky on the exams.

Kevin Jablonka
Are you a workhorse, or do things come easily to you?
G.M.: It's true that school – especially science – has always come easily to me. But I have no idea how many hours of work I put in. Probably like a lot of other students, I tended to take it a little easy at the start of the semester and then pull out the stops as the end-of-semester deadlines approached – telling myself that I'd do things differently the following semester. Also, I often had trouble remaining focused during lecture courses unless the teacher was a really good speaker. So I would just take the class handouts and read them at my own pace.
K.J.: I think it's a combination of how I learn – I need to understand concepts rather than memorize details – and luck. For these reasons, my Master's at EPFL was easier for me than my Bachelor's at the Technical University of Munich. I imagine my colleagues and girlfriend would say that I work hard, but I don't see it as work, because I really like what I do. I've started a PhD, and I'm having fun doing the research and all the reading.
A.D.: In general, I don't think you can really succeed at your studies just because "things come easily." Personally, I think I'm good at physics, which helped me engage with it and work hard at it. I spent far too many hours studying, but, at the same time, not enough hours, given all that there is to learn. If I like a subject I will throw myself into it – analyzing it, studying it and learning it – because I'm someone who needs to understand things. If a segment of C++, Matlab or Mathematica code doesn't work, I can spend hours trying to fix it. The satisfaction of figuring things out (usually) makes it all worth it.
Did things always go smoothly during your Master's studies at EPFL?
G.M.: I actually did a double Master's program – I came to EPFL after spending three years at École Polytechnique in France, where the training is very generalist in nature and quite demanding in terms of theory and math. As a result, unlike some of my peers who had just completed their Bachelor's degree at EPFL, I already had a few years of Master's courses under my belt along with more advanced knowledge in math. That means that I probably had to spend less time on average learning the material. I still had a pretty heavy workload, however, since lots of courses – at least in computer science – included projects, which always took a lot of time regardless of how quickly I learned the material.

K.J.: No, not really. I came here from Biberach, a small town in Germany, and I didn't speak any French (studying Latin probably wasn't the best decision I ever made!). I then spent six months in New York (which was fantastic) trying to keep up a long-distance relationship (which wasn't easy).
A.D.: The first year was the hardest for me. I had to reconcile the excitement of campus life with the demands of my schoolwork, and that wasn't always easy. I'll never forget all those lab reports I had to hand in and all those exercises I had to finish – and I certainly learned to survive on little sleep.
I enjoyed my Master's degree much more – the courses were extremely interesting and the professors very (overly?) motivated. Fortunately, I could always count on my classmates to keep things fun throughout the year, between card games, physics discussions and evenings at the Satellite (and sometimes even physics discussions at the Satellite). And to top things off, my Master's project was something of a roller coaster. My time at EPFL was pretty hectic but will certainly be among the best years of my life!

Aurélien Dersy
What's next?
G.M.: I just started my PhD at Disney Research in Zurich, in conjunction with ETHZ, as an extension of my Master's project, which I did at Disney too. Unfortunately I can't say much about my thesis since part of it must be kept confidential until it's published. I work in computational robotics, which is all about developing programs and methods for automating the design of complex mechanisms and robots for specific tasks (the design process would otherwise have to be done painstakingly by hand). That should keep me busy for a few years, giving me time to figure out my long-term plans!
K.J.: I'm doing a PhD at EPFL in the Laboratory of Molecular Simulation. My research combines chemistry, engineering and computational science. I'm working on several projects where I study the properties of metal-organic frameworks (MOFs), such as absorption capacity, with the help of simulations and machine learning. We'll see where that takes me.
A.D.: I decided to take a break from physics for six months and am currently involved in building risk models for the financial sector. But I've already decided to do a PhD in theoretical physics afterwards.
What will you do with your award money?
G.M.: I just bought an electric piano so that I can get back to playing music, so the award money will cover that.
K.J.: I just moved in with my girlfriend, who's also about to start a PhD in Switzerland, so the money will definitely come in handy.
A.D.: I'm going to save the money and maybe use it when I do my PhD.
---
Author:
Laureline Duvillard