The technology keeping the world moving through AI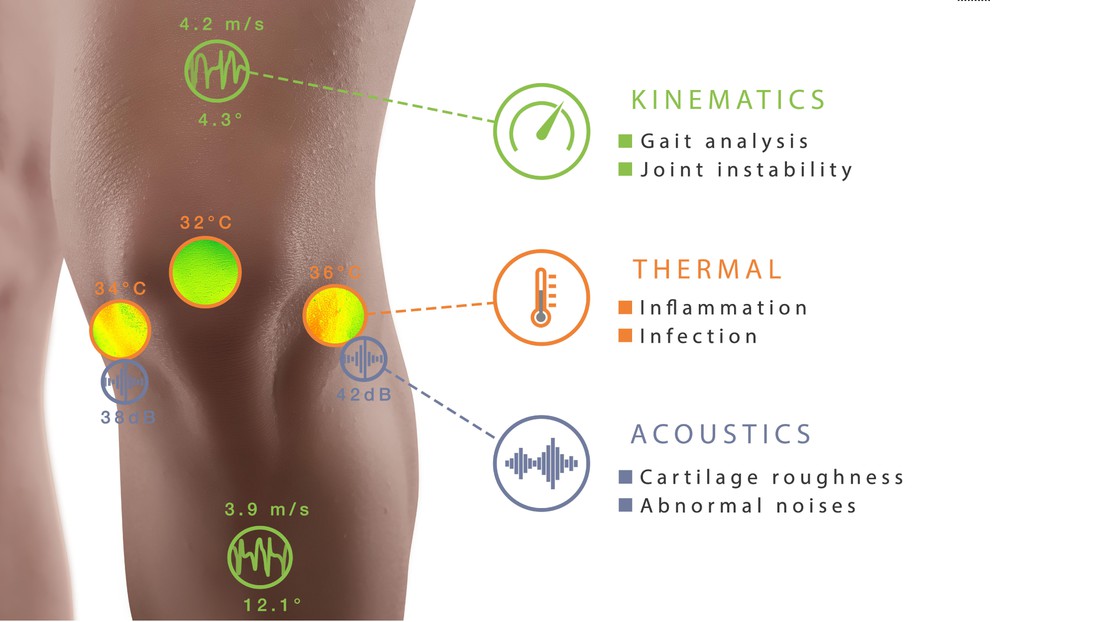 Osteoarthritis is a chronic disease caused by the wearing down of cartilage in the joints and affects over 500 million people in the world [1]. The Inmodi team, led by Dr Jérôme Thevenot and Olga Motovilova, plan to change the future of those suffering from knee pain. We caught up with these recent Innogrant winners to find out more about their startup.

The cartilage in your knee acts as a cushion which stops your bones from hitting each other when you move. When cartilage breaks down, as in osteoarthritis, your joints no longer move smoothly – they become stiff and moving is painful. 
Symptoms of osteoarthritis range from simple aches and pains to severe limitation of mobility and disability , something that quickly impacts daily life. With an ageing population and increasing obesity, the number of people suffering from osteoarthritis is increasing.
Firstly, tell us a little more about osteoarthritis. Why is it a problem? 
Osteoarthritis (OA) is one of the most common forms of arthritis. One of the big problems with the disease is that it develops slowly, over ten to fifteen years. You might not feel any different at first. Many people don't go to the doctor until they are really in pain, which is often too late.
At the moment, OA is incurable - cartilage can't be regenerated. At the late stages of the disease, a total knee replacement surgery becomes the only option remaining.
There are ways in slowing down the disease progression but they need to be started early and, importantly, the patient needs to stick to the regime. Unfortunately, detecting OA before the patient has developed pain is a challenge. 
Tell us a little bit about Inmodi and how it helps patients?
Inmodi is working on a technology that can help detect OA at an early stage and at any point of care – from the pharmacist to the doctor's office. We are convinced our product will make it easier to prevent or delay the progression of the disease. 
Inmodi is an AI-driven platform which allows doctors to collect different types of data from their patient. This includes kinematic, thermal and acoustic data – assessing things like how the joint moves, whether it's hot or swollen, and even detecting any clicking and grinding sounds. This can help the doctor detects issues such as knee instability, inflammation and cartilage damage. 
The data is processed through AI algorithms which combine the data together with the user biometrics (such as their age and weight) to generate an overall score of knee health. To collect the data, the patient only needs to take a simple 10-minute test and we'll then have enough information to provide an analysis. Because it's done as the patient moves, the doctors will get a dynamic assessment of the joint function, allowing them to make a thorough assessment and come up with the right care plan.
We're convinced Inmodi has the chance to become an easy, accessible option for a knee health check. The knee health check can be performed at the pharmacy, the gym, or even in places of work, such as on the factory floor. We want to catch knee problems before they start to become a problem – preventing disabilities and improving knee performance so people stay as healthy and mobile as possible , for as long as possible.
If caught early, the progression of OA can be slowed down through simple things such as physiotherapy, weight loss and even exercising more. Through Inmodi, we may help the patient to avoid knee replacement surgery.
Who else is on the market? Is there much competition?
While there are a number of other wearables in development, they do not have the capability or scope that we have. They collect limited data and are mainly used after knee surgery. Inmodi is unique as it analyses kinematic, thermal, and acoustic data – helping physicians evaluate the whole integrity of the joint needed to detect OA early. The data can also be used to monitor the progression of the disease, help detect any complications, and even support future medical research. 
What's next for Inmodi? How will the Innogrant help you?
We are now in the final stages of product development. We're also working on building up strong relationships with early adopters and investors. It's important we share the same vision: Helping people lead a productive life by maintaining mobility and staying disability free. 
The Innogrant will give us the opportunity to work on these priorities in collaboration with the Laboratory of Movement Analysis and Measurement and their team. Their in-depth expertise in motion analysis of medical conditions, as well access to EPFL's vast entrepreneurial ecosystem will be invaluable as we target our product launch by the end of 2021. 
[1] https://www.thelancet.com/journals/lancet/article/PIIS0140-6736(20)32230-3/fulltext
References
Inmodi is based in EPFL's Laboratory for Movement and Measurement Analysis under the supervision of Professor Kamiar Aminian. Follow their journey on Linkedin and Find out more on their website
For more information on Innogrants and details on how to apply, visit the Startup Unit website.
---
---