The SwissTech Convention Center, a lab for conferences of the future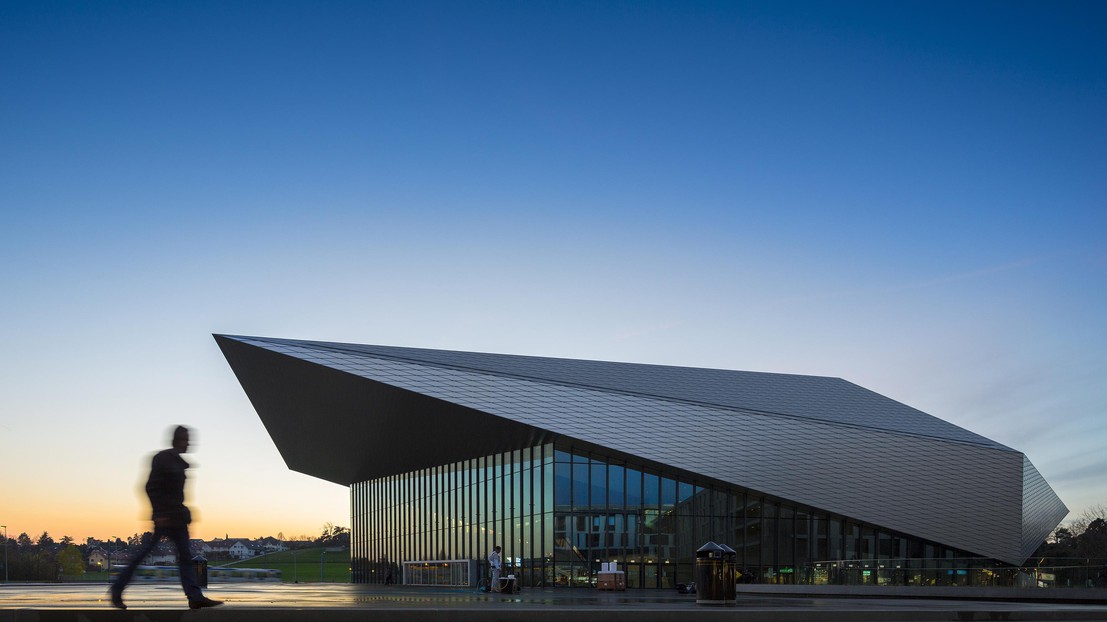 The SwissTech Convention Center, which opened on April 3rd, is one of the most modern and best equipped conference centers in the world. With this new tool that makes it possible to organize the most ambitious meetings, EPFL reaffirms its strong position at the heart of Europe's scientific community. Funded by two Credit Suisse real estate funds, the building and the Northern Quarter in which it stands were planned and carried out by HRS Real Estate SA according to plans by the architectural firm Richter Dahl Rocha & Associés SA in Lausanne. In a world first, a solar photovoltaic facade composed of "Grätzel cells" has been installed
with the support of Romande Energie.

"Research in the 21st century is essentially collaborative. The SwissTech Convention Center is a world-class tool for the exchange of knowledge through which our school can make critical contributions to solving major societal challenges," explains André Schneider, Vice President of Planning and Logistics at the Ecole Polytechnique Fédérale de Lausanne. He wants the new EPFL Convention Center to be far more than simply one of the most modern in the world. "As one of the few convention centers in Europe to be established on a university campus, it will also serve as smart conferencing lab – a place to experiment with the most innovative technologies for improving the flow of ideas in scientific conferences and making these exchanges more fruitful."
The SwissTech Convention Center (STCC), inaugurated today, already offers delegates the very best in technical equipment. It is characterized in particular by extreme modularity. Its large auditorium can be automatically transformed, at will, from a 3,000-seat amphitheater to a banquet hall of more than 1800 square meters, thanks to the Canadian technology, "Gala Systems," which ensures the metamorphosis in about 15 minutes. Multiple intermediate configurations offer event organizers unsurpassed flexibility. The ground floor offers the possibility of countless workroom configurations across an area of nearly 1500 square meters.
As evidence that it meets a clear demand not only from scientists but also many businesses, as well as local and international institutions, the Center is already almost completely booked through its first year of operation. "The interest of the business world is also of prime importance to us, because that will lead to greater technology transfer," says André Schneider.
Novel equipment and architecture
In addition to multimedia art facilities in each of its rooms, STCC is also equipped with smart displays whose content automatically adapts depending on location. These same screens can communicate with the mobile phones of participants in events, for example, by sending them papers for discussion.
Designed by Richter Dahl Rocha & Associés of Lausanne, STCC also uses several pioneering technologies. It is based primarily on posts, some of which operate simultaneously as geothermal heat pumps. Packed with sensors, they are developing this technology to save large amounts of energy. One of its facades is also covered with 300 square meters of transparent and colored photovoltaic solar collectors, which are based on the principle developed by EPFL professor Michael Grätzel. Financed entirely by Romande Energie, this innovative solar installation is a world first for a public building and a new realization in the partnership between EPFL and Romande Energie to develop a large-scale solar power plant and conduct research and development. The chromatic organization of the panels is the work of artist Catherine Bolle of Lausanne.
An innovative financing model
The financing of STCC is also pioneering. As part of a public-private partnership, two real estate funds, Credit Suisse Real Estate Fund LivingPlus (CS REF LivingPlus) and Credit Suisse Real Estate Fund Hospitality (CS REF Hospitality) assumed the entirety of the business contract – to the tune of 225 million Swiss francs. This amount also includes the construction of the Northern Quarter, a complex which brings together businesses, services, 516 student dorm rooms and the SwissTech Hotel, which adds to the Starling Hotel to complete the accommodations on offer in the campus' immediate vicinity. EPFL is the sole tenant of the buildings, constructed on a plot that belongs to the Swiss Confederation with surface rights granted for a period of 99 years. The HRS Real Estate SA company completely handled the planning and implementation of the entire quarter. 
The inauguration of the SwissTech Convention Center was followed, on April 5th and 6th 2014, by a weekend of "open houses" in which the inhabitants of the area were invited to discover the world of research at EPFL through the theme of "Science & Illusions." A little bit short of 30'000 visitors came, making the event a great success.
More information on SwissTech Convention Center : www.tstcc.ch
A complete press pack and can be downloaded at : http://bit.ly/InaugurationSTCC
Hi-resolution pictures are available at : http://bit.ly/STCC_Photos
Watch the SwissTech Convention Center introduction film (in French)!
---
---