The New Volkswagen Forumla XL1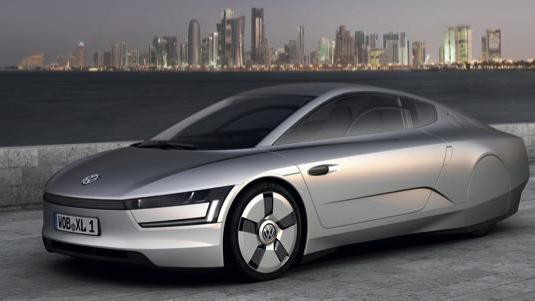 Volkswagen just unveiled the new Formula XL1 at the Qatar Motor Show 2011. This SLV (Super Efficient Vehicle) has a fuel consumption of 0.9 liter / 100 km and a CO2 emissions level of 24 g/km.
 The new concept Volkswagen Forumla XL1 is an hybrid car equipped with a 2-cylinder TDI engine developping 35 kW ( 48 Ps and 120Nm of torque ) and an electircal motor wich add 20 kW of power ( 27 PS and 100 Nm of torque). The electrical part is supplied by a lithium-ion battery. The concept car is also equiped with the 7-speed DSG transmission developped by VW.
The performances of the VW F XL1 are : a top speed of 160 km/h, the 0-100 km/h (0-62 MPH) in 11.9 seconds, 550 km of range, a fuel consumption of 0.9 l/100km and just 24g/km of CO2 emissions.
---