The Helbling Innogrant 2013 to SmartCardia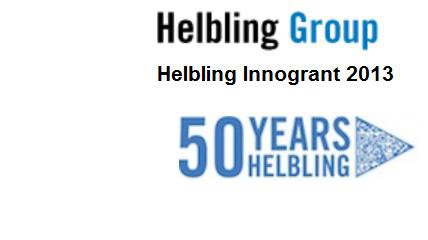 Helbling Technik Bern AG (Helbling) awards its second Innogrant to Dr. Srinivasan Murali. Helbling has initiated the Helbling Innovation Fund in 2011 to support young entrepreneurs in early stage projects that would both have a positive impact on society and supports Helbling's vision "Innovation, together we do it".

The Ecole Polytechnique Fédérale de Lausanne (EPFL) is a teaching and research organization with a mission in know-how transfer and research for the benefit of society. The Vice-Presidency for Innovation and Technology Transfer (VPIV), which is responsible for the coordination of all relationships between industry and EPFL, financially supports high-potential projects in which employees or students are involved by means of Innogrants.
Therefore, Helbling and EPFL have agreed to join forces to support projects out of EPFL laboratories with Helbling Innogrants. The grants allow students or collaborators from EPFL to make further progress in their projects with the help of financial support for one year. The first Helbling Innogrant has been granted in 2012.
Helbling announces to grant the second Helbling Innogrant 2013 to Dr. Srinivasan Murali and his start-up company SmartCardia
SmartCardia
Cardiovascular diseases are the leading causes of disability and death in the world. With ageing populations, developed countries are facing an increasing challenge in providing cost efficient cardiovascular support at a timely fashion. In case of heart attacks, the time between subjective perception of chest pain, diagnosis and emergency intervention is most critical.
SmartCardia is developing a new medical technology for remote monitoring of heart patients. The technology is based on an ultra-small portable device for most convenient wear. The device continuously records and transmits clinically accurate ECG data to a smart phone, forwarded to a hospital or a medical doctor. SmartCardia is developing complex algorithms that can automatically detect hazardous anomalies in the heartbeat, such as different arrhythmia events. The algorithms are embedded into the device and automatically trigger an alert signal for minimizing the intervention time. SmartCardia has developed applications for iPhone and Android based smart phones for real-time display of the ECG signals. The device supports continuous operations of more than 7 days with a single battery charge, allowing long term monitoring of patients.
The technology has been developed for 5 years of research at EPFL and with the support of leading cardiologists.
Dr. Srinivasan Murali
Dr. Murali is a co-founder and CEO of SmartCardia. He has extensive business, entrepreneurial and scientific experience in the field of medical devices and hardware platforms. He obtained his MS and PhD degrees from Stanford University in 2007, after which he co-founded iNoCs, an EPFL spin-off. At iNoCs, he worked on the development of next-generation hardware for mobile phone chip sets. He was CTO and developed the technology from prototype to product. In 2011, he joined Imec, a nanotechnology center, as Program Manager for medical devices and remote patient monitoring systems. Based on interactions with cardiologists and medical doctors, he identified the need for a simple, mobile, but yet clinically accurate ECG device that gives quick diagnosis of hazardous heart conditions – SmartCardia!
Dr. Murali has authored a book, co-authored several book chapters, patents and published more than 50 papers in his field. He is the recipient of the Best PhD Dissertation Award from the EDAA Council in 2008. He has also won several best paper awards.
SmartCardia is based at the Embedded Systems Laboratory ESI of Prof. David Atienza at EPFL
---
---