The "bike-car" is a hit on campus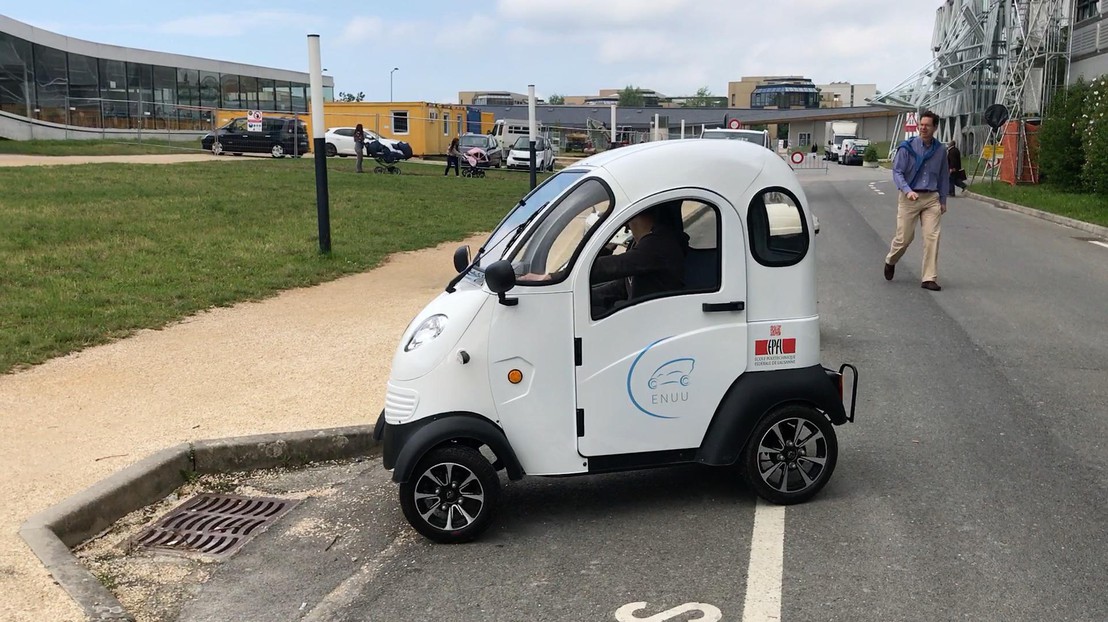 The electric car-sharing vehicle designed by Biel-based startup ENUU has proved to be a big hit on the EPFL campus, where it has been tested since 7 May.

You can't miss the three little white eggs that have been driving noiselessly around the EPFL campus on four wheels since 7 May. Halfway between a car and a bike, these electric vehicles are available to users on campus for free. And testers have not been hard to find. "We were expecting about 50 people to sign up, but we've had more than 250. We had planned for each vehicle to do two or three runs a day, but they've actually done between eight and 13!" exclaims Yoann Loetscher, one of the two founders of the startup, ENUU.
Working in partnership with EPFL's Sustainable Campus initiative, the Biel-based company is using the campus as a micro lab until 1 June. Users have been testing everything about the vehicles, from how easy they are to reserve and operate using the app to their technical features, fleet management and battery recharging. The aim is to fine-tune the design before a fleet of self-service vehicles is rolled out for public use in Biel in mid-July.
This initiative is a first for shared mobility. Let's start with the vehicle itself. It's manufactured in China and modified slightly for use in Switzerland. It's electric, about as wide as a scooter, and has handlebars and a seat – you ride it like a bike but it's as stable as a car. You don't need a driver's license, and the vehicle is allowed on bike paths up to a speed limit of 30km/h. For Loetscher, what makes the vehicles stand out is that they offer the advantages of electric bikes along with protection from the rain like cars.
The concept is also a first. Once you've signed up for the service, you can locate and reserve one of these mini vehicles via an app. The vehicle's door will open automatically when the reservation begins – and off you go! At EPFL, the vehicles are available free of charge, but the journey can't last more than 15 minutes. In Biel, where 13 vehicles will be available, users will be able to take three free trips a day lasting a total of 30 minutes. After that, they'll have to pay.
Research projects in the pipeline
"This pilot phase is crucial for ENUU because it allows us to collect a whole range of data on everything from battery life to areas of use. We've noticed, for example, that people use the vehicles a lot around avenues Piccard and Forel and less so near the SG building and at EPFL Innovation Park," explains Loetscher, an automotive engineer who graduated from the University of Applied Sciences in Biel.
First time users are thrown a little off kilter at the start but then get used to driving the egg-shaped vehicle in no time. Some testers regularly take the vehicles for a short 15-minute spin, while others use them to get from point A to point B. Some students have even tried racing two of the vehicles. The pilot project includes a qualitative analysis that will soon be conducted with the testers, even though the campus is not the target location for this type of vehicle.
The partnership between ENUU and EPFL began a year ago when the startup contacted the Transport Center. "It's our role to encourage projects that combine research, innovation and the economy," says Simone Amorosi, the Center's Deputy Director. "ENUU is now in talks with two EPFL labs about possible research projects. One involves vehicle autonomy, while the other is aimed at optimizing operational management."
---
---