Student fieldwork targets thawing permafrost and an abandoned gulag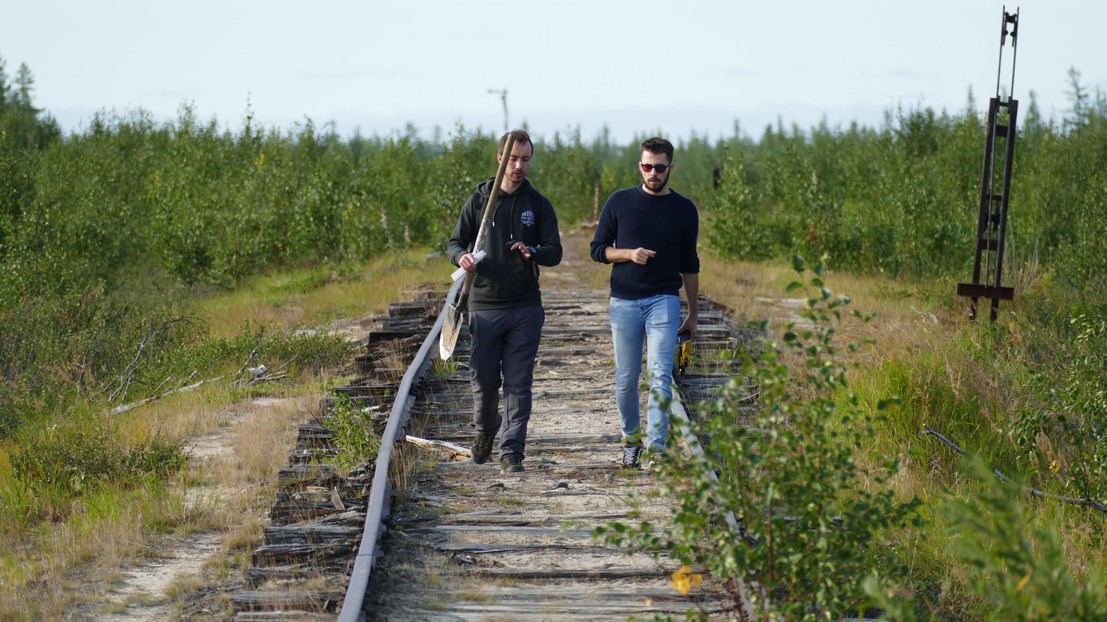 For the first time this summer, EPFL students travelled to the Yamal Peninsula of northwest Siberia for field research. A Stalin-era gulag and railway against the backdrop of the delicate Arctic ecosystem offered unique opportunities for interdisciplinary research in climate change, civil engineering, and history.

Master's students Jonathan Melis, Xavier Choitel and Romain Clément escaped the heat of mid-August and early September to travel to the Yamal Peninsula as part of a program offered in the College of Humanities (CDH) Minor in Science, Technology and Area Studies (STAS).
With its permafrost ecosystem, the tundra of Yamal is especially sensitive to the effects of climate change, but the discovery of fossil fuel deposits in the region has led to even more environmental disturbances in the form of road and railway development.
The students set up their campsite near the remains of an abandoned gulag, or labor camp, which closed in 1953: camp No. 93 at kilometer 42 of Joseph Stalin's "Dead Road". This provided a unique and fascinating opportunity for field research at the intersection of climate science, archeology, and history.
Xavier Choitel, a master's student in Civil Engineering, was a member of a team with students from the University of Geneva (UNIGE) studying the impacts of climate change and human activities on the arctic tundra environment. He and his team conducted granulometry tests, which can indicate the sensitivity to frost and thawing, on the grounds surrounding the abandoned railroad and camp.
"Our project was to analyze arctic infrastructures with regard to the thawing of frost and permafrost, which is amplified by climate change. This can cause large deformations and damage to infrastructure like roads, railroads, pipelines, and buildings in general," Choitel explains.
"I worked primarily with environmental science students from UNIGE, and we helped each other with our work. The group was very interdisciplinary, so it was very instructive to collaborate."

Meanwhile, Life Sciences Engineering master's student Jonathan Melis joined participants from UNIGE and the University of Lausanne (UNIL) in an archaeological and historical investigation into the relics of the gulag, which was built just after the Second World War. The fieldwork for this project included detailed archaeological documentation of the still-visible remains.
"As someone that comes from a bioengineering background, I had very limited occasions to pursue my passion for archeology during my studies at EPFL prior to joining the CDH's STAS minor. This was the perfect opportunity for me to join a program that provided excellent training and immersive fieldwork," Melis says.
He adds that the unique location of the project made the experience particularly memorable.
"My most prominent memory of the experience was the opportunity to accomplish everyday tasks in the superb landscape of the Yamal region. Sprinkled blueberries on a sea of green moss, where decaying buildings emerge from a painful period in Russian history, made for surreal scenery."
Other expeditions
The Yamal voyage was carried out for the first time this year as an addition to the two-part Arctic Floating University (Uni Arctic) program, which takes Russian and Swiss students from EPFL, UNIGE and UNIL on field research expeditions.
From June to July, Mechanical Engineering student Adrien Simon and Chemical Engineering student Fanny Racine boarded the polar ship Professor Molchanov on a journey between the islands and archipelagos of the Arctic Ocean. This expedition took a total of 10 Swiss and Russian students to conduct climatology, meteorology and marine biology field research.
Finally, from mid-August to early September, Environmental Sciences and Engineering students Océane Hames, Joelle Perreten and Yoann Sadowski travelled to the Samoylov research station in the Lena Delta, east of Siberia, to follow up on climate, energy and meteorological studies from previous years.
---
---