Simone Deparis rewarded for his flipped classroom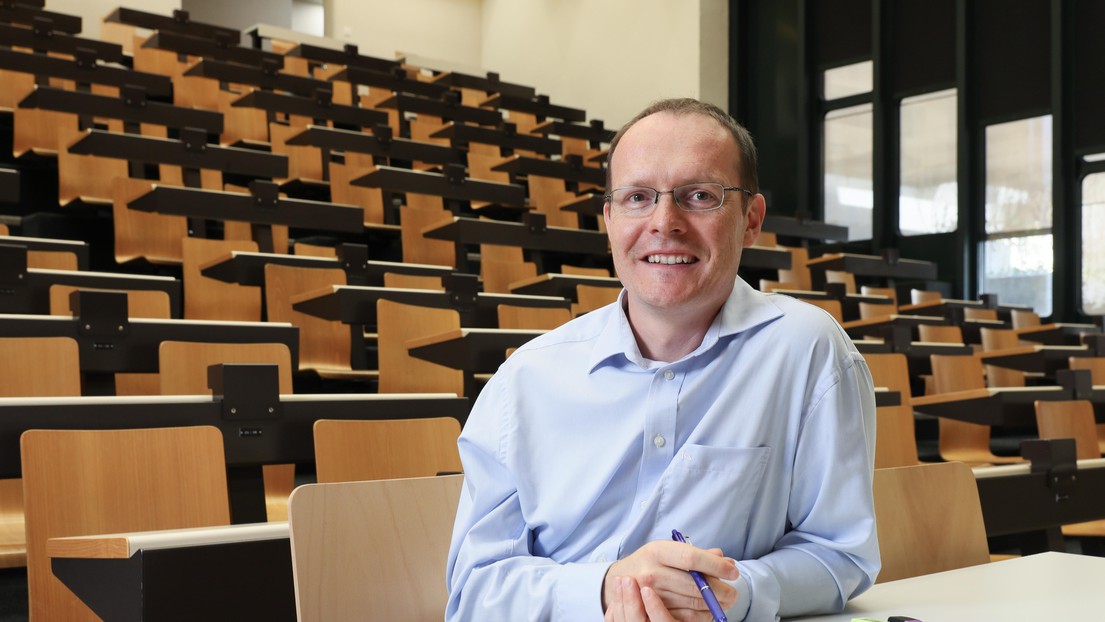 Simone Deparis, an EPFL senior scientist and teacher in the mathematics section, has been awarded the 2018 Credit Suisse Award for Best Teaching. He introduced a flipped classroom approach in his first-year linear algebra class this past year, which proved highly popular with students.

When it came time to pick a career, Simone Deparis didn't hesitate for a second. He had known he wanted to be a math teacher ever since he was a teenager. Today a senior scientist and linear algebra professor at EPFL, he enjoys everything about math – its beauty, its contradictions and especially its complexity. "In this field you have to be tenacious, because you'll inevitably come across times when you're frustrated. You have to hang in there so you can eventually savor the victories," says Professor Deparis. Originally from the Canton of Ticino, Deparis holds a mathematics degree from ETH Zurich and a PhD from EPFL; he started teaching at EPFL ten years ago. Never one to shy away from a challenge, he even seeks them out – in the 2017–2018 school year he tested a new approach during part of his linear algebra class: the flipped classroom. Students were responsible for learning the theory at home, and the class time was spent doing exercises. In recognition of his bold initiative in the field of mathematics and the quality of his teaching, Deparis has been given the 2018 Credit Suisse Award for Best Teaching.
Flipped classrooms are being used increasingly at universities worldwide, including EPFL. But the challenge for teacher Deparis was to use the approach in a linear algebra class for first-year students who may not be particularly motivated about math. (The class is for students of all sections except architecture, math and physics.) "I completely revolutionized my class. It was a lot of work but at the same time very stimulating," he says. And that wasn't the first risk he's taken. While at EPFL, he also developed a MOOC on the Octave and MATLAB programming languages; some 40,000 people have signed up for the English version.
A knack for improvisation
Simone Deparis tried out the flipped classroom with 100 linear algebra students over five weeks in the middle of the term. "Studies have shown that students learn better in flipped classrooms. And the mathematics section also wanted to see if this new approach would help motivate students who didn't choose to study math." For this trial run, he let students decide whether they wanted to participate and used it for only a third of the total course. "We wanted to make sure that students who volunteered to try the flipped classroom weren't placed at a disadvantage." 
To develop his approach, the mathematician Deparis worked closely with Cécile Hardebolle, a teaching advisor at EPFL's Teaching Support Center (CAPE), and based it on Donna Testerman's MOOC. "The first lesson was a disaster because I didn't coordinate it with the MOOC. But I quickly fixed the problem, and then the students were really enthusiastic. The experience taught me a lot. With flipped classrooms, you have to be able to respond to questions and comments that might not come up in a conventional classroom. You have to be able to improvise while remaining clear and methodical."
Teacher Deparis's students enjoyed this new way of learning, even though it meant they had to do more work at home. The initial feedback indicates that by working on exercises in the classroom, students were able to better assess their level, discuss problems and help each other out. In fact, once the five weeks of the flipped classroom were over, the students didn't want to return to the conventional approach. Deparis is repeating the experiment this fall but extending it to cover most of the course. And once again, hundreds of students have signed up. Apparently the teacher's bet was right on the mark.
---
---