Seven distinguished women scientists get their place on the EPFL map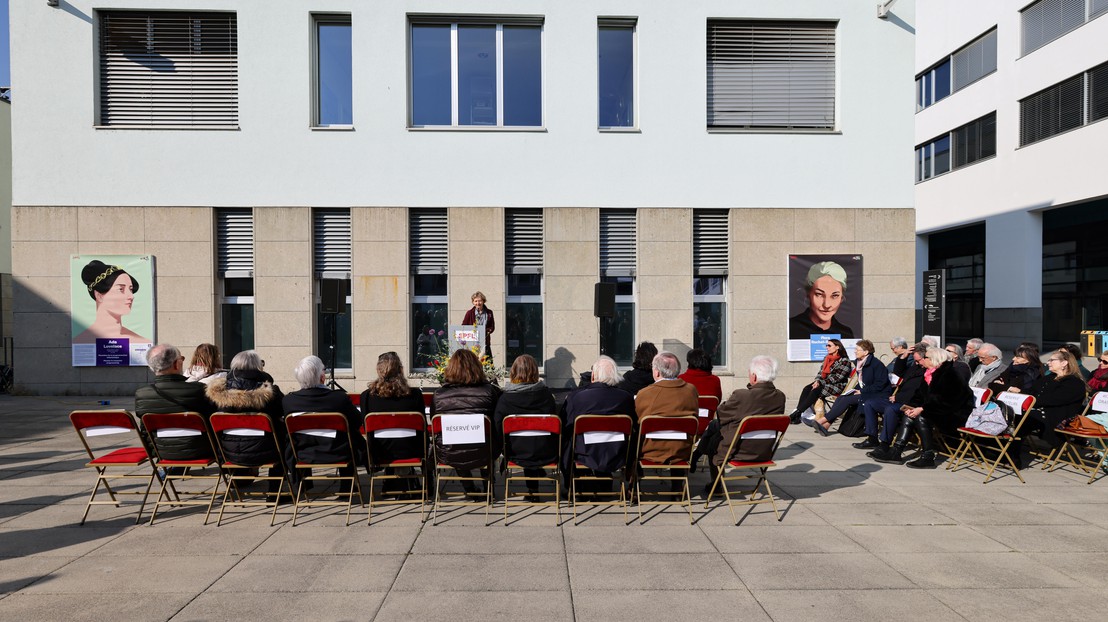 To mark International Women's Day on 8 March, EPFL officially named squares and streets on its Lausanne campus after pioneering women in scientific and engineering fields.

On 8 March, EPFL added the names of seven distinguished women to its campus map at an official ceremony attended by Nuria Gorrite, the president of the Vaud Cantonal Government, and Christian Maeder, the mayor of Ecublens. Martin Vetterli (EPFL President), Gisou van der Goot (Vice President for Responsible Transformation) and Julianne Jammers (Managing Director of the SwissTech Convention Center) welcomed key figures and dignitaries to the event. Among them were relatives and descendants of the seven female pioneers – a list that included four Swiss women.
The ceremony, which was held on International Women's Day, followed an extensive consultation process involving the entire EPFL community. Over 400 people submitted their feedback and put forth around 100 names. An 11-strong selection committee made up of representatives of each segment of the School community (students, academic staff and administrative and technical staff) along with a science historian and EPFL's Equal Opportunity Delegate, created a shortlist and presented it to EPFL's upper management, which made the final decision. The names were then approved by Ecublens city officials and the Canton of Vaud.
Previously, the names of ten distinguished men featured on the campus map, but no women were honored in this way. Fostering equal opportunities for women and men in teaching, research and innovation is a key priority for EPFL's upper management, the Vice Presidency for Responsible Transformation and the Equal Opportunity Office, as reflected in the School's Equal Opportunity & Diversity Action Plan.
The seven pioneering women
English mathematician Ada Lovelace (née Byron, 1815–1852) received the most votes of all the women suggested. She is known for writing the first real computer program, which she did for Charles Babbage's Analytical Engine, the ancestor of the modern-day computer. She developed a detailed algorithm between 1842 and 1843 to calculate Bernoulli numbers on that machine. Her program included the first conditional loop – a genuine computing concept. Her name now adorns the large area between the BM, BP and SG buildings near the campus' northern entrance.
Swiss architect Flora Ruchat-Roncati (1937–2012) was the first woman to be named a full professor at ETH Zurich, in 1985. She also played a key role in drafting plans for several EPFL buildings, which were constructed between 1993 and 2000. She was an important member of Tendenza, a modern architecture movement in her home canton of Ticino that believed in prioritizing occupants' needs in the design of buildings. Drawing inspiration from Le Corbusier, she designed several major buildings and structures in Switzerland. Her name went to the SwissTech Convention Center esplanade. One of her two daughters sent a message on the family's behalf thanking EPFL for honoring their mother.
Erna Hamburger (1911–1988) was a Swiss electrical engineer and doctor of technical science. She was appointed a full professor at the Polytechnic School of the University of Lausanne (EPUL) in 1967 – the first woman to hold this title – two years before EPUL became EPFL, where she taught until 1979. Her name already appears on the University of Lausanne's largest auditorium, and the EPFL Women in Science and Humanities (WISH) Foundation awards the annual Erna Hamburger Prize. But the selection committee felt she deserved further recognition for her accomplishments, naming a road connecting the Innovation Park buildings in her honor. Two honorary professors of EPFL who knew Erna from their time as students paid tribute to her at the ceremony on 8 March.
Swiss engineer and physicist Cécile Biéler-Butticaz (1884–1966) completed a degree in electrical engineering in 1903 at the Lausanne School of Engineering – the forerunner of EPUL and, later, EPFL. She was the School's first female graduate. In 1929, as a mother of three sons, she completed a PhD in physics. Several of her grandchildren and other descendants attended the ceremony. Among them was Philippe Biéler, a former Vaud cantonal councilor representing the Green Party. He gave a moving speech about his grandmother, who holds a special place in the family. Her name is now on a road in the southern part of the campus heading towards the student dormitories.
A road near the EPFL marsh was named after Swiss chemist Gertrud Woker (1878–1968), a pacifist, feminist and whistleblower who warned against the dangers of chemical weapons during the First World War and later become involved in the movement against atomic weapons. Gertrud campaigned ardently for women's suffrage. She was the first scientist to demonstrate the toxicity of leaded gasoline, although her findings were largely ignored. She suffered from depression and died at the age of 90 in a psychiatric hospital. She had no children, but her grandnephew, former Swiss ambassador Daniel Woker, spoke about her life at the ceremony.
Italian neurobiologist and neurologist Rita Levi-Montalcini (1909–2012) also led a long and eventful life. In 1986, she was jointly awarded the Nobel Prize in Physiology or Medicine for the revolutionary discovery of nerve cell growth factors. Born into a Jewish family, she suffered under the antisemitism of the Fascist regime governing Italy at the time. She sought refuge in Switzerland but was denied passage across the border. After winning the Nobel Prize, she created a foundation to support women's education in Africa. A street running along the Life Sciences building was named after her.
The street running perpendicular to Allée de Savoie now honors Iranian mathematician Maryam Mirzakhani (1977–2017), who died at just 40 years of age. She remains the only woman so far to have received the Fields Medal – an accolade awarded every four years and often described as the Nobel Prize of mathematics. At the ceremony, remarks from her husband recalled Maryam's hope that her achievement would inspire other women. Iranians form one of the largest nationality groups in EPFL's diverse community.
---
---