Sauradeep Majumdar, winner of FameLab Switzerland 2020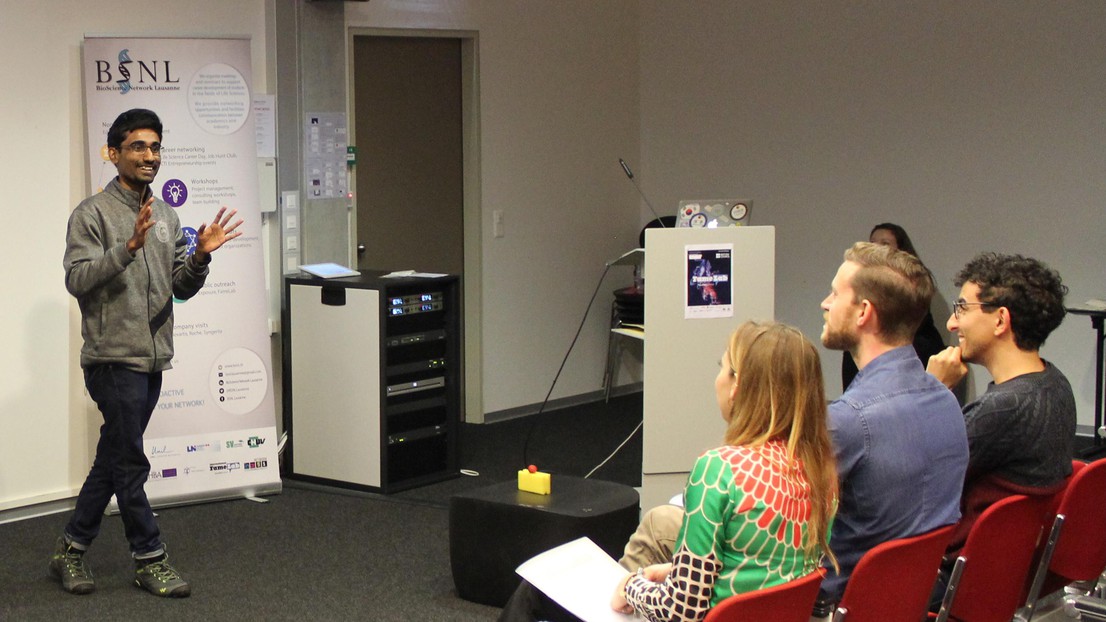 Sauradeep Majumdar from EPFL won FameLab 2020 Switzerland, a competition held between 10 finalists from EPFL, ETH Zurich, and the Universities of Lausanne, Basel and Zurich. He will next represent Switzerland in the International Final. Sauradeep is a PhD Student in the Department of Chemistry and Chemical Engineering (EDCH).

"FameLab is one of the biggest science communication competitions in the world. It aims to find the new voices of science and engineering across the world. FameLab participants have just 3 minutes to inspire judges and audience with a scientific talk that excels for its content, clarity and charisma" explains Silvie Cuperus, the Program Manager of FameLab Switzerland.
Sauradeep Majumdar, a PHD student at EPFL, won the 2020 edition of FameLab, explaining his scientific research to the general public in 3 minutes. "We were not allowed to use any electronic presentations, but we could use props if they helped us. I presented my work on designing thousands of materials computationally and then screening them to find the most promising ones for capturing carbon dioxide or CO2" explains Sauradeep.
Watch his performance on YouTube:
How did you become interested in being a scientist and a chemical engineer in particular?
It was during my Bachelor studies that I realized how diverse a field Chemical Engineering is! From working in the fields of energy to providing the fuel that makes the world run every day, to being able to contribute to environmental sustainability, to play key roles in medicine research and even making chocolates – I find this entire spectrum very fascinating.
I watched a video on YouTube where you were playing the guitar and singing. I think the song comes from an Indian movie where it is sung by soldiers who are staying faraway in a military base… For you, what is the story behind this song?
Yes, you are right. This song is named "Sandese Aate Hain" and is from a movie named "Border". "Sandese Aate Hain" in English means "Messages arrive". So, this song is about the messages or letters that arrive from the home for the soldiers who are fighting at the countries' borders to protect us.
August 15 is the Indian Independence Day, and on that occasion, we at YUVA – the Indian Student Association at EPFL-UNIL – thought of dedicating some songs. And this was one of them. We usually have a live performance with an audience every year, but this year because of the conditions, we thought of recording videos and streaming it online.
How is your life, far from your homeland, and what do you miss from your country?
Adapting to a very different culture, language, food was indeed challenging. But at the same time, it helped me experience and learn about different facets of life and also more about myself. Today, I feel that I am more connected to myself than I was ever before. Among different things, these three I really miss a lot from back home – family, friends and food.
Can you describe yourself in three words?
Simple, Inquisitive, Compassionate.
What is your biggest hope in life?
To improve myself every day and to become the best version of myself. And in this process, as learnt from my parents and my sister, I hope that I am able to help others around me and contribute to their happiness.
Sauradeep advises the young generation to not be afraid to go out of their comfort zone. He adds: "you might fall, get hurt but along the way you will learn a lot. And always try to give back to the society. I believe that our success is not necessarily defined by the final point we reach. It is also defined by our starting point and our journey from there. "
Outside work, he loves watching movies, communicating with people through public speaking, music and dance, and playing cricket. His favorite quote is "It isn't about how hard you hit. It's about how hard you can get hit and keep moving forward, how much you can take and keep moving forward. That's how winning is done!"
---