Romande Energie opens a Smart Lab on EPFL's campus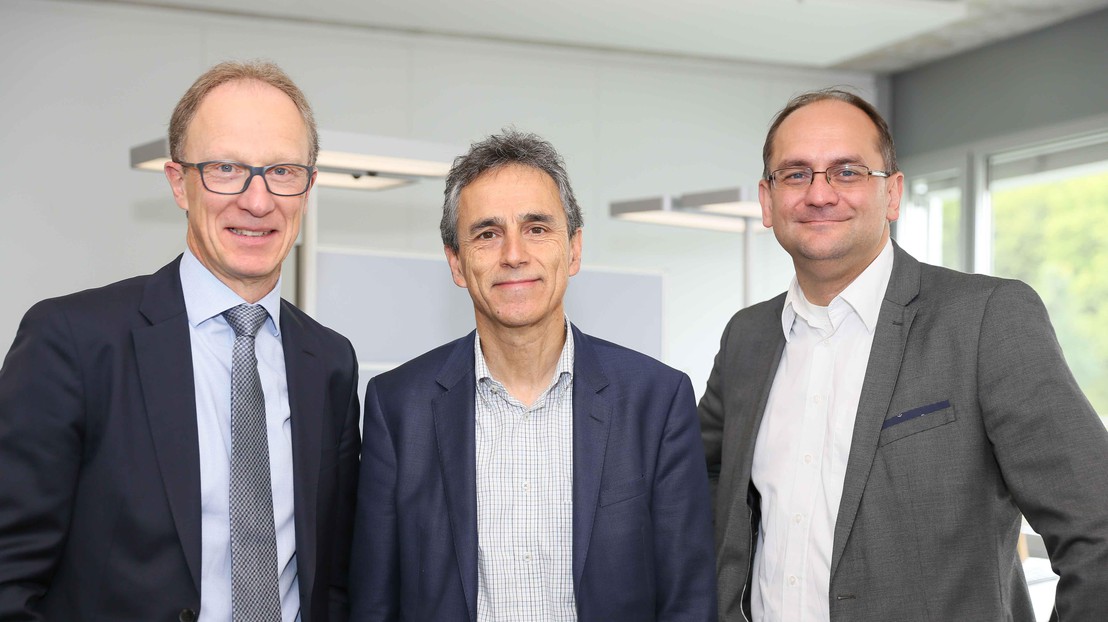 With its new Smart Lab, Romande Energie – the leading electricity supplier in French-speaking Switzerland – aims to create a skills center for leveraging data to enhance energy systems. The Lab is the latest step in a longstanding partnership between the power utility and EPFL.

The energy industry is undergoing unprecedented change. Renewable energy sources are transforming the way electricity is being generated and distributed, while the ballooning amount of data being collected – and the new systems for processing it – are creating an array of new opportunities. So it is only logical that power companies are teaming up with research institutes to develop solutions for addressing these challenges. One example is Romande Energie's new Smart Lab at EPFL's Innovation Park. The Lab, which was inaugurated today, is destined to become a major skills center and marks an important milestone in the partnership between the two organizations.
Romande Energie first joined forces with EPFL in 2010 to develop and install colored, translucent solar panels equipped with Grätzel cells on one side of the SwissTech Convention Center. Other ambitious R&D projects followed. In the spring of 2015, Romande Energie unveiled Switzerland's largest urban solar power station with a surface area of 15,500 m2, located at EPFL. In addition to supplying electricity to the campus, the power station also serves as a test bench for researchers studying innovative systems for using renewable energy more efficiently and feeding it into power grids. The solar power station was developed by Romande Energie and EPFL's Distributed Electrical Systems Laboratory (DESL) in association with the Canton of Vaud and Li-ion battery manufacturer Leclanché. It can generate and store solar energy and distribute it optimally based on peaks in demand.
A virtual power plant designed for an entire city
The Smart Lab will employ four to six people working on an even more ambitious project for Romande Energie: REel-DEMO, which aims to develop a demonstrator of a power grid in local equilibrium. "We will test a decentralized control system for the grid at Rolle and Onnens. That will require maximizing the use of renewable energy and managing all local power generation and consumption, as well as storage," says Mario Paolone, a professor at DESL. "It's the same 'virtual power plant' concept that we use at EPFL, but with a lot more variables and constraints." The methods and technologies were developed at the Swiss Competence Center for Energy Research (SCCER-Furies) headed by Paolone. The REel-DEMO project has received funding from the Swiss Federal Office of Energy thanks to its innovative nature and potential impact.
For EPFL, the Smart Lab will open the door to research in the promising fields of microgrids and smart grids, as well as smart living – which involves smart systems for managing electricity use and heating in buildings – and smart working, which involves connected objects. Engineers will also develop technology for managing power distribution on demand and leveraging data to enhance energy systems. "Our dream is to have a nationwide power grid fueled entirely by renewable energy," says Paolone.
An incubator for leveraging energy data
Romande Energie will use the Smart Lab as an incubator for all opportunities related to making better use of energy data. The goal is to identify, assess and subsequently demonstrate the value of new business models, with a view to incorporating them into the company's operations. The development work will take place in association with staff at Romande Energie as well as outside experts. "We are reaching a turning point in our industry. The increasing digitization of our business and the growing use of data are changing the scope of our day-to-day operations. We are in an exciting period of rapid development," says Edgar Haldimann, head of the Smart Lab.
---
---