Robert Schaller wins the 2014 Zener Medal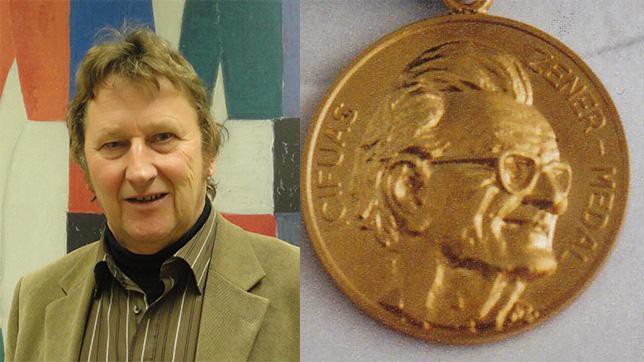 Professor Robert Schaller has been awarded the 2014 Zener Medal, an honor in the field of solid state physics.
The Zener Medal is named after Clarence Zener, the physicist who first described the breakdown of electrical insulators. The medal, which is awarded every three years, recognizes important contributions in the study of defects dynamics in solids. The winner is selected by the Scientific Committee of International Conference on Internal Friction and Ultrasonic Attenuation in Solids (ICIFUAS).
Robert Schaller is Professor Emeritus at EPFL, where he was responsible for the Group of Mechanical Spectroscopy at the Institute of Condensed Matter Physics, and taught General Physics, Physics of Materials, and Metrology. He also works with the Laboratory of Nanostructured and Complex Matter (LPMC). With the Zener Medal, Schaller is being celebrated for his work on grain boundary sliding (GBS), which is a subtype of solid state deformation. GBS occurs when the grains of a polycrystalline material displace against each other. This is the main reason why ceramics can deform at high temperatures due to the formation of a glassy phase in their boundaries.
The Zener medal award ceremony took place during the ICIFUAS conference, on 23 September 2014.
---
---