Repurposing old skiing infrastructure, with a nod to the past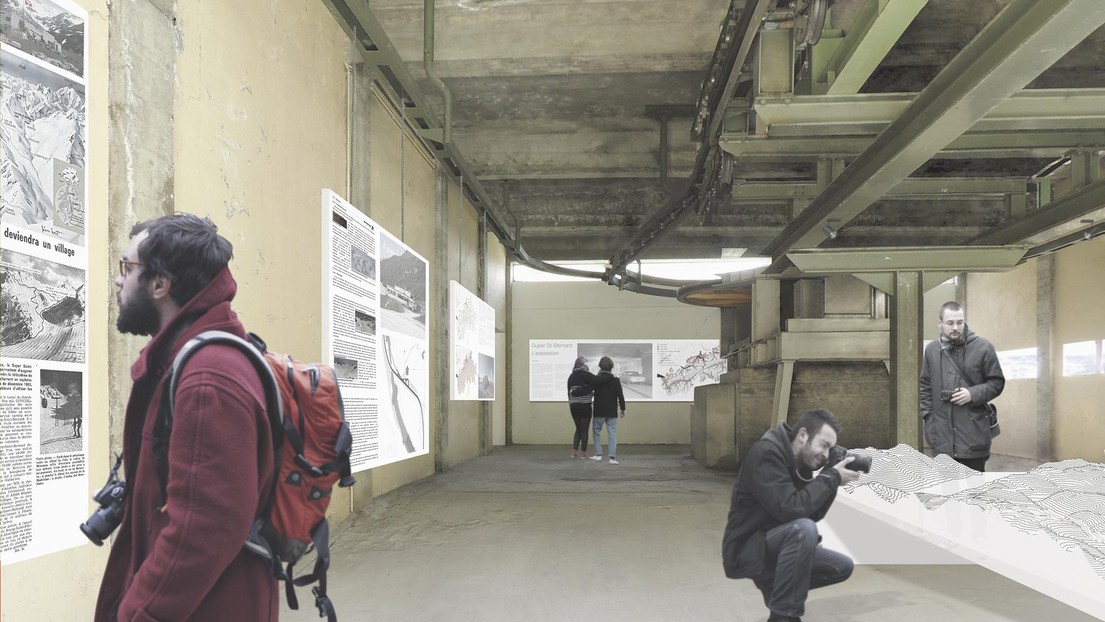 Two EPFL Master's projects in architecture aim to give the Super Saint-Bernard and Furggen cable car stations a second life. Through their minimalist and eco-friendly approach to reusing existing buildings, these projects raise questions about the future of this forgotten architectural heritage.

Some of Switzerland's skiing infrastructure has fallen into disuse owing to bankruptcy, climate change or a lack of investment. With this in mind, four Master's students in architecture took up the challenge of repurposing two cable car stations in Valais Canton. They made this into their year-long Master's project.
Yannick Guillermin and Sacha Rey, two mountain enthusiasts, focused on bringing the Furggen station back to life. This building, sitting at 3,500 meters on the border with Italy near Zermatt, is where skiers arrived in the old cable car. It was the work of modernist Italian architect Carlo Mollino, who is known for the mountain houses he designed. The building was abandoned in 1992.
Seed bank for alpine flowers
Before focusing on the Furggen region, the students contacted around 400 Swiss communes with land above 1,500 meters. Then they assessed the potential of around 50 abandoned buildings. They chose Furggen for its amazing view of the Matterhorn, its eagle's nest location, the quality of the structure and its covered walkway.
While conducting their background work, the students also discovered that high mountain flora was threatened by climate change. So they imagined to convert the abandoned cable car station into a seed bank for alpine flowers.
Architectural feat of the past
"We are proposing to build seven refrigerators in the covered walkway, right in the mountain permafrost," says Sacha Rey. "The annual temperature varies between -1 and 1 degree, which is ideal for preserving flower seeds." In a break from current practice, the students wanted to keep the original walls as part of the architectural heritage. "The trend now in Switzerland is to demolish everything. But we mustn't forget that, at the time, it was a real challenge to build high-up in the mountains. We think it's important to keep a trace of this accomplishment and make use of these building remnants."
With this project, the abandoned Furggen cable car station would get a second life as an observatory for botanists, with a lab, a library, a display area and an eight-bed hostel. "In our plan, the cable car would be used to transport flower seeds," said Yannick Guillermin.
A low-cost demonstration project
At the bottom of the mountain, at the entrance to the Great St. Bernard tunnel, another reuse project also focused on an old skiing infrastructure. "We wanted to take a low-cost, environmentally friendly approach and came up with a demonstration project for renovating a cable car station," said Loïc Schaller who, together with Lisa Robillard, turned this into their Master's project.
The cable car base station became obsolete six years ago when it went bankrupt. "A lot of people from the Bourg-Saint-Pierre region have strong feelings about this place, since that's where they learned to ski. So rather than completely change the existing building with some big project, we just wanted to make it viable and profitable and integrate it in the local culture," said Schaller.
The project is designed around the sports practiced in the region. It would provide a place for hikers, cyclists and back-country skiers to meet and to stash their equipment. There would also be a restaurant and a museum about the construction of the Great St. Bernard tunnel. The museum would expand the region's cultural offering, which already includes the Gianadda Foundation and the Barry Foundation, both in Martigny. And it would come as the Aosta-Martigny region applies to become a UNESCO World Heritage site.
Renovate rather than demolish or build
"Ski resorts can no longer count on the winter season to make their money. So we wanted to show them other things they could do the rest of the year," said Schaller. "The work we are proposing is minimalist and consumes little in the way of grey energy. We really wanted to show that it's more profitable to renovate these buildings than to tear them down."
They agree with the students behind the flower seed bank project: "By making the most of abandoned buildings, we can avoid the problem of overdevelopment in the mountains," said Guillermin. "And in addition to old ski resorts," said Rey, "there are old army bunkers, mountain huts, abandoned dams and, with the growing use of fiber optics, telephone antenna sites." Architects may well have their work cut out for them.
These two Master's projects in architecture will be on display from 30 September to 13 October at Espace G60, Rue de Genève 60, 1004 Lausanne.





---
---