Reframing the role of creativity in cultural heritage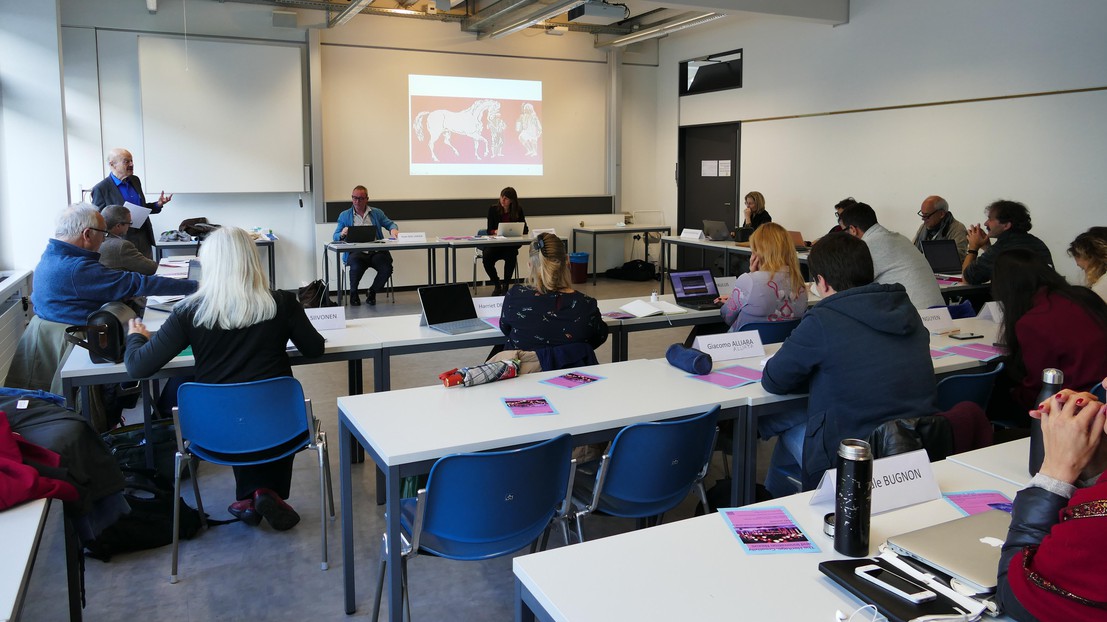 From November 4-6, College of Humanities (CDH) researchers Florence Graezer Bideau and Peter Bille Larsen organized "The Heritage, Creativity and Innovation Nexus": an interdisciplinary workshop that invited international participants to develop a new theoretical framework for understanding contemporary production of cultural heritage.

The three-day conference, supported by the CDH and the Swiss National Science Foundation, attracted speakers and participants from all over the world. Discussion topics ranged from the theoretical to the practical, with presentations tackling the relationships between cultural heritage and theory, art and craftsmanship, technology, governance, environment, urban spaces, and more. A PhD school and poster session on November 6th also brought junior researchers into the discussion.
Creativity and contradictions
In discussing the motivation for the conference, the organizers argued that in light of the "massive creative turn" currently being observed worldwide in the production of cultural heritage, it is time to overturn the stereotype of heritage as a strictly historical research area that is rarely associated with innovation. However, this is easier said than done, as this creative turn is a phenomenon accompanied by many paradoxes and contradictions.
"We are experiencing the loss of cultural diversity and the steady degradation of cultural heritage, yet the number of entries on heritage listings, such as that of UNESCO, are at an all-time high. At the same time, there is a clear creative expansion in what is considered heritage, and the actors and technologies involved in creating it. We need to question to what extent this is driven by economics, politics, international organizations, etc.," explained Peter Bille Larsen, a senior lecturer and researcher in anthropology and sustainability at the University of Geneva, and CDH's current Academic Guest.
CDH senior lecturer Florence Graezer Bideau, a sinologist and anthropologist, added that the conference also aimed to explore the theoretical gap in the anthropology of creativity, which could be informed by comparisons of heritage dynamics in eastern and western countries.
"In Asia, cultural heritage is being completely transformed, but this transformation is poorly theorized and often misunderstood. We are observing a growing number of heritage-related issues and we wanted to question that."
Education and practitioner engagement
The educational aspect of the conference, via the interdisciplinary PhD school, was an important outcome. Co-organized with three doctoral programs (CUSO, EDAR, and EDDH), the PhD school brought together students from anthropology, architecture and urban studies, and digital humanities.
In addition to delivering a presentation on kinesthetic cultural imaginaries, data sculpting, deep mapping, and performative systems projects at the Laboratory for Experimental Museology (eM+), Sarah Kenderdine led participants on a tour through the latest EPFL Pavilions exhibition, Deep Fakes: Art and its Double. Alain Dufaux, Operational Director of the Cultural Heritage & Innovation Center (CHC), also introduced EPFL's Montreux Jazz project, demonstrating the synergies between the research community, practitioners, and heritage professionals.
"We have an opportunity to enrich the way in which public policy practitioners address heritage and creativity, and we hope an updated theoretical framework can broaden these discussions. Creativity and innovation in heritage is a very problematic area, and it is essential to have better concepts that we can use to talk about these issues in a non-western-centric way," Larsen summarized.
Bideau and Larsen are currently co-writing an academic paper on the conference theme, and note that the proceedings will also form the basis of a collective volume. They also see a critical opportunity to engage with heritage practitioners and institutional stakeholders, and both researchers are exploring ways to work with international organizations, as well as the Swiss Federal Office of Culture, moving forward.




---