Pushing the Life Sciences Innovation Forward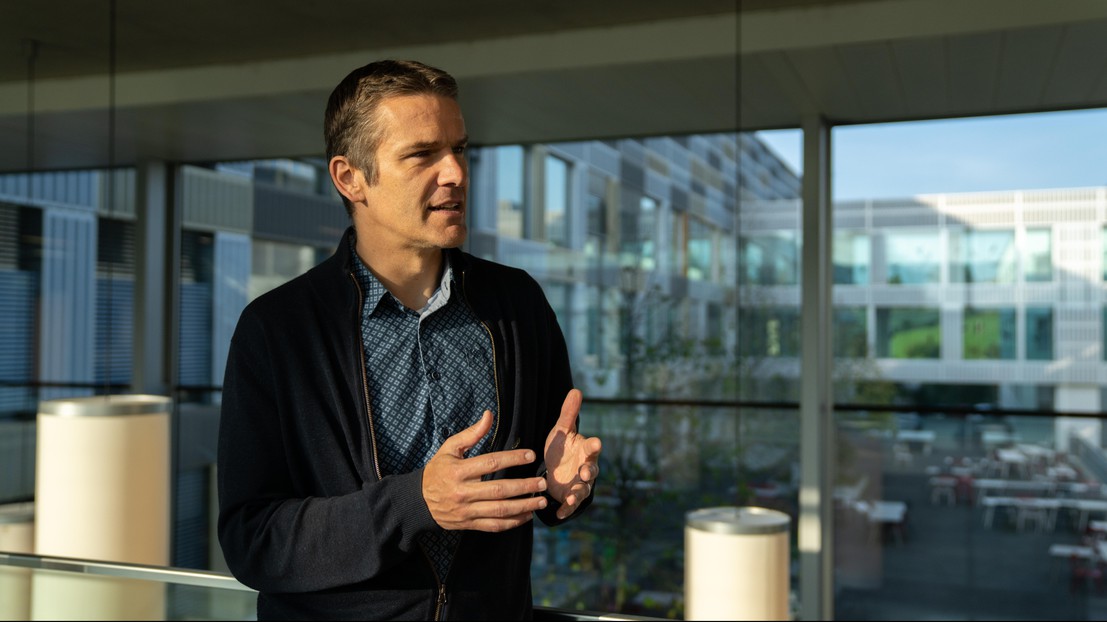 EPFL's School of Life Sciences launched in 2017 Catalyze4Life, an innovation encouragement program which supports early technologies and innovative projects with high potential in their path towards application, technology transfer and product development. Bart Deplancke, Associate Dean for Innovation, presents his vision of the project which enters in an expansion phase.

Do you have a personal experience in the world of start ups?
We started a company in 2011, Genohm, that was producing life sciences data management softwares. It grew from the understanding that life sciences are becoming much more data heavy, and most data management systems were, back then, completely unadjusted for this kind of data amount. One of my best friends is a bio engineer, so he understood life sciences, and worked in telecom for a while. He knew about big data management solutions, so we put our heads together and came up with a synergistic solution that ultimately ended in being this company. It was acquired in 2018 by Agilent, and right know there are almost 100 people working here on the campus.
Now, we have a second company that is completely lab-centric, Alithea Genomics, still here on the campus with about 10 people. It's been a lot of fun and is actually one of the reasons why I was motivated to engage more profoundly in trying to transfer this kind of knowledge for all the labs.
Why did you decide to launch this innovation program?
It was first driven by a practical question. In 2016, the school was audited by an external committee of scientists, and I was assigned by the dean to help out with organizing it. We got to interact and realized that the committee was a bit disappointed by the limited tech transfer, especially given that EPFL is a school of engineering. It was not a critic, because the SV school was launched in 2002, is still very young, and really started growing in the years thereafter. The primary focus of the school was therefore to establish a very good research and education environment, and the innovation pillar was a bit left behind, with the idea of a natural growth. But in 2016 we were faced with reality and understood it was time to start doing something about it. Being involved, I suggested we should start an official vehicle that would support tech transfer more proactively.
Now, there is a wave of startup creation going on in the school, because there is excitement about this idea that students can be empowered to carry an idea forward.
When did the initiative start?
The primordial Catalyze4life initiative really emerged in 2017. The idea was to have representatives from the different institutes, sampling them for interesting tech transfer, drug development, an instrument, a specific approach… We then wondered what we could do to catalyze the further development of these projects.
Often, what happens is that a student has an idea, is really motivated about it, but the professor is not necessarily interested, doesn't have time, or wants to focus on something else. We wanted to create an environment that was supportive of the students, so that they knew where to go, and then give them a little push in the back, to test an idea, help with some money. Now, there is a wave of startup creation going on in the school, because there is excitement about this idea that students can be empowered to carry an idea forward. And it does not necessarily depend on whether the professor is interested or not, as long as he or she agrees that this intellectual property can be taken by the student.
Our efforts go beyond the school. For me, what is important is that it supports life sciences.
We don't only support the projects, they also get a label of quality. Among the 12/14 projects that we have every year, 3 or 4 are chosen because we feel they are mature. Then the student can feel empowered by the label, and get going. And our efforts go beyond the school. For me, what is important is that it supports life sciences. Somebody in STI, ENAC, SB or chemistry can have a great idea, that impacts our domain. It is also our task to create an ecosystem where students would be excited to move into once they graduate.
How rich is SV's environment for the creating of these innovative projects?
There is an increasing number of funding vehicles, nationwide and local, like Innosuisse and the BRIDGE grants which are really large initiatives, and as a result in the last years we have seen a lot of startups emerging. EPFL has a nice gravity for this kind of initiatives, a lot of capital available, a lot of know-how and expertise. I feel the startups we helped are more successful than what one could expect based on the world-wide average.
But in the Life Sciences domain, it can take a lot of time to develop a tech transfer.
It all depends, the nature of what the company does defines the dynamic. Let's focus on our company, Alithea Genomics, and SOPHIA GENETICS, an EPFL's spin-off specialized in data-driven medicine. We started Alithea Genomics from a bio-chemical approach, that we developed, and that received a lot of attention organically. People wanted to do exactly that. And so, from almost the first week of its existence, the company was already selling products. Same thing for SOPHIA GENETICS. It takes time but this is software, so they have been very active from the beginning, recruiting customers and having them trying their products.
However, if you talk about bringing a medical diagnostic device into the clinic, developing a new drug to treat a particular type of cancer, it will take a lot of time, up to 20-25 years. Of course, the pay-outs are also very different. We never really expect Alithea Genomics to become a multi-billion company. We don't have that drug that might be sold world-wide, so the expectations are not the same.
Among these startups which you helped launching, are there some that are doing particularly well, and started hiring?
Most of them from the early days at least, like Nagi Bioscience [launched in 2019 by Matteo Cronaglia, from LISP et LMIS labs] and EVIR Therapeutics [launched in 2020 by Daniel Bach, from the De Palma lab], are going very well. We are now in the process of compiling to do a follow-up, checking where they are with their initiatives. Not all Catalyze4Life applicants necessarily already have a company. And that's the point, because if you are incorporated, if you have launched your company and registered it, we're not allowed anymore to give you money because then there would be a conflict of interest.
Now we can do better, for example teach how to secure intellectual property, things that are crucial for an engineer to understand
How do you present you Incubator to the students?
We have the Catalyze4Life Innovator's Forums, where we bring in leaders in the field for innovation, for industry hiring, to present what they think the next challenges will be in the life sciences. And we organize a course in drug regulation and med-tech for all master and PhD students.
How do you see the future of Catalyze4Life?
The project support is sufficient for now. But what we can expand upon is the educational aspect. We feel that students lack certain expertise that the industry would really like them to have. That's why we started this drug-regulation course, the feedback from students was that industry commended them, and it gave them an edge in interviews. Now we can do better, for example teach how to secure intellectual property, things that are crucial for an engineer to understand. Also, many of the startups that I talked to feedback to me that they were unprepared in terms of project management. They know everything about a particular pathway or drug delivery, but how to manage and execute a project, and work with other people, is something that most people are suddenly faced with and have no experience whatsoever. To launch a project management course, we just need a good teacher, and a month course in the evenings for interested startup people.
Do you have a message for those who are still hesitating to engage themselves in an innovative project?
Try it, it's so much fun! You will learn so much. From one day to the next, you are going to have to carry many hats, it will seem very overwhelming, but even if your endeavor will fail, you will have learned a lot, dealing with challenges, with failure, with aspects from being a people manager to your own technical officer, your scientific officer… What you will have learned is very enriching for anything you will do later down the road, and it will be highly appreciated by the industry.
---
---