Prototyping Sports Tech: Enhancing Performance and Sustainability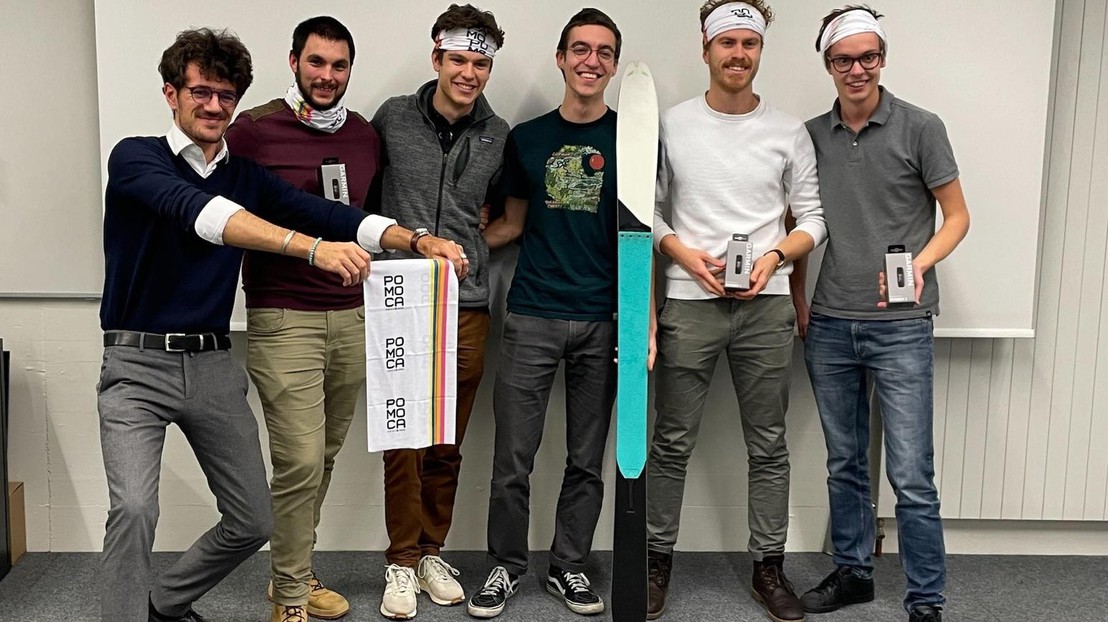 In the latest edition of the graduate course "Innovation and Entrepreneurship in Engineering," students across many disciplines at EPFL tackled prototyping challenges at the intersection of sports and technology. Led by Prof. Véronique Michaud, the School of Engineering's Associate Dean for Education, and Prof. Thomas Weber, and supported by a diverse group of additional faculty, eight student teams solved various industrial 'Sports Tech' challenges in collaboration with industry sponsors Archinisis, Montblanc, Pomoca, and Vacheron Constantin. In addition to finding an innovative technological solution with a viable business model, the challenge included a quest for reducing environmental impact. This year's winning team provided a redesign of a Pomoca ski touring skin with a novel shape and fixation type.

Technology has always been an enabler of innovation in all areas of research and development. In recent years, technological advances have had a tremendous impact on the sports community helping athletes to improve performance in different ways. New materials advance the sports equipment, while sensors aid in the quantification of every aspect of training progress and competitive evaluation. For companies it is often very challenging to embed the latest technological advancements within existing products due to operational constraints, the associated significant investments, or the uncertainty about market acceptance. Therefore, multiple sponsors proposed project ideas for students of the EPFL graduate course on Innovation and Entrepreneurship in Engineering (IEE), which has been offered jointly by the College of Management of Technology (CDM) and the School of Engineering (STI) since 2019. Eight teams prototyped proof-of-concept solutions addressing technical characteristics and developed business plans which are economically and ecologically viable.
Team 1: Ski Testing
Students: Antoine Lacroix (GM), Germain Meyer (GM), Léa Pradel (MX), Lucas Pollet-Villard (GM), Nathan Soury-Lavergne (GM), Haitao Zhou (EL)
Industry partner: Dr. Benedikt Fasel (Archinisis)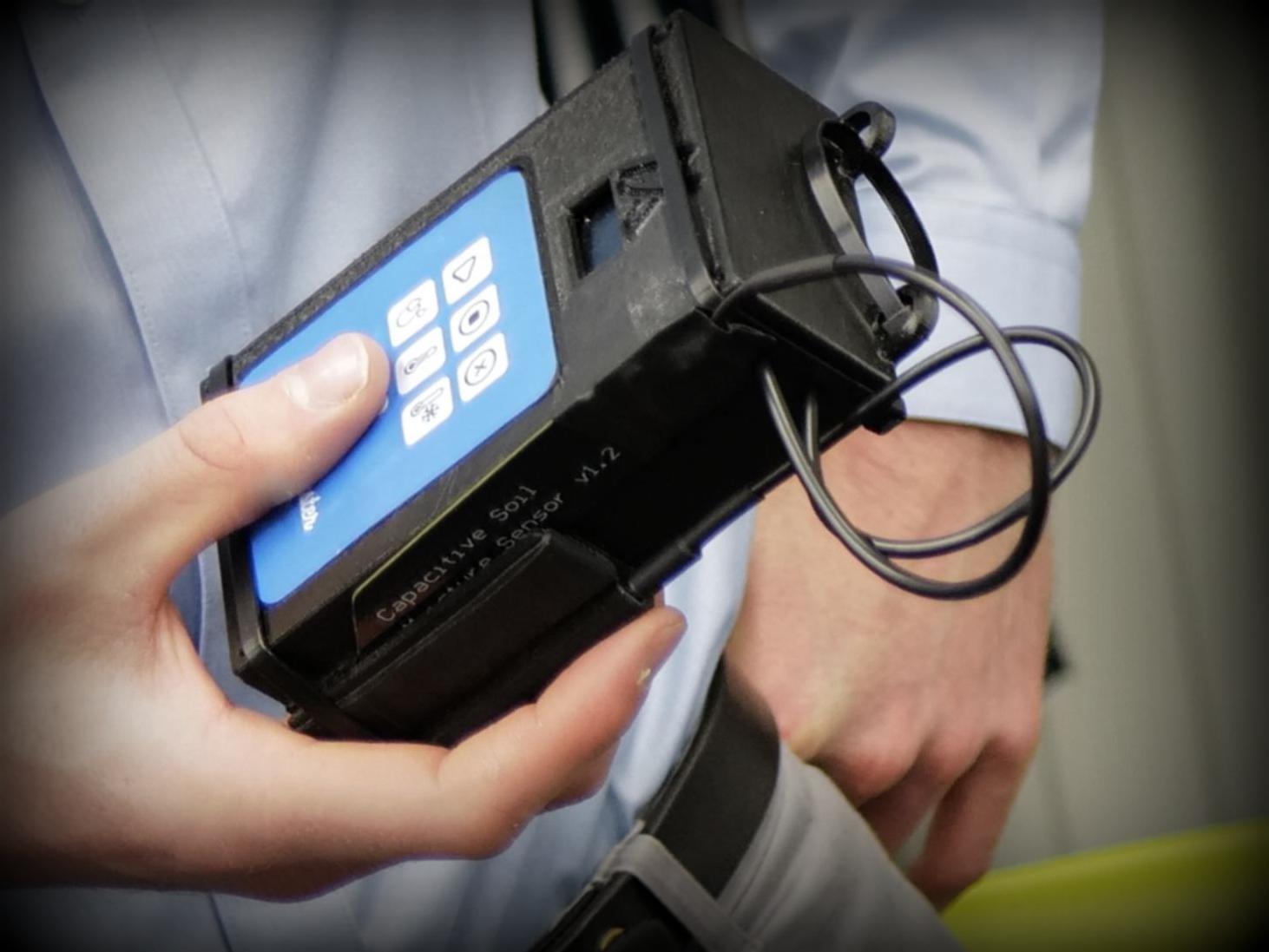 Winning a medal in cross-country skiing depends not only on the athlete's performance, but also on the selection of the right pair of skis. Selecting the right pair of skis depends heavily on the snow properties, the temperature, and the characteristics of the skier. Archinisis, a startup focusing on elite sports tracking and performance analysis, challenged the students to optimize the existing process for ski selection. The team's proposed solution concept consists of an existing Archinisis sensor for measuring ski performance, the specially designed ski and snow scanner, as well as a web app. When combined with test-performance results, the snow measurements provide a good predictor of the best skis for the race. In a next phase, the system is bound to be tested by interested ski federations.
Team 2: AI-Powered Training Tool for Combat Sports
Students: Michael Gysel (IN), Neethu Kizhakkedom (NX), Justin Levenishti (EL), Alan Lussner (GM), Min Zhang (MX)
Industry partner: Dr. Christian Giang (CombatIQ)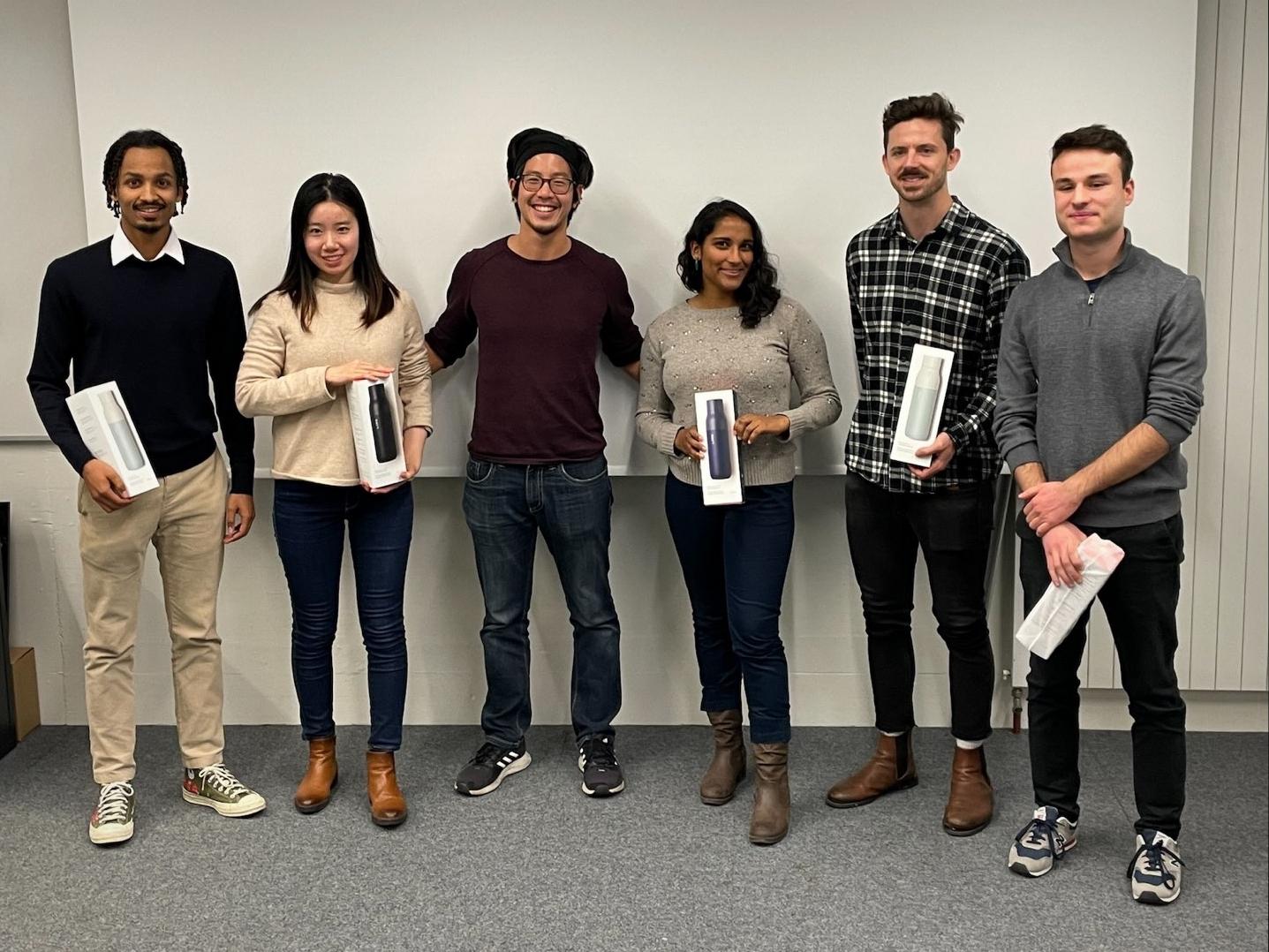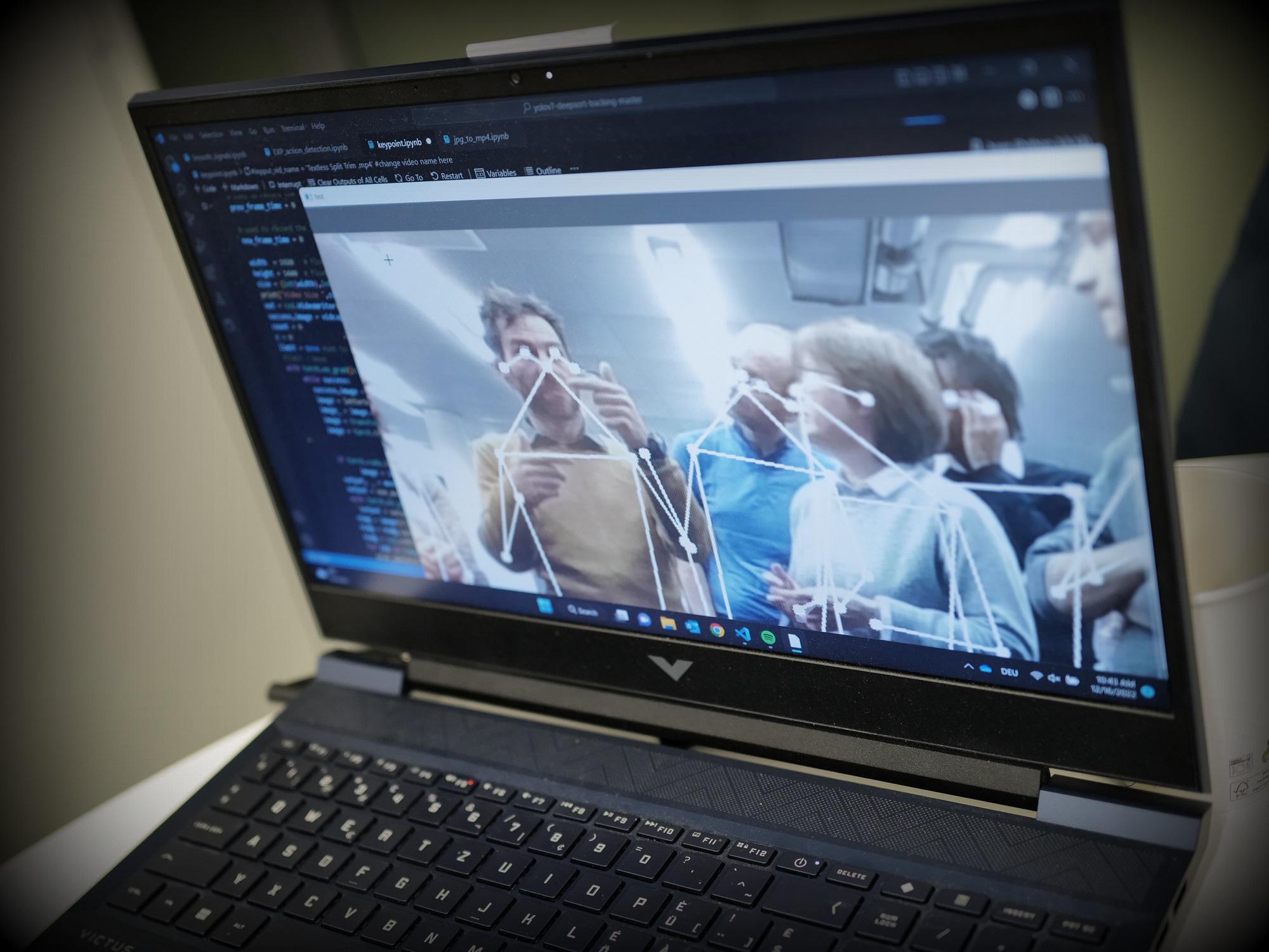 Did you ever struggle to excel at a new sport? Progressing from beginner to pro is extremely challenging, particularly in combat sports. Thus, CombatIQ's quest for the students was to come up with an idea that would provide guidance to combat fighters purely based on video content.
To address the challenge, the students developed a training tool with a friendly user interface, where all-important features to improve performance and track progress are visualized. By utilizing different machine learning models different punch types are detected and classified, enabling the extraction of information about speed, power, accuracy, and strike distribution.
Team 3: Exercise Detection, in collaboration with Montblanc
Students: Yasmine El Goumi (MT), Baptiste Jouron (GM), Timothy Horvath (GM), Uddhava Yann Monney (MT), Vincenzo Pecorella (MTE)
Industry partner: Dr. Felix Obschonka (Montblanc)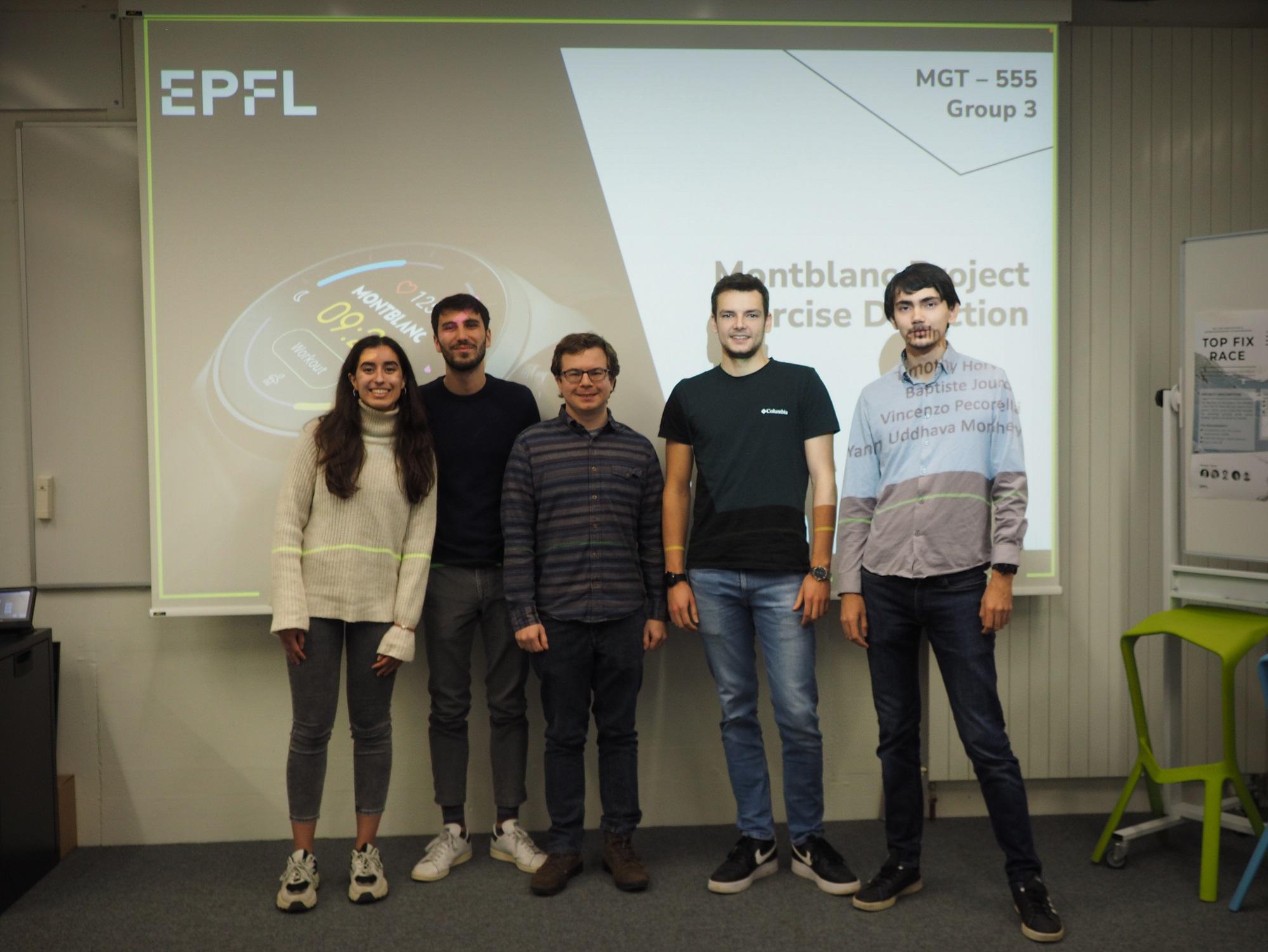 Being able to detect exercise activity and count repetitions is an important feature for every multi-sport smartwatch. To extend Montblanc's smartwatch usability, the students were asked to find an algorithm with a logic to detect multiple types of exercises successfully. Starting off with a minimal viable product for detecting squats, the students addressed common sensing difficulties in their algorithm design such as wrist rotation and custom user behavior. Further development yielded repetition counters for a variety of other exercises, which are included in the team's final prototype: "GymHIIT." To position the app in the market, the team considered a sports concierge in addition to the technical solution to provide personalized workouts and performance analysis to customers.
Team 4: Acclimation
Students: Thomas Bonnaud (EL), Ulysse Closet (GM), Robin Debalme (SC), Bastien Labat (GM), Nathan Paillou (GM), Nour Tnani (MT)
Industry partner: Dr. Felix Obschonka (Montblanc)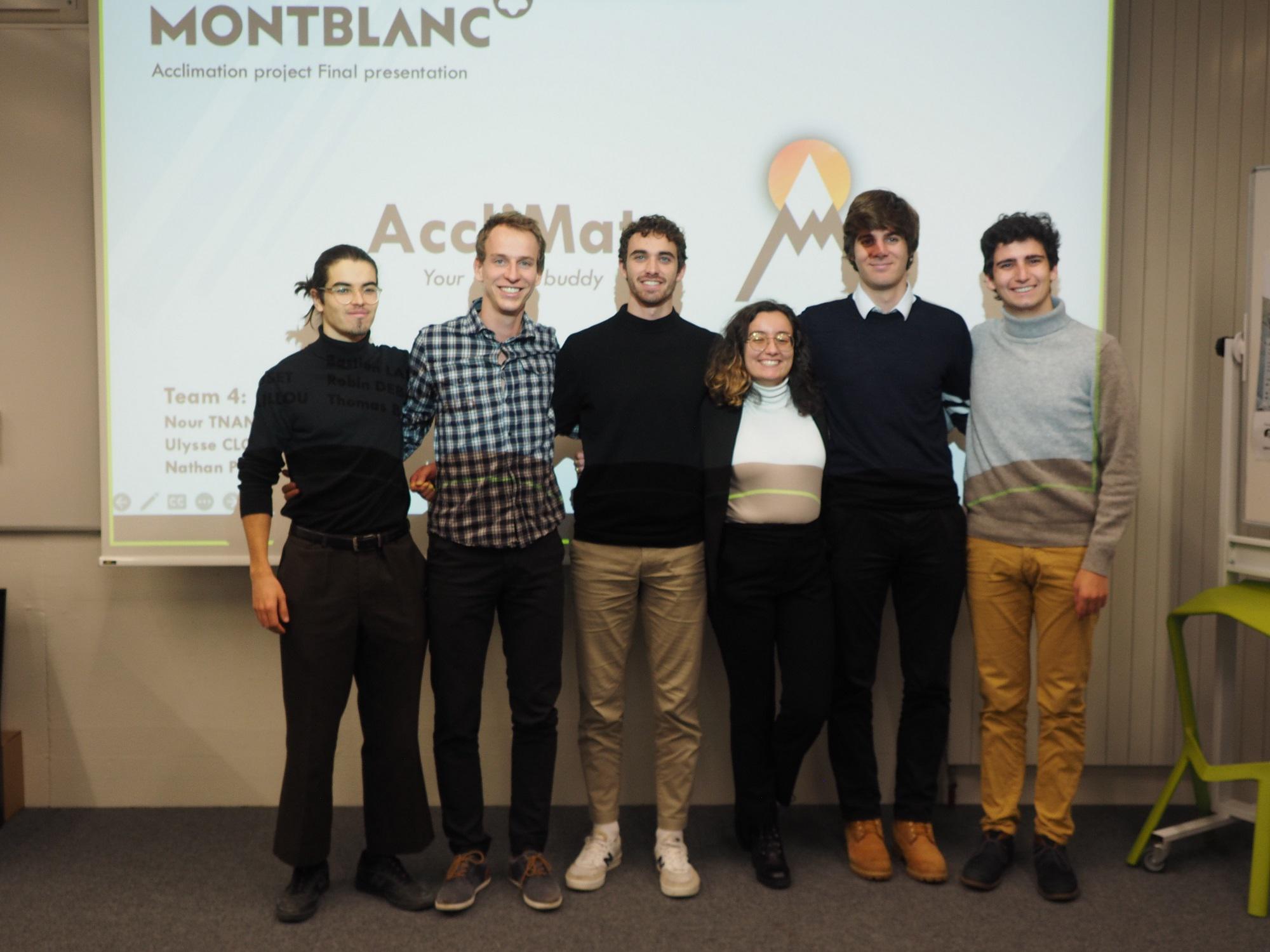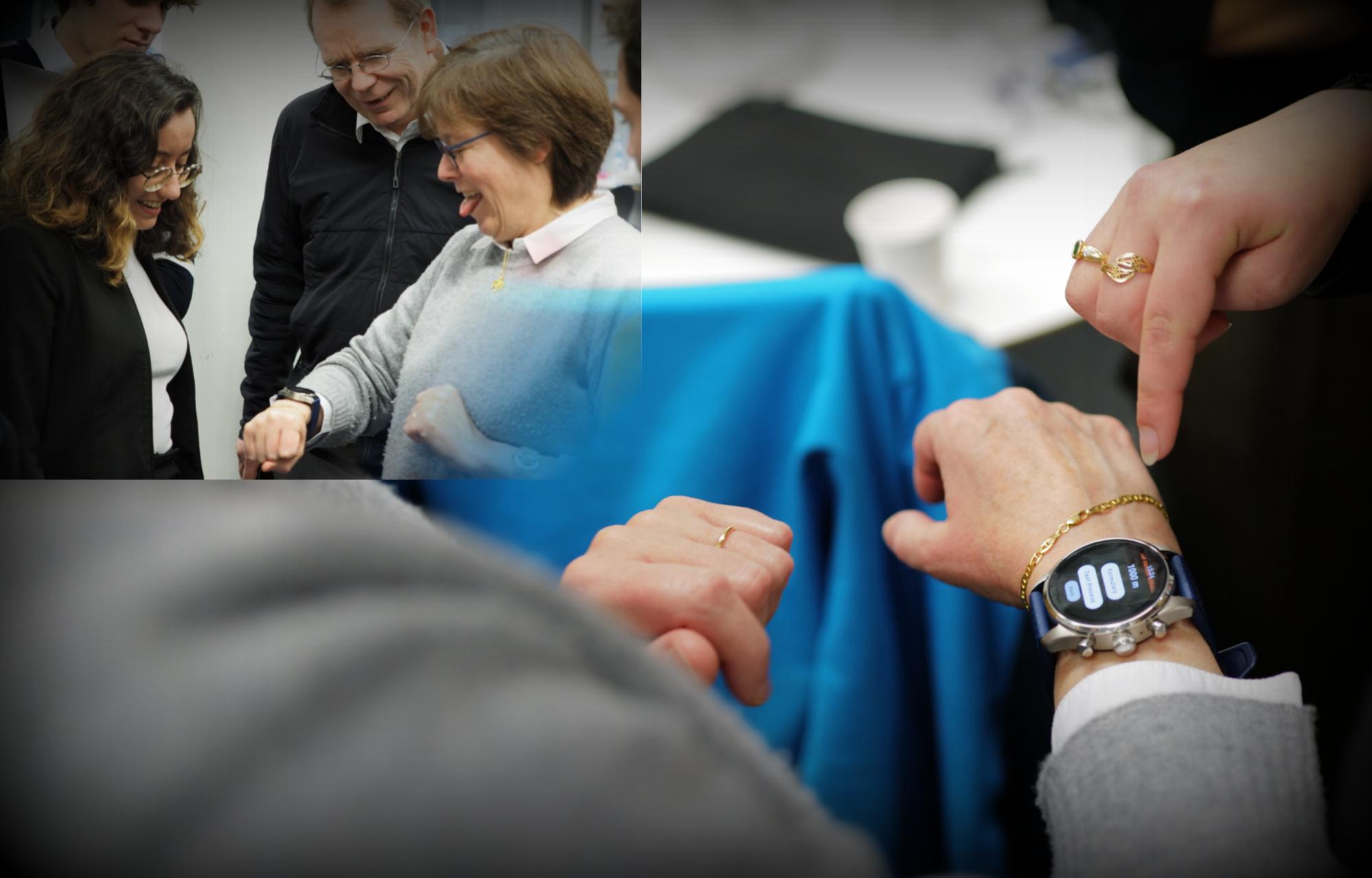 Switzerland is world-renowned for its beautiful mountains that attract climbers from all over the world. As acclimation monitoring is crucial during ascent and descent to avoid mountain sickness, Montblanc asked the question: How could a smartwatch assist climbers by providing dynamic acclimation guidance? The team's solution, "AccliMate," a new mountain sickness detection app was proposed to improve the safety and convenience of recreational trekkers and mountaineers through a Montblanc smartwatch. AccliMate offers a variety of unique features such as altitude monitoring, acclimation tracking, weather forecasts, and emergency alerts. From a business perspective, the solution is offered with a freemium model to attract a broad user base and build brand awareness.
Team 5: Ski Tracking
Students: Camille Faugère-Béraud (GM), Hugo Parent-Leduc (MTE), Michael Roust (SC), Olivier Staehli (MTE), Kutsal Topaloglu (MX), Mattia Valitutti (GM)
Industry partner: Dr. Felix Obschonka (Montblanc)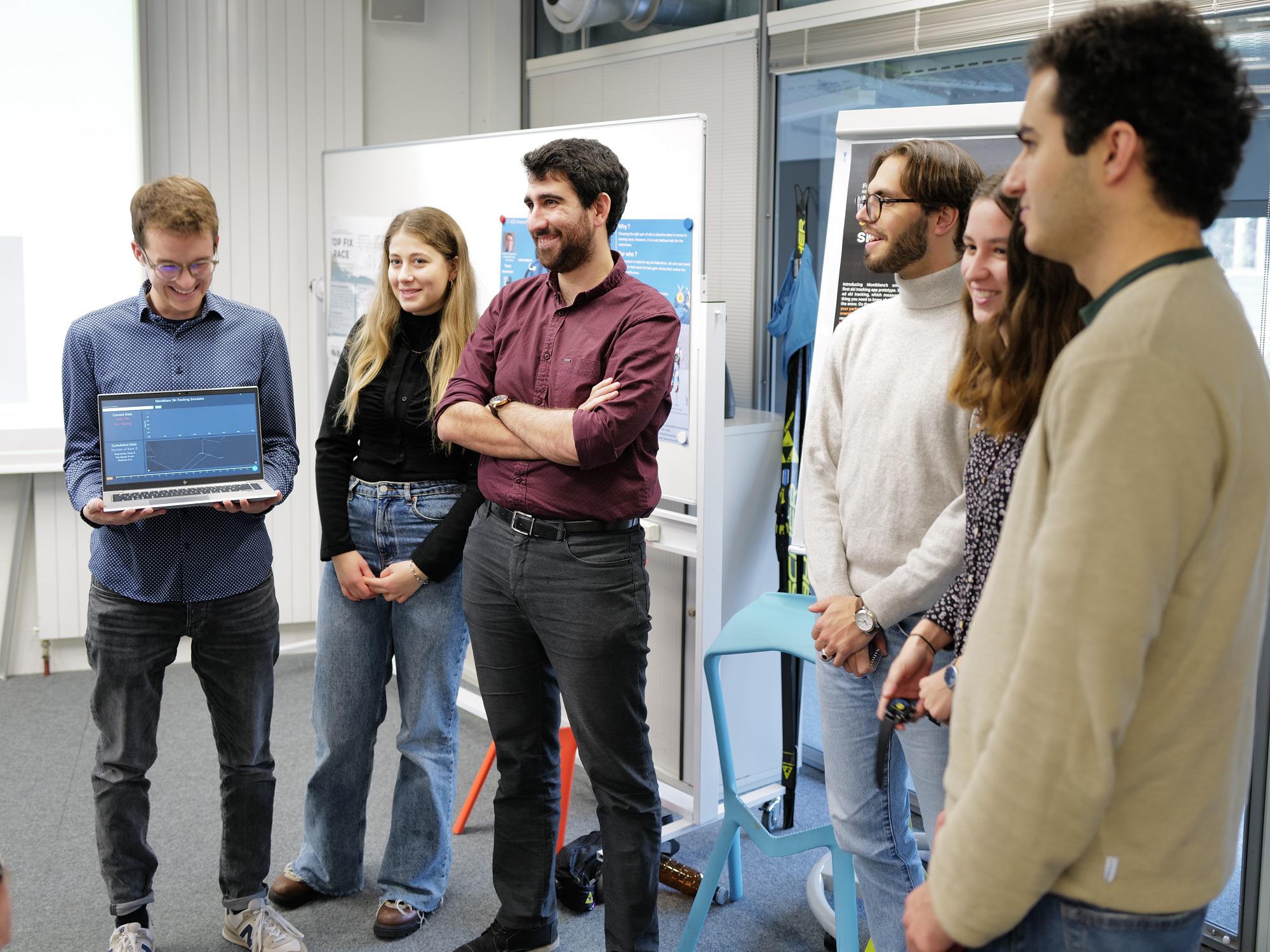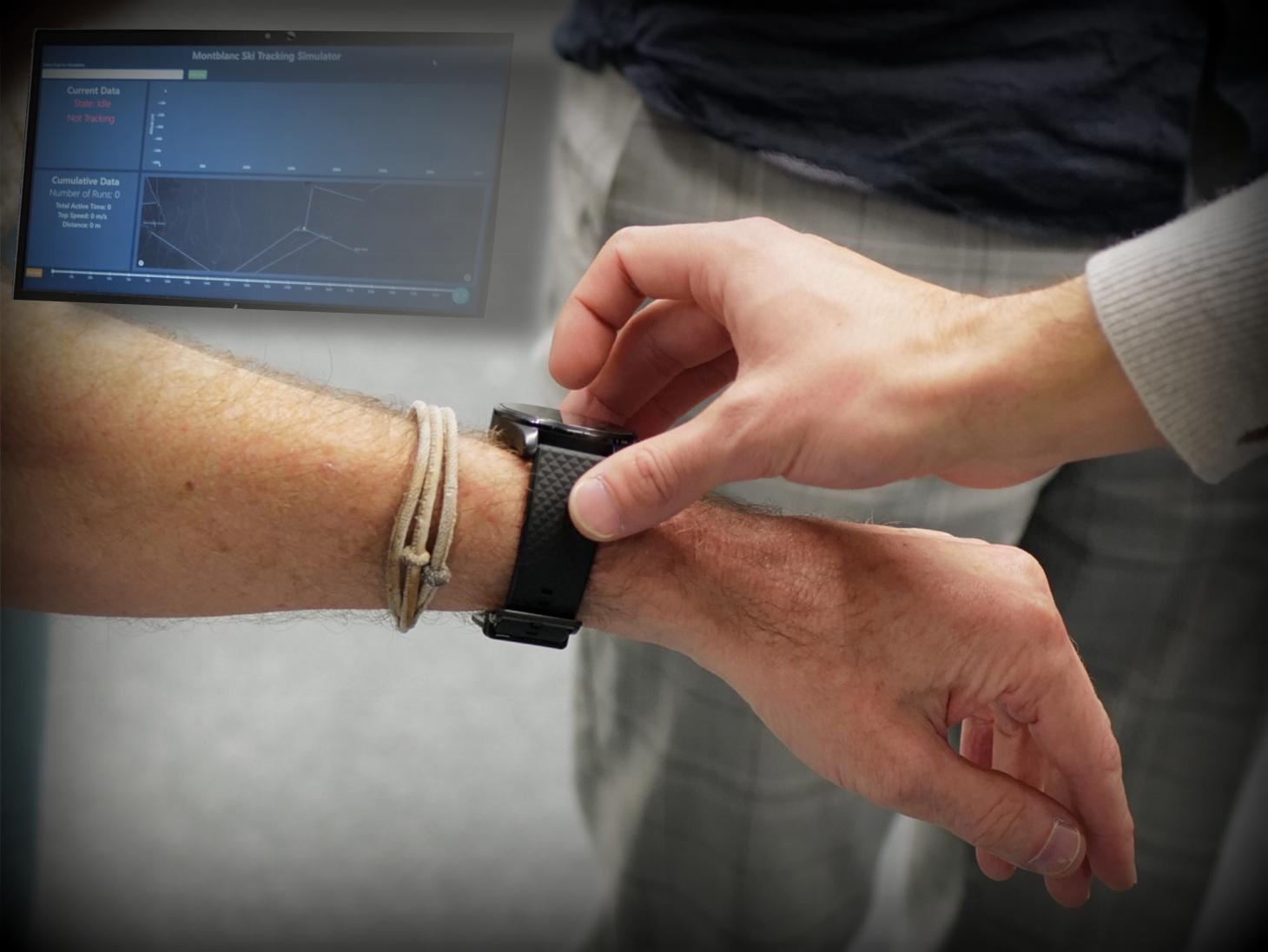 Enjoying fresh powder snow in the mountains is something the majority of ski and snowboard enthusiasts appreciate. Montblanc's proposal for the students was to build a smartwatch application for their customers to monitor and enhance their performance. The students developed the prototype of a ski tracking app monitoring top speed, average speed, altitude, number of laps, time of activity, and distance covered. By choosing a "smartwatch first" design approach (i.e., considering the smartwatch without the help of any secondary device such as a mobile phone) positive and negative information is conveyed to the user via an intricate haptic pattern language using vibration.
Team 6: Race Pin
Students: Baptiste Giard (MX), Martin Maggi (MX), Jules Mainand (MX), Florian Maître (MT), Lucas Schiltz (GM), Nicola Windler (GM)
Industry partner: Adrien Billet / Fabien Duc (Pomoca)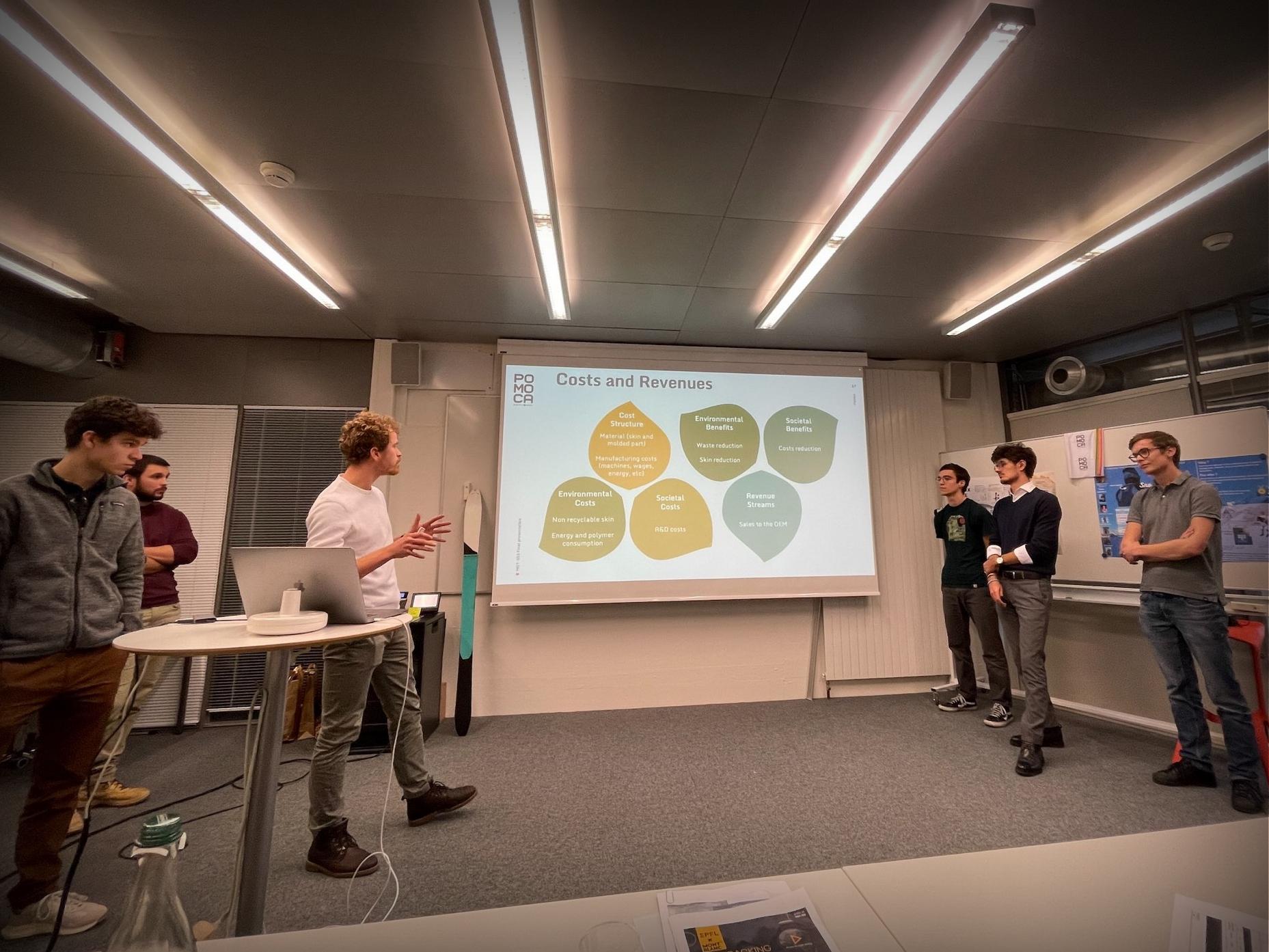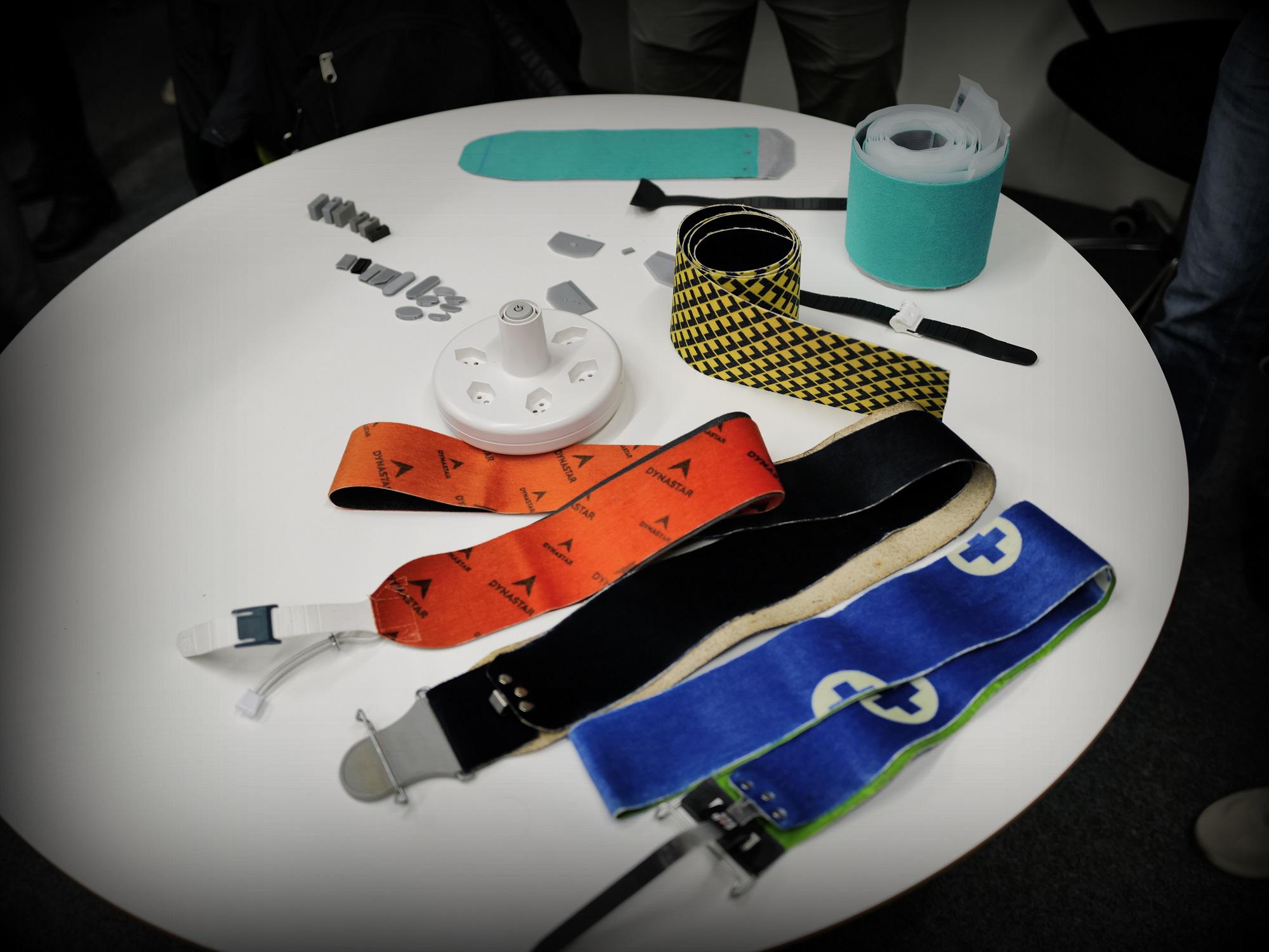 Ski skins typically reach from the front to the rear of the ski. Yet, upon closer examination, it turns out that a lot of the skin's surface is actually not required, as it does not improve grip nor glide performance. Pomoca was interested in how a novel fixation system would look like in combination with a drastically shorter ski skin. Inspired by this question, the team prototyped a concept that reduced the overall skin length while maintaining practicality and performance. In particular, the environmental impact of the reduction in material was a key factor for the design, as well as the efficiency of the current solution. The final solution reduced the length of the skin by half and the production-related CO2 emissions by 60% in comparison to the current product offering.
Team 7: Top Fix Race
Students: Leo Assier de Pompignan (GM), Eva Garcia Bermejo (EL), Flavio Bianco (MX), Hugues D'Acremont (SC), Alexandre Chappuis (GM)
Industry partner: Adrien Billet / Fabien Duc (Pomoca)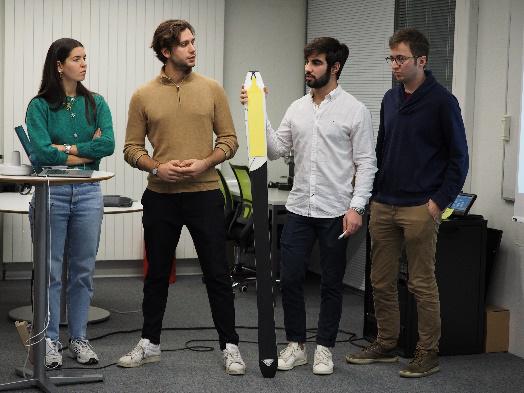 Ski-touring athletes participating in competitions have to remove their ski skins extremely fast. Pomoca's "Top Fix Race" is designed for this purpose. However, the product design and manufacturing process are not yet fully optimal. Hence, Pomoca requested students to re-innovate the current product. To come up with an alternative to the existing solution, the team investigated different areas of improvement such as ergonomics, time for skin removal, design appearance, and assembly cost of the fixation. Finally, two improvements of the existing system are proposed, one composed of an over-molded piece with an elastic core and the other made of a single molded piece.
Team 8: Watch Protector for Extreme Sport
Students: Abdullah Aydemir (MX), Damien Blaga (GM), Dorian Coyere (MX), Julia Dessons (GM), Haoying Lyu (MX), Ousmane Touré (MX)
Industry partner: Paul Bertusi (Vacheron Constantin)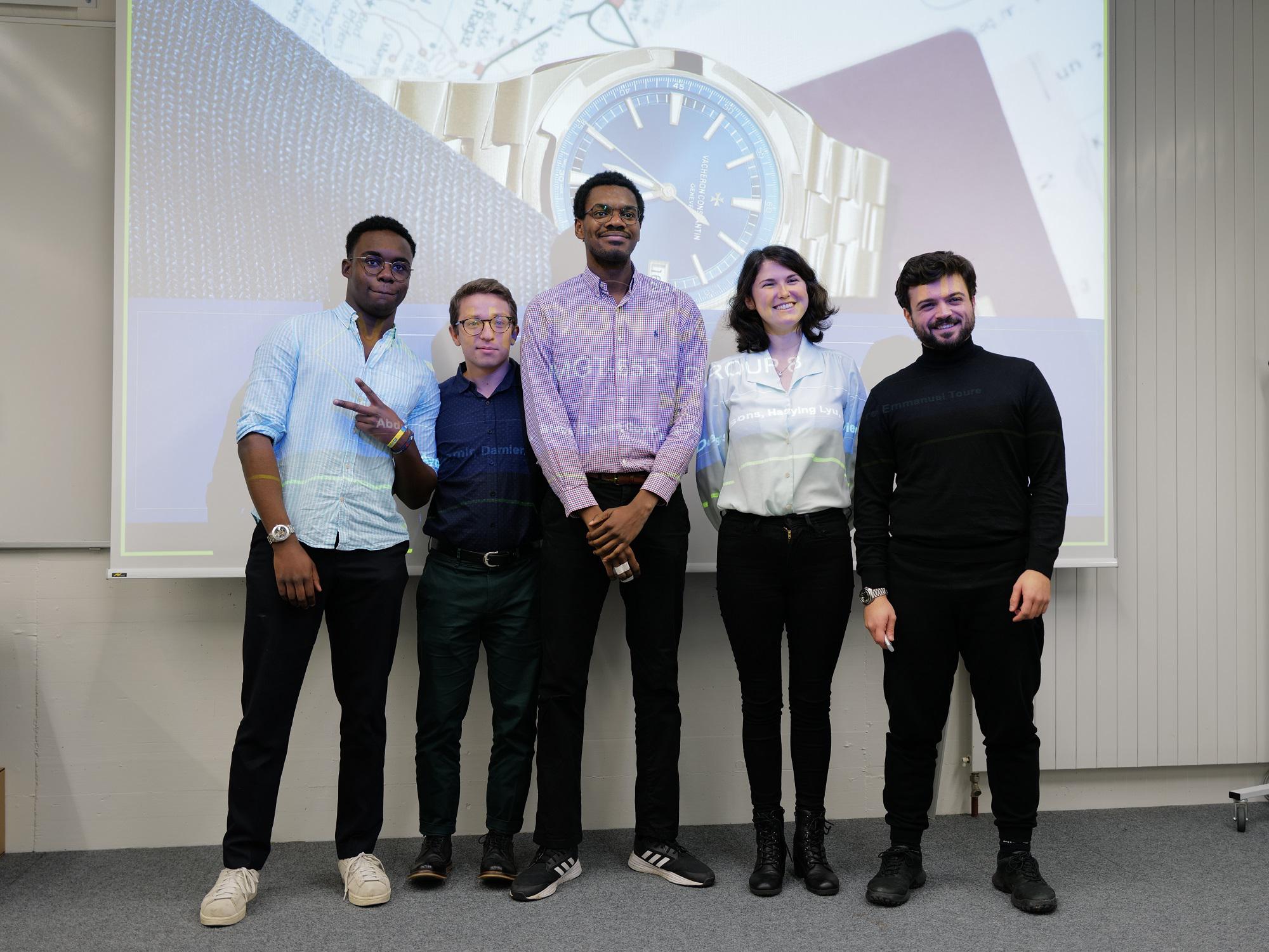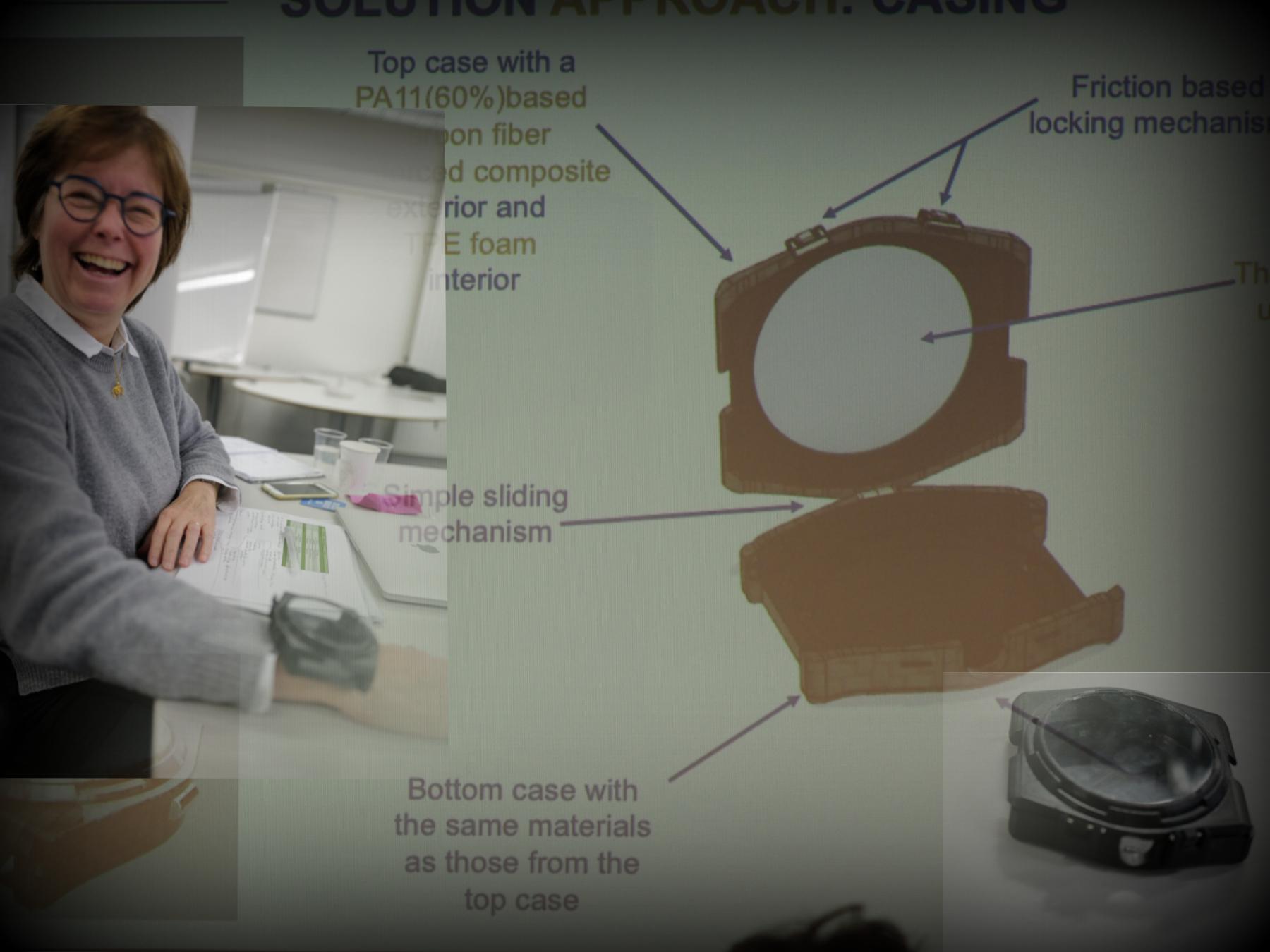 To most owners of luxury timepieces wearing their watch while practicing extreme sports would seem to be quite an unrealistic scenario. Vacheron Constantin challenged this status-quo by asking students to develop an accessory providing protection and sports analytical capabilities. The team proposed a carbon-fiber watch case, equipped with an inner layer protecting the watch against shock, scratches and corrosion, while preserving the watch aesthetics using a compact and lightweight design. In addition, a concept for an external bracelet was prototyped, providing health monitoring features for heart rate and oxygen level, in addition to basic fitness capabilities such as position and step tracking.
2023 IEE Prize – Results
Sports technologies enhance athletic performance in multiple ways. However, performance measurements in sports present various challenges. Inaccurate sensor records or material defaults have to be addressed in order to provide a suitable solution for customers. The jury was impressed by the creative ways the different industry problems were tackled and how the students combined business model innovation with the aspect of sustainability. All presentations were rated by the quality of the business case, functionality of the prototype, and overall professionalism. The winner of the competition was Team 6 with their new ski skin solution.
By reinventing the state-of-the-art skin and fixation system for ski touring, the team showcased the feasibility of a more sustainable solution with similar performance. In particular, in the more conservative ski skin market the concept provides a basis for further future development and testing. After careful deliberation by the jury, the 2022 IEE Prize for the best project in this academic year's course "MGT 555: Innovation and Entrepreneurship in Engineering" was awarded to the Pomoca Race Pin Project.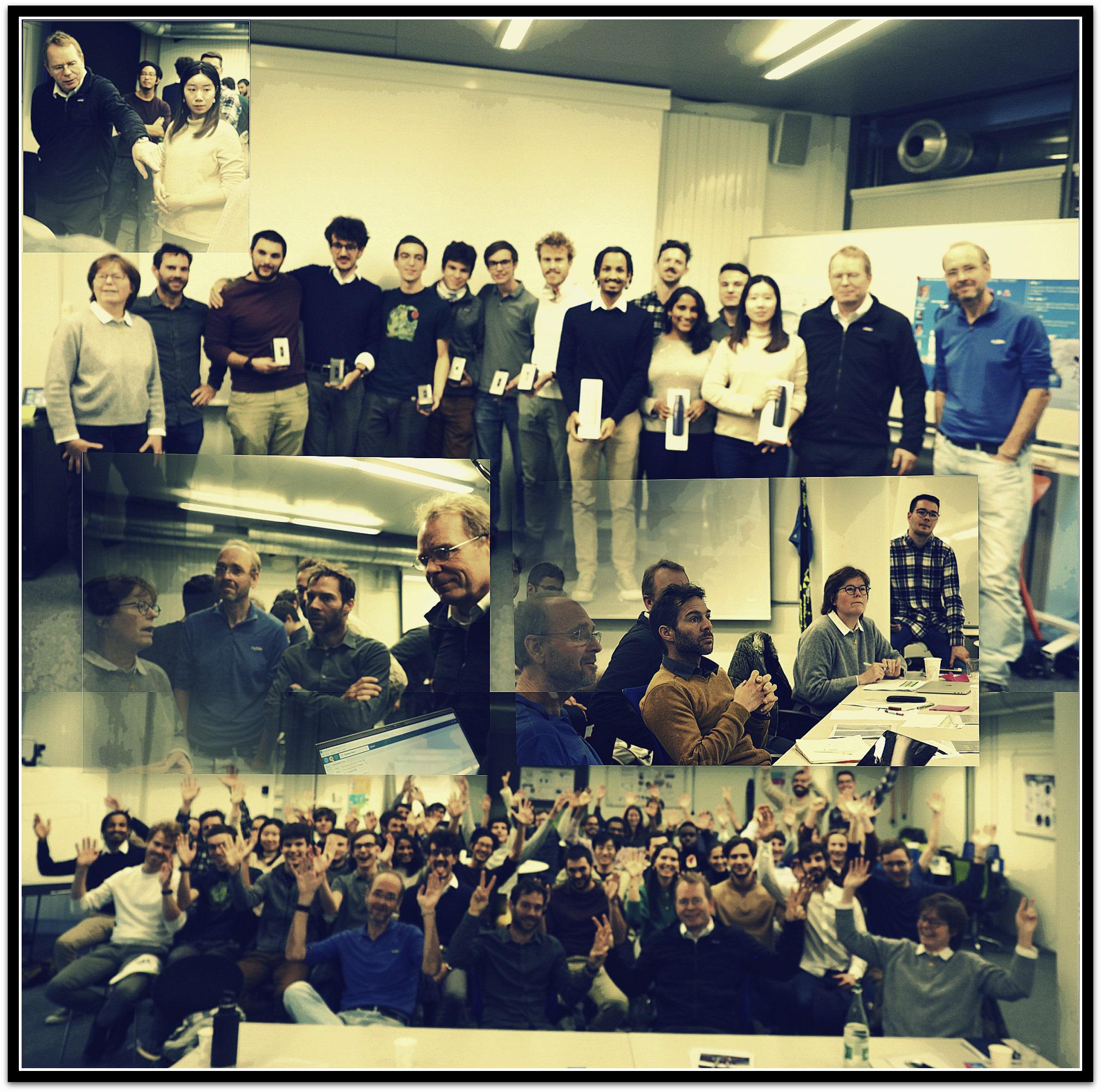 This year's runner-up was Team 2 with their AI-powered training tool for combat sports. Team 2 impressed the jury by developing an innovative solution based on computer vision technology coupled with a strategy to target the competition and fitness market segment. With video recordings as single source of input the solution is able to provide advanced insights into an individual's training progress.
***
The course, given for the fourth time since 2019, was supported by faculty and experts, at EPFL and beyond, contributing with their expertise in technology prototyping, economic evaluation, and sustainability assessment, including (in order of appearance) Prof. Chris Tucci [Imperial College London]; Prof. David Atienza Alonso [ESL, EPFL]; Dr. Benoit Mariani [Founder, Gait Up]; Dr. Martyn Wakeman [LPAC, EPFL]; Dr. Jean-Marc Vesin [LTS2, EPFL]; Prof. Alexandre Alahi [VITA, EPFL]; and Dr. André Catana [STARTUP, EPFL]. The course was coordinated by Philipp Schneider [OES, EPFL] and Lorenzo Lucherini [SMAL, EPFL]. Administrative assistance was provided by Ilona Ball [OES, EPFL].
The instructors are indebted to the Vice-Presidency for Innovation, in particular Sébastien Genet [VPI, EPFL] for helping with industry relations, as well as Pascal Vuilliomenet [Discovery Learning Laboratories, EPFL] and Julien Delisle [Coordinator, MAKE Initiative] for initiating the students to the hands-on prototyping facilities at EPFL. A very special thank you also goes to the two expert members of the jury, Dr. Marc Laperrouza [Scientist, CDH, EPFL] who has been on the prize jury since the beginning of the course, and Dr. Benoit Mariani [Founder, Gait Up] who contributed his broad expertise on motion sensing and startups. The instructors are very grateful for the support of the companies and their very engaged managers who spent much time with the students: Archinisis (Dr. Benedikt Fasel), CombatIQ (Dr. Christian Giang), Montblanc (Dr. Felix Obschonka), Pomoca (Adrien Billet / Fabien Duc), and Vacheron Constantin (Paul Bertusi). Finally, the course could not have been undertaken without the strong support of Prof. Ali Sayed [Dean, School of Engineering, EPFL] and Prof. Rüdiger Fahlenbrach [Dean, College of Management of Technology, EPFL] who shared the financial support for the student projects.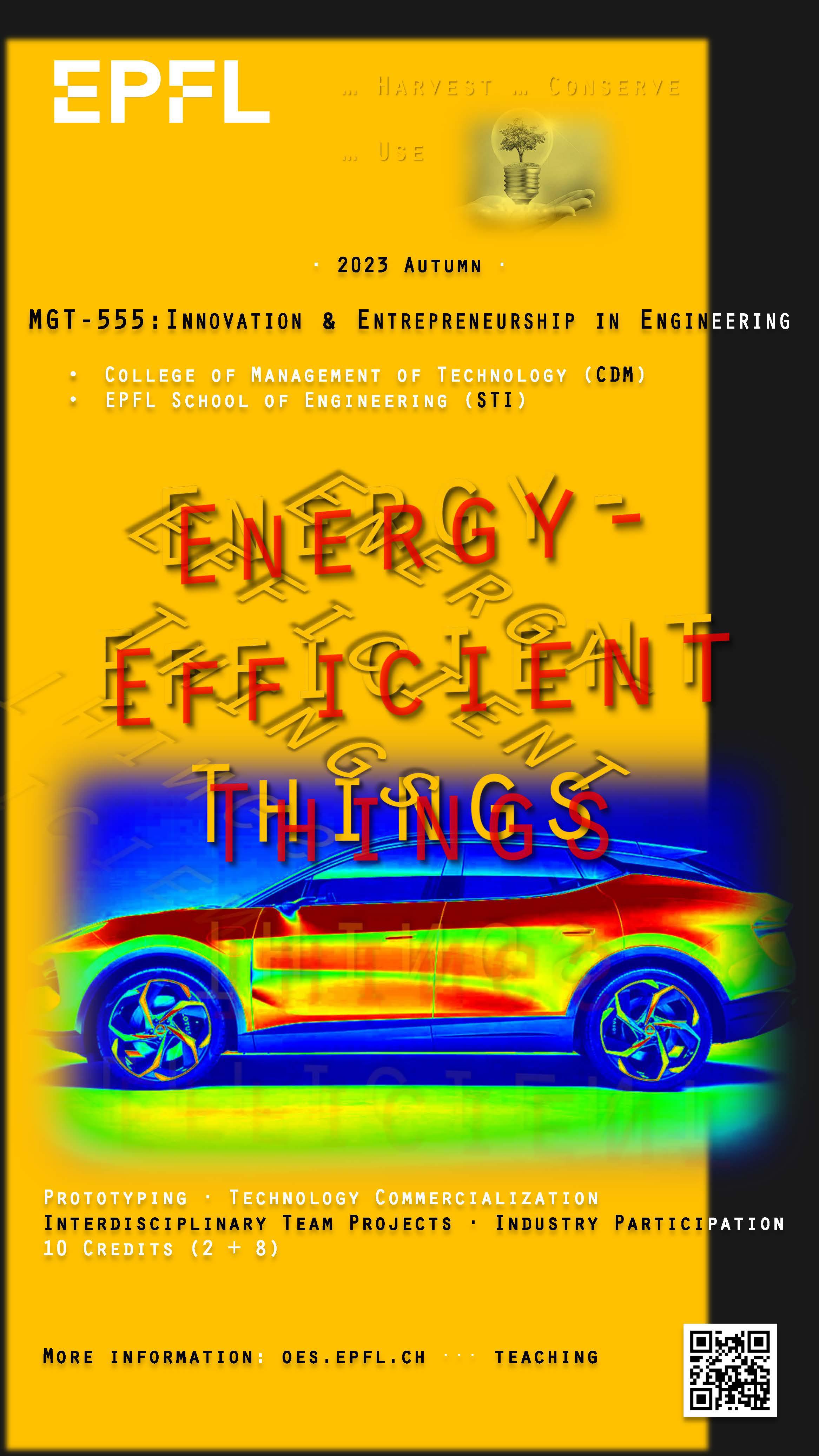 ---
---