Prototype Pavilion in Textile Reinforced Concrete 2023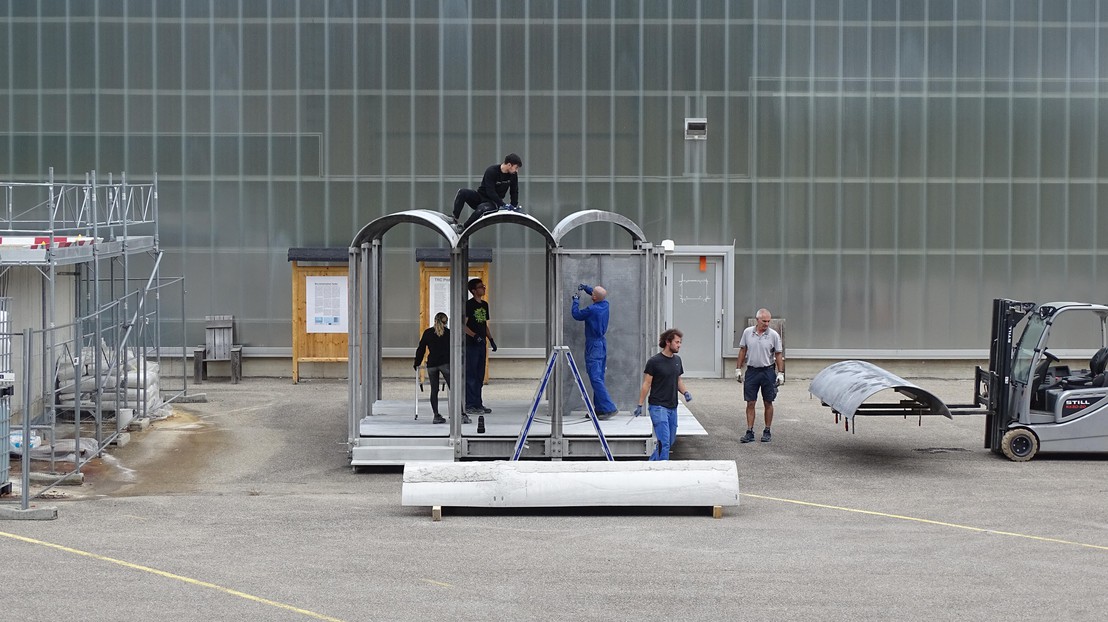 From September 4 to September 15 2023, the summer workshop PROTOTYPE PAVILION IN TEXTILE REINFORCED CONCRETE took place in EPFL Fribourg. A team of ENAC students, led by Raffael Baur, Patricia Guaita, Enrique Corres and David Fernandez-Ordonez continued the construction of the prototype pavilion, which spans over years and generations of students and serves as a proof of concept for extensive research into TRC's structural, spatial, tectonic, and social potential.

The development of the TRC Prototype Pavilion investigates and adapts selected structural elements developed by João da Gama Filgueiras Lima (1932-2014), in ferrocement to textile-reinforced concrete (TRC). This fusion of Brazilian industrial knowledge with contemporary research on non-corrosive fiber reinforcement serves as the foundational concept for the design, mold fabrication, and casting of new slender elements in textile-reinforced concrete, forming the conceptual basis for the TRC Prototype Pavilion. The pavilion's construction is modular and designed for easy dismantling, primarily aimed at testing and showcasing innovative and sustainable construction techniques.
The TRC Pavilion represents an initial step towards adaptable tectonic systems, a modular construction approach that will undergo further development in the coming years, eventually leading to a new lightweight building technique. This approach envisions various interpretations and applications of concrete construction on a broader scale.
The full potential of TRC (Textile Reinforced Concrete) as a technology for social sustainability will be evaluated by assessing its structural, spatial, and social impacts as a resilient construction system within the Latin American context, especially in areas with social vulnerability. This initiative will empower local communities to actively and autonomously engage in the construction of their own social housing and community facilities, using local resources and innovative production methods, whenever they deem it necessary.
Consequently, the TRC Pavilion serves as a messenger for promoting concrete as a socially and environmentally sustainable "lightweight" material, conveying the idea of viable industrialization in both Central and Latin America, suitable for applications in social housing, urban development, and recycling programs
Project Team
Raffael Baur, Architect and external Lecturer, ENAC EPFL
Patricia Guaita, Architect and Lecturer ALICE ENAC EPFL
Enrique Corres, Civil Engineer, PhD student, IBETON ENAC EPFL
David Fernandez-Ordonez, Civil Engineer, Host Professor, IBETON ENAC EPFL






















---