Professor Lyesse Laloui awarded a doctorate honoris causa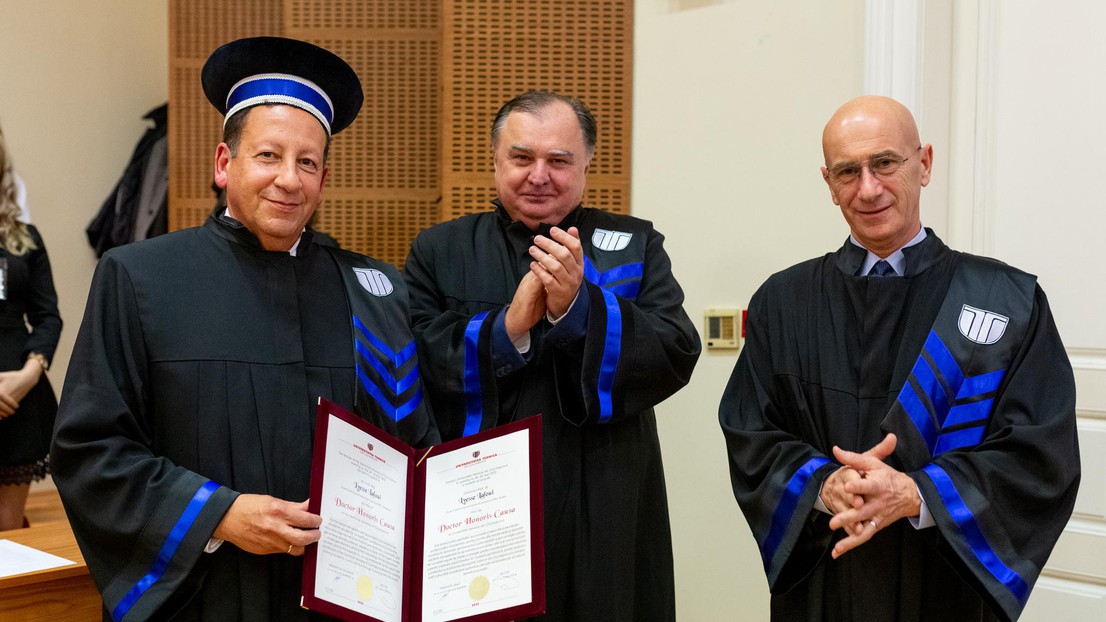 The Director of The Laloui Group has been recognized for his ongoing contributions to geotechnical engineering solutions for a sustainable world with an honoris causa from the Technical University of Cluj-Napoca.

Recognized as one of the most important researchers in geomechanics of our time, Professor Lyesse Laloui has receive an honorary doctorate from the Technical University of Cluj-Napoca (UTCN) in Romania on the ninth of November 2022.
In front of the UTCN academic body that participated in the ceremony and the Swiss ambassador to Romania, Professor Laloui, who is EPFL's Chair Professor of Soil Mechanics and the European Vice President of the International Society of Soil Mechanics and Geotechnical Engineering (ISSMGE), received the prestigious title, in recognition of his contribution to "geotechnical engineering solutions for a sustainable world."
Professor Laloui's career has spanned several fields in geotechnical engineering, including the development of energy geostructures and thermal piles, nuclear waste storage, bio-improved soils, CO2 storage.
Lyesse Laloui has received many awards over his career, including a doctorate honoris causa from Hariot-Watt University, the 2022 Vienna Terzaghi Lecture, and the 2020 Kersten Lecture at the American Society of Civil Engineering (ASCE), Geo-congress.
Speaking at the ceremony where he received the prestigious award, Laloui says he has always been inspired by the issues that contribute to making all of our lives better. "From extracting more energy from underground or using the underground to store energy to the safe disposal of radioactive waste or CO2, I am motivated by the fact that our research has a positive impact on the quality of human life."
To honor the occasion, a two-day workshop has been organized by the Romanian Geotechnical Society focusing on "Geotechnical engineering solutions for a sustainable world."
Laloui is the director of EPFL's Laboratory of Soil Mechanics. His 370 publications have received over 10,000 citations. In 2022, research.com ranked Laloui in the top 1000 engineering and technology scientist in the world.
Read more about Professor Lyesse Laloui
---
---