Playful sculpture celebrates Rolex Learning Center's 10th year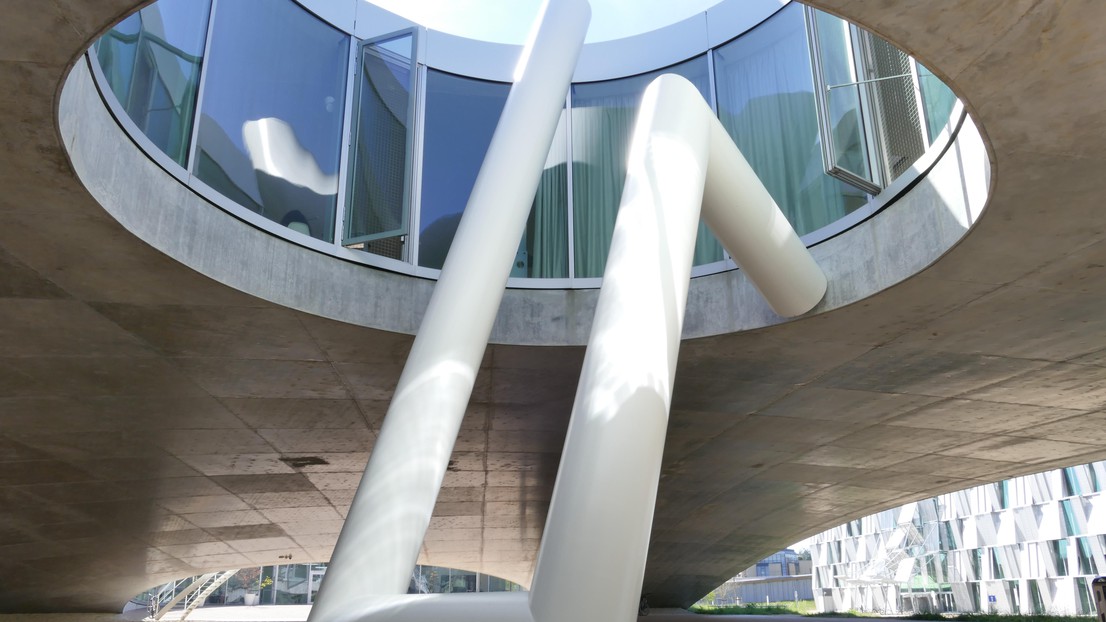 On September 24th, the Rolex Learning Center (RLC) will officially inaugurate the unique sculpture "Up #4", designed by Swiss artists Sabina Lang and Daniel Baumann, on the occasion of the iconic building's 10th anniversary.

Originally installed on June 16th, the sculpture will be inaugurated on the RLC patio on September 24th, where it will remain through May, 2021. It will also play a central part in the RLC's 11th anniversary celebrations that will take place that month, as the 10th anniversary events were postponed this year due to the coronavirus pandemic.
The unique piece was created exclusively for EPFL within the framework of the College of Humanities CDH-Culture program, headed by Véronique Mauron. She explains that a work of art has been commissioned for the RLC each year since its inauguration in 2010, and that the internationally renowned artistic duo Lang/Baumann was selected to mark this year's milestone.
"The artists often work in open, public spaces and are interested in architecture," Mauron explains. "They were very inspired by the Rolex Learning Center, which is also a source of inspiration for the many people from all over the world who visit it."
A link between landscapes
Bern-based Lang/Baumann, who have collaborated together for 25 years, designed the sculpture to highlight the curves of the emblematic building on this special occasion. The piece aims to create a unique dialogue with the RLC's architecture, and as Lang puts it, to create a connection between the "landscape" of the building's interior and the external landscape of the Lémanic region.
"It was really interesting to think about a work that could fit in this environment. We made several visits to the site, and it was clear that we should concentrate on the building's outside, which is an interesting point because there is no 'outside' to this architecture; it is really floating," says Lang.
A white lacquered, tubular structure, "Up #4" leans against the ground and rises from the patio at the entrance of the Rolex Learning Center. A stretched and bent U-shape disturbs the circular patio space. One arm of the sculpture reaches up – hence the name "Up #4" – and the other stretches dramatically toward the façade, touching it at a single point.
With its slanting angles and buttress against the building, the piece evokes both a ladder and a slide connecting the sky to the ground, and vice versa. At 8.75m and 2.4 tons, the sculpture exudes an air of lightness and offbeat playfulness, while at the same time creating a sense of the unexpected in a known and familiar place.
"Everyone who comes here has a strong impression of the architecture in the first place; by wandering around, you feel you can take different points of view. So, we also tried to offer this with our sculpture," Lang says. "Depending on which angle you look at, it really changes its shape. It doesn't have a front and back, and it really moves in space even though it is, of course, stable."
---
---