Pitch Your Impact: energy and collaborative research come out on top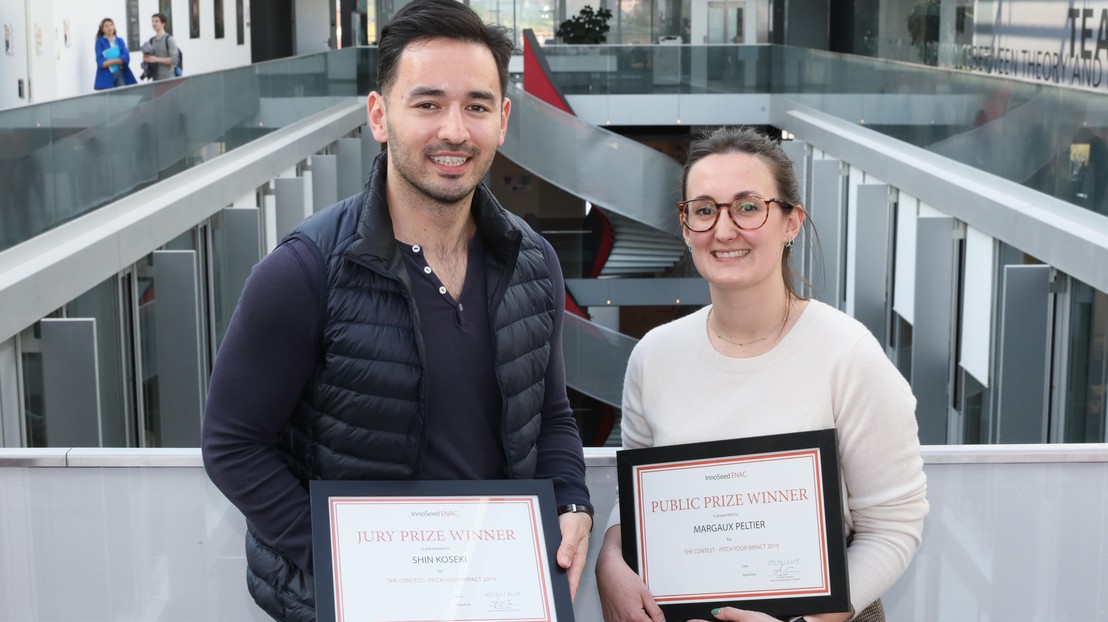 Civil engineer Margaux Peltier and architect Shin Koseki won the audience award and jury award, respectively, at this year's Pitch Your Impact contest held by ENAC.

Seven ENAC researchers took part in the third annual Pitch Your Impact contest, which was held at the school this past Tuesday night. In front of a nearly full room, they were each given 120 seconds to explain the benefits that their research could bring to society. "This contest gives participants a chance to practice public speaking under real-world conditions," said Antoine Guillemin, head of the InnoSeed ENAC program, which organizes the contest, during his keynote speech.
The audience award went to Margaux Peltier, a scientific assistant at the Soil Mechanics Laboratory, for her Enerdrape project. She piqued the audience's curiosity with her energy panels equipped with sensors that can transfer heat between different areas. "I'm in the process of developing a marketable product, so this presentation will be useful for me later on," she says. "I also enjoyed being able to explain my research to other ENAC scientists."
Shin Koseki, a post-doc at the Habitat Research Center, took home the jury award presenting the P4 project. He was able to convince the experts – Dimitrios Lignos, an associate professor at ENAC; Cécilia Carron, a journalist who specializes in startups and innovation; and Isabel Casado, manager of EPFL's enable program for budding entrepreneurs – of the merits of his multimedia microblogging platform. It will help researchers work together, publish their findings and protect their innovations. "This experience helped me overcome my anxiety and feel comfortable delivering prepared text in public," he says.
Contest participants were given a one-day training course by two consultants from Ideas on Stage, a firm that coaches people on public speaking. The consultants helped participants identify the key aspects of their research and present them in a convincing manner, with the use of storytelling techniques and a confident on-stage presence. This latter point was something that the jury noticed in particular this year.




---
---