Phase two of EPFL's expansion in Valais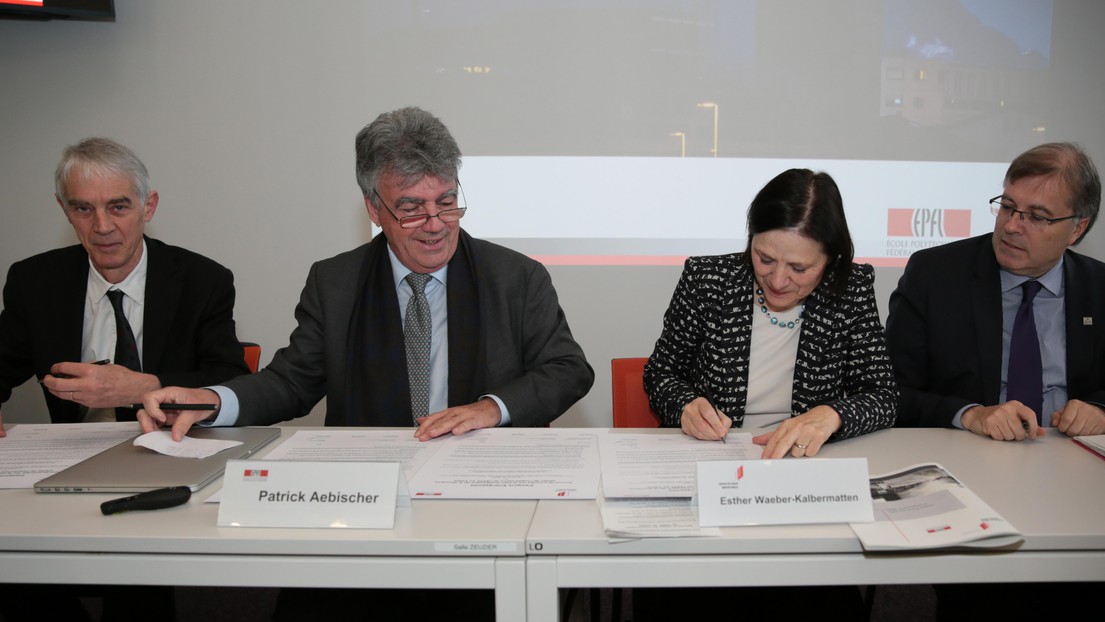 EPFL has signed an agreement in principle with the Canton of Valais, as the school's expansion in that canton moves into its second phase. The city of Sion will host a new cutting-edge research center in the science and technology of alpine and extreme environments. EPFL will finance a total of five or six more chairs than initially planned. The partners will also expand the rehabilitation and health activities as well as green chemistry and energies of the future. The workforce will grow from 150 employees currently to more than 350, many of whom will work in a new building planned near the Sion train station. The "large-scale hydropower" research activities will now be run as a close partnership between EPFL and the University of Applied Sciences of Western Switzerland (HES-SO Valais) at EPFL's laboratory in Lausanne. 

The main points of phase two of EPFL's expansion in Valais were defined in the agreement in principle signed by the school and the Valais Council of State. The signing ceremony was also attended by the president of Sion and the president of the ETH Board. This new agreement builds on the one signed in 2012: it increases the number of employees and the number of scientific teams planned, and it introduces a new field of research that is closely linked to Valais's industrial and natural environment.
Cutting-edge research in alpine and extreme environments
Sion will host EPFL's new research center in the science and technology of alpine and extreme environments, a field that ranges from biology to physical processes. The EPFL Valais Wallis campus is ideal for this type of research thanks to its proximity to the Alps and to the canton's water and snow resources, and in view of the canton's exposure to environmental risks, which derive largely from climate change. The research conducted at this center will cover the physics and dynamics of ice, water harvesting and hydrology, the microbial ecology of waterways, ecosystems, cryosphere biology, the science of alpine and polar macrosystems, processes associated with precipitation and snow cover, environmental robotics and natural water resource management. 
This center offers solid perspectives in terms of future job-creating technologies in the fields of extreme materials, sensors and robotics, autonomous drones and satellites, and extreme biotechnology. It also builds on the expertise that EPFL has acquired through the Solar Impulse project. The center supports Switzerland's aim to play a larger international role in issues related to water, the oceans and resources through its expertise as an alpine country and its scientific activity at the poles. The center's activities also dovetail with Valais's water strategy, which was adopted by the Council of State.
International influence thanks to the Swiss Polar Institute
The Swiss Polar Institute (SPI) was co-founded at the end of December 2015 by EPFL and Editions Paulsen together with the Federal Institute for Forest, Snow and Landscape Research (WSL), ETH Zurich and the University of Bern, and with the official support of the State Secretariat for Education, Research and Innovation (SERI). It was developed to group together research initiatives in the field of extreme environments by coordinating international projects and expeditions to the Arctic and Antarctic. It will be located in the Sion-based research center specializing in alpine and extreme environments, enabling it to draw parallels between the high latitudes (Arctic and Antarctic) and high altitudes ("the third pole", of which the Alps are a major component on the global scale). 
The newly created SPI is already organizing an international mission to Antarctica: the Antarctic Circumnavigation Expedition (ACE). Twenty-two research projects in fields such as glaciology, climatology, biology and oceanography will be conducted during the expedition, which will run from December 2016 to March 2017. The projects were developed by teams from countries including Switzerland, the UK, France, Australia and South Africa. In September 2017, an initial assessment of the expedition will be presented at an international symposium to be held in Valais.
"Large-scale hydropower" partnership between EPFL and HES-SO Valais 
The 2012 plan called for all of EPFL's hydropower activities to be transferred to Valais. But that project has been adapted to changing academic and technological factors.
In view of the high cost of moving the research facilities and laboratories, the partners have now opted for a close partnership under which both EPFL and HES-SO Valais will use the Lausanne-based infrastructure.
Promising research in neuroengineering
EPFL Valais Wallis's rehabilitation and health cluster, which already has a research chair in neuroengineering at the SuvaCare rehabilitation clinic in Sion, will be expanded through a greater emphasis on scientific work and clinical application testing. Clinical research and observations on spinal cord repair and motor function will also be conducted in Valais. The aim will be to help people with paraplegia to regain as much mobility as possible, in part through a robotics-based rehabilitation platform. Together with HES-SO Valais, there are plans to develop a neuroprosthetic training program for physical therapists and nursing staff. Valais hospitals will also be further integrated in personalized medicine projects currently being developed in western Switzerland's "Health Valley".
Strengthening and positioning the hub for green chemistry and energies of the future
Nearly 150 people from 31 different countries are engaged in research in the fields of green chemistry and energies of the future in Sion. These activities will be strengthened through the addition of two demonstrators and by positioning this research hub in the Swiss Innovation Park. Scientific work in this field is starting to generate opportunities both for startups and existing companies.
350 high value-added jobs
The second phase of the project will significantly extend EPFL's footprint in Valais and deepen its economic commitment to the canton. It will also strengthen the partnership between EPFL and HES-SO Valais, further driving research and innovation forward and adding breadth and depth to the courses taught in Valais. The EPFL Valais Wallis campus will eventually employ more than 350 researchers, with a total of 16 or 17 chairs and three permanent research groups. EPFL will finance five or six more chairs than the initial plan called for. New premises near the train station, rather than in Chandoline as initially planned, will accommodate the added researchers. The framework credit approved by the Valais parliament in 2013 remains in place.
These projects and their local and global impact are further examples of how EPFL fulfills the mission given to it by the Federal Council to serve society and support economic growth in Switzerland. EPFL and the Canton of Valais have entered into a partnership that takes into account the region's unique industrial, cultural and environmental features. This partnership is designed to contribute to the canton's growth in a number of key sectors (see box: "EPFL Valais Wallis: phase two of the project and the expected return on investment for Valais").
Next steps
The Valais Council of State and EPFL plan to move forward quickly with a detailed academic plan and implementation schedule. The agreement of 19 December 2012 will be amended to include the process, financing and timeframe for phase two of EPFL's expansion in Valais.
---
EPFL Valais Wallis: phase two of the project and the expected return on investment for Valais
The second phase of EPFL's expansion in Valais is designed to:
strengthen EPFL's academic activities in Valais in green chemistry for energies of the future and extreme (bio)technologies and to position EPFL at the forefront of rehabilitation and health;
increase the appeal of both EPFL and Valais within Switzerland (Health Valley) and abroad (the Swiss Polar Institute), an effort that has already paid off internationally in terms of job creation and investments in phase 1 of the project (energy/green chemistry);
generate substantial new synergies with HES-SO Valais (health, IT, big data, industrial systems), the Centre de Recherches Energétiques et Municipales (CREM), and, in the medium term, the research institute IDIAP, and to link up HES-SO Valais with the research being carried out at EPFL's hydropower center in Lausanne;
promote gradual technological development and job creation in EPFL's activities in Valais, including digital and robotic technologies – especially drones and remote sensing – and to position Campus Energypolis in the future Swiss Innovation Park; and
showcase EPFL's activities in Valais for investors. EPFL professors in Valais have raised CHF 40 million from philanthropists and corporate sponsors as well as from third-party funds, both private and public, Swiss and international.
---
Factsheet for media (french only): about EPFL Valais Wallis second phase
---
Contact information for the media
Canton of Valais: Jean-Michel Cina, President of the Council of State's permanent delegation to EPFL and the Energypolis campus
027 606 23 00 - 079 224 87 88
EPFL: Philippe Gillet, Provost – Vice President for Academic Affairs
[email protected] +41 79 559 71 61
---
Author:
Etat du Valais / EPFL